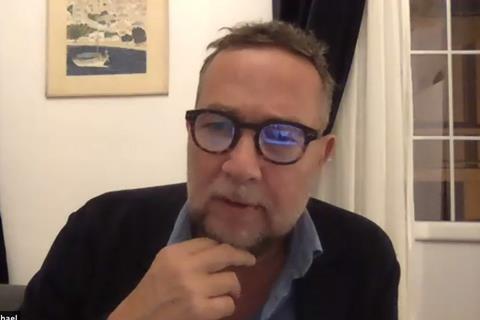 It has been an eventful few days for US cinematographer Phedon Papamichael. On Monday he garnered his second Oscar nomination for his work on The Trial Of The Chicago 7, following his first for Nebraska in 2014, just hours before he gave a masterclass as part of the Doha Film Institute's online Qumra event.
The director of photography, who lives between his native Greece and Los Angeles, recounted how his father had been an art director and production designer who worked with the likes of Jules Dassin and John Cassavetes. "I was conceived during the filming of Phaedra on Hydra so I guess that's my first connection to cinema," he joked, referring to Dassin's 1962 melodrama.
Having first studied art and still photography in Germany, Papamichael moved to New York in 1983 with "an abstract, general idea that I would like to work in film". A chance meeting with Elizabeth Gazzara, daughter of actor and Cassavetes collaborator Ben Gazzara led to his debut cinematography credit.
"I got lucky. I ran into Liz Gazzara who was an assistant on John Cassavetes's Love Streams. She said, 'I want to do this short film and you should shoot it.' I replied I didn't know how to shoot film to which she replied, 'Well, you're a still photographer, it's the same thing, you compose and set the exposure'."
"We borrowed this Eclair NPR, a 16mm camera that John Cassavetes had used to shoot Faces. I literally read the manual the night before."
It would be the first of many short films with Papamichael then working with legendary filmmaker and producer Roger Corman in Los Angeles, which he calls his "real film school", before breaking into studio fare with the unexpected 1993 hit Cool Runnings.
Looking forward to Indiana Jones
Fast forward to 2021 and Papamichael is gearing up for the shoot of James Mangold's Indiana Jones 5 project for Walt Disney and Paramount and will shortly travel to the UK to begin work at Pinewood. "It's a great challenge. It's definitely the biggest budget movie I've ever done, by a lot," he said.
It marks Papamichael's sixth collaboration with Mangold followingIdentity, Walk The Line, 3:10 To Yuma, Knight And Day and Ford v Ferrari.
"I go in with a certain confidence because it's my sixth movie with James Mangold but of course, it is always a bit daunting because it [Indiana Jones] has affected generations. It comes with a certain responsibility."
Papamichael said that while his recent collaborations with Mangold like Knight And Day and Ford v Ferrari had become increasingly technical their approach even with action films was to remain focused on the character's point of view.
"All this action is only really effective when you feel for the characters when you care whether they're going to make it or not. We really try to focus on their faces, their expressions, their POV."
Papamichael worked recently with Indiana Jones lead Harrison Ford, doing some additional photography for last year's Jack London adaptation, The Call Of The Wild, in which the actor starred.
"I personally found him super-fun to be around, very inspirational, [with] the enthusiasm and humour he brings. I'm just looking forward to [Indiana Jones]," Papamichael said, comparing himself to a kid "about to go to Disneyland to explore rides he maybe knows from the past."
Steven Spielberg, who co-created and directed the first four Indiana Jones films, has given his full backing to the new film, added Papamichael, although he could not say how involved he will be. "But I know he's definitely having conversations with Mangold. He is very supportive. He is very excited for us to be doing this," he said.
The project is currently in pre-production and expected to shoot in the summer. Locations are being scouted and production designer Adam Stockhausen is coming up with plans. "We get going in Pinewood and then we go to various locations which I cannot reveal to you."
Papamichael has worked in the UK before, on action-adventure The Huntsman: Winter's War. "I was very impressed by the technical crews, especially the art department, scenic painters and construction. They were very, very impressive. The camera crews were extremely experienced," he said.
Gender equality and diversity
Talking more generally about camera crews, Papamichael said one of his ambitions for the profession was for it to become more diverse and gender-balanced.
Citing the emergence of leading female cinematographers like Rachel Morrison (Black Panther, Mudbound) and Reed Morano (The Handmaid's Tale), he suggested the old chauvinism that used to exist was slowly being eroded recalling the days when crew members would question whether female camera technicians were "strong enough" to carry heavy camera equipment. "Obviously, that is all changing…it's happening. I can't say it is happening fast enough but we'll get there."
"I've always made a point of bringing women into the camera crew and people of colour," he said. "I can attest that almost all of them that started in my camera department, they've all moved on to be successful working cinematographers…[but] I would say percentage-wise, the camera department is still under-represented. It's not a 50/50 situation. It takes a while for a balance to be achieved."
On the subject of Covid, the cinematographer said the pandemic is making big-budget filmmaking far more complicated.
"From a creative standpoint, a lot of people have become resigned to using cranes and shooting off a Technocrane so you're physically not in close proximity to the cast. Of course, we [the technicians] are required to wear masks, KN95s and shields but, of course, the actors don't," he said.
"It makes the overall creative interaction much more complicated because so much of what we do, we work as a group. We rely on facial expression even if it is as simple as looking over to the director and seeing his reaction after a take. It's much harder to communicate besides the physical restrictions. The lack of seeing a smile makes a difference and it definitely slows down the process."
In spite of the restrictions, Papamichael was recently able to complete shooting on his latest feature as a director, Lights Falls, which shot for under $1 million in Greece last September.
"We got through it pretty well with the standard procedures - measuring your temperature in the morning, wearing a mask, doing a test as often as every other day."
Papamichael is one of five Masters participating in this year's edition of the DFI's Qumra talent and project incubator, running March 12 to 17, alongside filmmakers Claire Denis, James Gray and Jessica Hausner and Oscar-winning sound designer Mark Mangini.