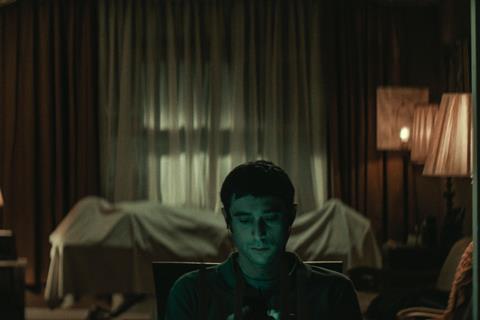 Raven Banner has acquired Canadian rights to Keith Thomas' SXSW supernatural horror debut The Vigil, one of several pick-ups announced by the Toronto-based company on Tuesday (November 10).
The film, a SXSW official selection this year that premiered in 2019 Toronto Midnight Madness, centres on a man who encounters a malevolent force when he is tasked with watching over a deceased member of his former Orthodox community.
Raven Banner brokered the deal with Elle Driver and plans to release The Vigil alongside US distribution IFC Films in early 2021. Dave Davis and Malky Goldman star.
The company has also picked up Kurtis David Harder's Spiral starring Jeffrey Bowyer-Chapman and Ari Cohen as a gay couple who unwittingly move into a homophobic neighbourhood that harbours a dark secret.
Harder directed from a screenplay by Colin Minihan and John Poliquin.
Amelia Moses' directorial debut Bleed With Me centres on a young woman on a winter getaway who becomes convinced her best friend is stealing her blood.
Lee Marshall, Lauren Beatty and Aris Tyros star in the film, and Raven Banner is planning an early 2021 release alongside Epic Pictures in the US after negotiating the deal with producers Moses and Marshall.
Rounding out the acquisition spree is horror anthology Deathcember featuring 24 shorts by 24 acclaimed genre directors from around the globe.
Filmmakers include Lucky McKee, Pollyanna McIntosh, Ruggero Deodato, Julian Richards, and Trent Haaga, and the segments star Sean Bridgers, Barbara Crampton, Richard Glover, AJ Bowen, Tiffany Shepis, among others.
Raven Banner negotiated rights with Epic Pictures and will release in the upcoming holiday season alongside Shout! Factory.