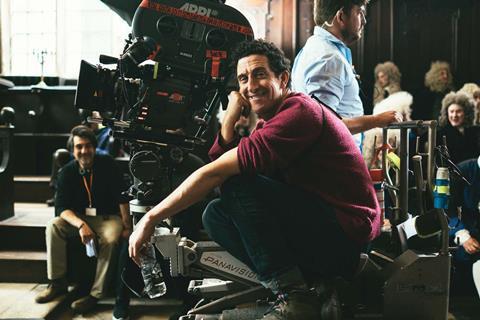 Irish cinematographer Robbie Ryan won the coveted Golden Frog for his black-and-white, documentary-style lensing of Mike Mills's C'mon C'mon, starring Joaquin Phoenix, at Polish cinematography festival Camerimage on November 20. C'mon, C'mon also won the audience award.
Ryan is in Hungary shooting Yorgos Lanthimos' Poor Things, and sent a taped acceptance speech in which he described Camerimage as "the best festival in the world".
Scroll down for the full list of Camerimage 2021 winners
The main competition jury, headed by Joe Wright, gave the Silver Frog to director of photography (DoP) Bruno Delbonnel for Joel Coen's stark black-and-white The Tragedy Of Macbeth. Also in a taped speech, the French DoP said he was in London prepping on Alfonso Cuaron's next project, together with Mexican DoP Emmanuel Lubezki.
The Bronze Frog went to Greig Fraser for his work on Denis Villenueve's Dune, with Wright highlighting "[Fraser's] work on an epic scale, along with his intimate connection to nature and light with a masterful control of his craft".
Fraser and Villeneuve are already at work on a sequel and in a festival Q&A earlier in the week they hinted at braver and bolder methods of filming for the next instalment.
Covid measures
Camerimage wrapped its 29th edition on November 20, following from last year's online-only event due to Covid. This year's eight-day festival hosted more than 230 screenings of fiction, documentary, shorts and music videos from around the world.
While a more subdued affair than previous years, with strict Covid guidelines mandating masks and social distancing, along with fewer of the festival's famed evening soirées, the programme brought a roster of high-profile talent to the Gothic city of Torun, Poland. In addition to Fraser and Villeneuve, Coen and Delbonnel, they included Kenneth Branagh and his Belfast DoP Haris Zambarloukos, with jury head Wright and his Cyrano DoP Seamus McGarvey, along with No Time To Die's Cary Fukunaga and DoP Linus Sandgren.
Diversity plea
Estonian DoP Elen Lotman gave a statement on behalf of the main jury, saying now is the time for cinematographers and the festival "to speak with diverse voices, and to help create new meanings".
She added that Camerimage was the first festival to represent cinematographers as artists when no one else did, and that the time has come for the festival "to recognise those within cinematography who have previously not been recognised."
Her plea proceeded a diversity panel that took place on Friday where professional cinematography bodies based around the world such as American Society of Cinematographers, American Film Institute and Australian Cinematographers Society cited statistics that continue to show women and people of colour as minorities across roles in production.
Halyna Hutchins
A tribute to late Ukranian cinematographer Halyna Hutchins, who died in an on-set firearms accident in New Mexico in October, took place during the festival. Hutchins had previously been a guest of EnergaCamerimage for Farzad Ostovarzadeh's short film Hidden in 2016.
During the tribute, Amy Vincent, vice president of the American Society of Cinematographers, urged friends and colleagues to "join the ASC in our commitment to protecting and watching over all artists pursuing their dreams".
And festival director Marek Żydowicz also made a plea at the closing ceremony, asking film professionals, regardless of job or rank, to be competent, responsible and honest. "[Hutchins] untimely departure is a result of the incompetence of the lack of responsibility of those that were on set with her," said Żydowicz.
New event space
After years of lobbying for financing, Camerimage is set to move forward with its ambitious European Film Centre. Austrian architectural firm Baymschlager Eberte Lustenau beat 102 other studios in a competition to design the space; the 600-metre-square cultural art space is aiming for a 2025 competition date.
European Film Centre director Kazik Suwala explained that the centre will be home to the festival, as well as a year-round space showcasing new technologies from experimental films to innovative equipment. It will also act as an education centre, and be home to an exhibition space, a film studio and a large screening room.
Camerimage awards winners
Golden Frog – C'mon C'mon, DoP Robbie Ryan, dir. Mike Mills
Silver Frog – The Tragedy of Macbeth, DoP Bruno Delbonnel, dir. Joel Coen
Bronze Frog – Dune, DoP Greig Fraser, dir Denis Villeneuve
Fipresci award – Animals, DoP Frank van den Eeden, dir. Nabil Ben Yadir
Audience award – C'mon C'mon, DoP Robbie Ryan, dir. Mike Mills
Polish films competition
Best Polish film – Operation Hyacinth, DoP Piotr Sobociński Jr, dir. Piotr Domalewski
Film and Art School Etudes Competition
Laszlo Kovacs student award Golden Tadpole – The Howling, DoP Max Bugajak, dir Bartosz Brzeziński (Warsaw Film School)
Silver Tadpole – Tala'vision, DoP Philip Henze, dir Murad Abu Eisheh (Filmakademie Baden-Württemberg)
Bronze Tadpole – Cold Blow Lane, DoP Christopher Behrman, dir Luca Homolka (Filmakademie Baden-Württemberg)
Documentary features competition
Golden Frog – My Voice Will Be With You, DoP Tristan Galand, dir. Bruno Tracq
Directors' debuts competition
Best director's debut – Titane, DoP Ruben Impens, dir. Julia Ducournau
Cinematographers' debuts competition
Best cinematographer's debut – Bipolar, DoP Yuming Ke / Queena Li
TV series competition
Best Episode – 'Welcome to Utmark' Eye For An Eye, DoP. Andreas Johannessen, dir. Dagur Kári