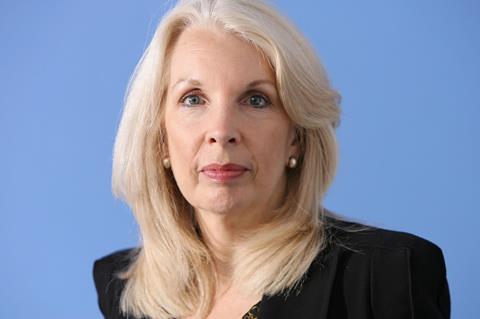 The UK independent production sector will need urgent support in the wake of the Covid-19 crisis while the screen business can help re-start the nation's economy, according to former BFI CEO Amanda Nevill.
Reflecting on the complete shutdown of film and television production, imposed to curb the spread of coronavirus, Nevill told Screen: "Independent production in this country, which was already experiencing difficulty in finding financing, is going to need very careful support and nurturing over the next few years because costs, I imagine, are going to go up a lot.
"We mustn't lose our independent industry because it is the absolute petri dish of the success the UK has enjoyed in production. It is the seeding ground, the grass roots of creativity and talent, and is one of the things we – and other countries around the world – need to think of going forward."
A recent report from the BFI revealed spend on UK independent film production from April 2019 to March 2020 was down 54% year-on-year to £132.3m. Conversely, film and high-end TV production spend in the UK hit a record £3.6m over the same period, of which £3.1bn represented inward investment and co-productions.
"I've always said that film is like the superfood of employment," said Nevill. "So if the chancellor is looking to get the economy going – identifying that the screen business has been an underpinning net contributor in recent years – he should find a way to get production going as fast as possible. To use a Treasury phrase, a lot of projects are 'shovel-ready', assuming the money is still there."
Tentpole productions that were halted in mid-March include Universal's Jurassic World: Dominion and Warner Bros.' The Batman while Fantastic Beasts 3 and Paramount's Mission Impossible 7 were due to start filming in the UK but have been forced to postpone.
Nevill, who stepped down from her BFI role in February after 17 years, was recently appointed a special adviser at London-based screen consultancy film Oslberg SPI. She anticipates working on "country-wide projects or big company-wide projects" due to her understanding of the whole value chain following her time at the BFI.
One particular focus will be "inclusion and the whole notion of growth in the industry".
"If you think about what's going to happen as we release from this pandemic, one of the short-to-medium term challenges is going to be cast and crew because there will presumably be a glut of productions trying to move into action and the call for skills is going to be incredibly high," said Nevill.
"Bringing through skilled people through and appealing to people who hadn't thought about entering the industry before is going to be even more important than ever. Diversity is something I'm very keen to really help with."
Cinema will bounce back
While the impact of the pandemic will continue to be significant on the screen industry and economy overall, Nevill said she was confident for the future. "I really don't think cinema is going be damaged by this," she said.
"In the short-to-medium term, people are going to be quite nervous about large gatherings and there's a general acceptance that it is going to be quite complex for cinemas, until a vaccine is here. But we had the best year ever in cinemas last year, where the experience is now so spectacular.
"What this whole period has done is made us realise how much we love the moving image and audiences have become more adventurous in finding content on a whole variety of platforms. We are social beings and love going to the cinema so there isn't even a tiny cell in my brain that thinks cinema is going to be dinted by this in the long-term."
The UK Cinema Association and Film Distributors Association are ensuring cinemas can be prepared to reopen at the end of June, in line with the government's latest statement that the hospitality industry may be able to re-open in July.
Flexible windows model should be considered
Cinema closures have led to some conflict between exhibitors and distributors, with Cineworld CEO Mooky Greidinger stating it would not show films that "fail to respect [theatrical] windows" after Universal released Trolls World Tour on premium VoD.
But Nevill said a more flexible model should be considered going forward. "Mooky has always been very anxious about the windows scenario," she said. "But it was very interesting that [Vue cinemas CEO] Tim Richards has said they will still show Universal films, so he can see that their future, to remain economically strong in exhibition, is to come up with new models where windows are slightly more flexible.
"I don't think one rigid system works for all titles and any business that isn't sensitive to the market it serves is bound to run aground at some stage. But the devil's in the detail and it needs more modelling, research and evidence."
On handing the reins of the BFI to Ben Roberts, just a month before lockdown, Nevill said: "Ben is exactly the right person that BFI is going to need. One thing is navigating through this pandemic, which he has done brilliantly setting up new funds.
"But I think it's going to be the long-haul that will be a real challenge for the organisation itself, getting the cinemas, Imax and restaurants up-and-running again. Ben has the energy to do that and it was one of the great joys to hand over to somebody who can pick up the baton and drive the organisation on."
As for whether her new advisory role at Olsberg SPI might signal a return to the industry in a larger role, Nevill simply added: "No. I'll specialise in the public sector the industry, where it makes sense but I want to have a bit of life to myself. I can't wait to sit in the back row of the BFI Southbank, watching films."