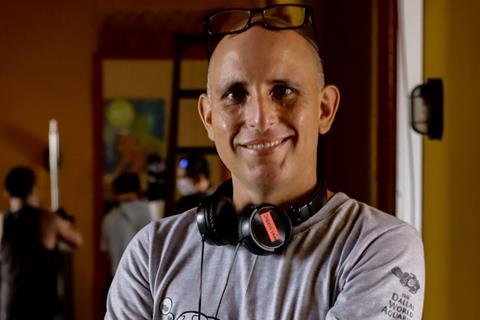 Newly established Barcelona-based producer Funicular has boarded 'Amazon noir' The Sugar Girl directed by Javi Velasquez Varela, it emerged in the final days of Ventana Sur in Buenos Aires.
Funicular, run by Marta Baldó, Jan Andreu and actor siblings Marc and Aina Clotet, presented an effervescent line-up at the market which includes Bienvenido Mr. Hollywood to be directed by Mar Coll (Three Days With The Family) and Aina Calleja, which took part in Spanish Screenings on Tour.
The Sugar Girl follows an environmental issues reporter who has moved into an apartment building in Iquitos, a port and gateway to the northern reaches of the Peruvian Amazon, and begins to receive visits from a girl who knocks on his door each night asking for a cup of sugar. At the same time a police captain works with a local psychic to unravel the mystery behind the inexplicable disappearance of a young woman in the same building.
Leading the production is Iquitos-based genre specialist AV Films. The Amazonia outfit has produced eight features so far and is run by Dorian Fernández – who is also a director – and Nevenka Yanovich. The partners are in advanced talks with international sales agents.
"It's an 'Amazon noir' where the singular traits of Iquitos are particularly portrayed and make it a very attractive project for potential and natural co-productions, since [Iquitos] is a city where citizens from all over the world live around magical and fantastical stories," said Funicular's Baldó, adding: "For this reason, the co-production with AV Films and Coruya was so organic. The result will be a stunning genre film with its own personality and local colour."
The project is nearing the end of shooting in the Peruvian Amazon and includes actors from Spain (Marc Clotet), Peru (Cindy Díaz, Fernando Bacilio and Teddy Guzmán), and Argentina (Pepe Monje).
Peru's AV Films are lining up a February 2023 production start on Chuzalongo, a co-production led by Dominio Digital (Ecuador) in partnership with Spain's Clack Audiovisual and Canada's Retrogusto Films. Directed by first-timer Diego Ortuño, Chuzalongo won the Cine Qua Non Lab prize at Blood Window's Ventana Sur in 2020, the Pitch Box award in the Sitges Film Festival in 2021, and participated at Cannes' Blood Window sidebar in 2022. The film is inspired by an Ecuadorian popular legend about a fantastical creature.
Both co-productions are products of strong ties between Spain and Latin America facilitated by Barcelona's prestigious Escac film school, where directors such as Juan Antonio Bayona (The Impossible) or emerging talent Claudia Costafreda (Spanish series Cardo) trained. Baldó was one of the directors of the Escac.