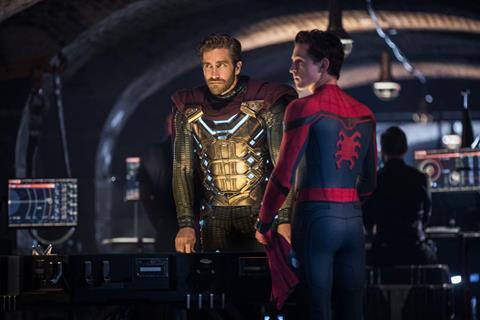 Today's GBP to USD conversion rate: 1.25
| | | | | |
| --- | --- | --- | --- | --- |
| Rank | Film (Distributor) | Three-day gross (July 5-7) | Total gross to date | Week |
| 1 | Spider-Man: Far From Home (Sony Pictures) | £8.3m | £14.1m | 1 |
| 2 | Toy Story 4 (Disney) | £5.5m | £36m | 3 |
| 3 | Yesterday (Universal) | £1.6m | £5.6m | 2 |
| 4 | Westlife – The Twenty Tour Live (Cinema Live) | £880,628 | £880,628 | 1 |
| 5 | Midsommar (Entertainment Film Distributors) | £635,938 | £812,052 | 1 |
Sony Pictures
Spider-Man: Far From Home, starring Tom Holland, got underway in the UK with an £8.3m opening weekend. The film entered UK cinemas, day-and-date with the US, on Tuesday (July 2), grossing just short of £5.8m in previews, and taking £14.1m so far.
Including previews, the figure marks the second-highest opening for a film in the UK this year behind Avengers: Endgame (£43.4m). For three-day weekends, the film is the fourth-biggest this year behind Avengers: Endgame (£31.4m), Toy Story 4 (£13.3m), and Captain Marvel (£12.8m).
The film marks Sony's fourth-highest opening of all time in the UK, with the three better-performing releases all coming from the James Bond franchise.
In comparison with other entries in the Spider-Man franchise, Far From Home's opening, including previews, is the best of the series. It has posted the biggest three-day opening weekend of the series aside from Spider-Man 3, starring Tobey Maguire, which took a hefty £11.8m from Friday to Sunday in May 2007. While distributors typically use previews to bump up opening grosses, the fact Spider-Man 3 had no screenings before its opening Friday means those takings were more condensed across the three days.
Spider-Man 3 went on to gross £33.6m in 2004. Sony will see that figure as attainable for Far From Home, particularly as word of mouth has been strong.
Men In Black: International added £158,000 for £6.3m to date.
Disney
Toy Story 4 dropped 34% this weekend, adding £5.5m for £36m to date. That's already more than the gross of Aladdin, meaning the films have swapped places as the third and fourth highest-grossing this year respectively. The latter is on £34.6m after taking a further £435,000 this weekend.
Avengers: Endgame added £55,000 for £88.5m. It won't catch Avatar, the fourth highest-grossing film of all time in the UK, which took £94m.
Universal
In its second weekend, Danny Boyle's Yesterday dropped only 21% on its opening session, adding £1.6m for £5.6m so far.
The Secret Life Of Pets 2 is up to £18.3m, adding £158,588 this weekend. Ma is on £1.6m and The Hustle is on £3.4m.
CinemaLive
The event cinema release of Westlife – The Twenty Tour Live – a concert film of the band's 20-year anniversary reunion tour broadcast live from Dublin this weekend - posted a mammoth Saturday on its way to an impressive £880,628 salvo. The figure placed it fourth in this weekend's box office chart.
Entertainment Film Distributors
Ari Aster's horror Midsommar opened on 455 screens this weekend, taking £635,938 over three days for a site average of £1,398. Including previews, the film is on £812,052.
Director Aster's debut Hereditary opened with a more impressive £1.9m (including £300,000 of previews) in June 2018, also via EFD - Midsommar's 18 certificate and longer runtime (2h 27m v Hereditary's 2h 7m) may have harmed its box office propsects. Hereditary ended on £5.6m, so Midsommar has a significant amount of ground to make up.
Lionsgate
Feature animation The Queen's Corgi opened with £403,127 from 483 cinemas this weekend, a site average of £835. The film benefited from extensive previews in Scotland and Ireland, where schools are on holiday, and its takings to date stand at £517,755. The film will face stiff competition in the family market in two weeks when Disney releases The Lion King.
Luc Besson's Anna, the thriller about a government assassin starring Sasha Luss, Helen Mirren and Luke Evans, got underway with £198,000 from 300 cinemas, a site average of £660. That looks soft in comparison with its US debut, where it began with $7m (£5.6m).
John Wick 3: Parabellum is up to £10.3m in the UK after adding £38,613 this weekend.
Dogwoof
Apollo 11 took £123,000 in its second week, a drop of 59% on its opening session. The decline can partially be explained by Spider-Man: Far From Home taking over IMAX real estate from the documentary release. The film is now up to £593,000.
20th Century Fox
­X-Men: Dark Phoenix is up to £7.2m after five weeks, adding £37,487 this weekend.
Thunderbird Releasing
Chanya Button's Vita And Virginia, starring Elizabeth Debicki and Gemma Arterton in the story of a love affair between literary icon Virginia Woolf and socialite Vita Sackville-West, opened to a soft £31,645 weekend from 62 sites, a site average of £510. Including previews, the film took £49,222.
Studiocanal
A re-release of Nicolas Roeg's classic horror Don't Look Now took £13,976 from 15 sites.
Modern Films
Never Look Away, the Oscar-nominated German-language feature from Florian Henckel von Donnersmarck, opened to £12,819 from 12 sites this weekend, an average of £1,068. With previews of £18,498, the film's cume to date is £31,317. The release is expanding to 21 sites from Friday (July 12). It wasn't expected to come close to von Donnersmarck's previous release, the hugely successful The Lives Of Others, which took £2.7m in 2007.
Curzon
In Fabric added £10,307, taking it to £80,853 after two weeks.
Entertainment One
Booksmart posted £9,639 and is on £1.5m, while Late Night added £4,760 and is on £1.3m.
Warner Bros
Godzilla: King Of The Monsters added £9,000 for £6.9m to date, while Pokemon Detective Pikachu took £4,000 and is on £13.5m.
Parkland Entertainment
Sometimes Always Never added £7,752 and is up to £238,952 in the UK.
MUBI
Playing as a limited day-and-date release this weekend, Yann Gonzalez's horror Knife+Heart took £2,702 from eight sites. Previews take the film's cume to £14,929.