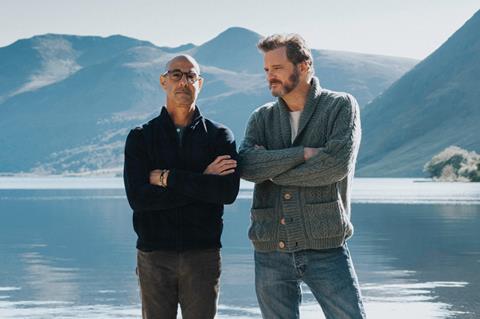 UK drama Supernova is among 10 films to receive a tranche of support from Creative Europe's latest round of selective distribution funding.
Scroll down for full list of titles
The MEDIA scheme supports the distribution of European films outside of their home territories.
Leading the latest round of funding was Harry Macqueen's Supernova, starring Colin Firth and Stanley Tucci, which will see French sales agent Le Petit Bureau receive nearly €945,000 to share among the film's European distributors.
The drama, which debuted at San Sebastian, will begin its theatrical roll-out in November and will continue to open in territories across Europe in 2021.
In total, €5.52m was awarded to sales agents from France, Poland, Germany and Denmark, representing 10 different European film titles. Some 205 distributors comprise the groupings, although a more detailed breakdown is not made available by Creative Europe.
The film that received the second highest amount was Thomas Vinterberg's Another Round, which saw €827,000 allocated to sales agent TrustNordisk. The drama, starring Mad Mikkelsen, received a Cannes 2020 label before debuting at Toronto and winning best film and the audience award at the BFI London Film Festival.
A second UK production to receive support was Uberto Pasolini's Nowhere Special. The father-son drama saw Germany's Beta Cinema receive €637,000 to allocate to European distributors. Starring James Norton, the film world premiered in the Horizons section of Venice.
The UK will not participate in the next Creative Europe programme, due to start in January 2021, as a result of the UK leaving the European Union.
Selective distribution funding titles
Supernova (UK)
Sales agent: Le Petit Bureau (€944,519)
Another Round (Den-Swe)
Sales agent: TrustNordisk (€827,641)
Nowhere Special (UK-It-Rom)
Sales agent: Beta Cinema (€637,085)
Lamb (Ice-Swe-Pol)
Sales agent: New Europe Film Sales (€517,332)
Gloria Mundi (Fr)
Sales agent: MK2 Films (€186,639)
Undine (Ger)
Sales agent: The Match Factory (€425,147)
Charlatan (Cze-Ire-Pol-Slov)
Sales agent: Films Boutique (€445,179.50)
Three Floors (It)
Sales agent: The Match Factory (€555,745)
The Best Years (Fr)
Sales agent: Elle Driver (€599,061)
Summer of 85 (Fr)
Sales agent: Playtime (€384,137)