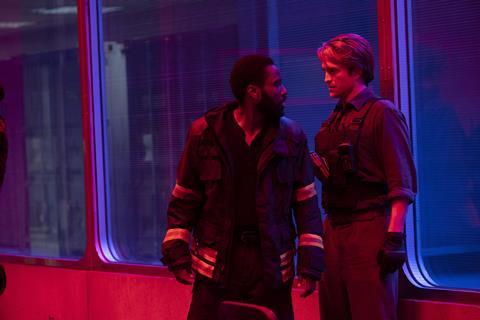 | Rank | Film (Distributor) | Three-day gross (Aug 28-30) | Total gross to date | Week |
| --- | --- | --- | --- | --- |
| 1 | Tenet (Warner Bros) | £3.27m | £5.3m | 1 |
| 2 | The New Mutants (Disney) | £220,000 | £220,000 | Preview |
| 3 | Onward (Disney) | £185,000 | £6.6m | 12 |
| 4 | 100% Wolf (Vertigo) | £139,000 | £827,000 | 5 |
| 5 | Unhinged (Altitude) | £112,000 | £1.2m | 5 |
GBP to USD conversion rate: 1.31
Christopher Nolan's Tenet has taken an impressive £5.3m at the UK and Ireland box office, providing a much-needed boost to the sector during the virus crisis.
The Warner Bros espionage thriller took £3.27m across the three-day weekend, from August 28-30, and has topped the £5m mark due to its opening last Wednesday (August 26) – averaging more than £1m in daily takings.
Showing on 3,114 screens in 620 locations, the film generated a screen average of £5,358 from Friday to Sunday. Warner Bros said the film captured a 74% share of the market, with IMAX screenings representing a 12% share.
Tenet could not match the opening weekend of Nolan's Dunkirk, which took £10m when released in July 2017; cosmic sci-fi Interstellar, which reported a three-day gross of £5.4m when it opened in November 2014; or his previous spy thriller Inception, which took £5.9m on its release in July 2010.
But Tenet's takings are impressive when taking into consideration that more than 20% of cinemas in the UK and Ireland remain closed post-lockdown and those that are open have social distancing measures in place, meaning screens are only able to be filled to around 50% of their full capacity.
Tenet also reported the highest three-day takings for a title since February, when Sonic The Hedgehog took £4.2m on its second weekend of release, before all cinemas in the UK and Ireland closed on March 20 due to the pandemic.
As the first major studio release post-lockdown, Tenet has easily taken the most over a weekend since cinemas in the UK began reopening in July, with the previous highest being Altitude's road rage thriller Unhinged, starring Russell Crowe, which grossed close to £180,000 on its fourth session last weekend.
A handful of other sites have yet to report takings and today (August 31) marks a public holiday in the UK, so figures are set to rise further.
Tenet has already grossed more than $54m from its first wave of international releases with the UK leading the pack. The film will open in the US on September 3 and in China on September 4.
Other releases
After more than two years of delays, Disney is finally preparing to release dark superhero thriller The New Mutants and has got off to a promising start with takings of £220,000 from just two days of previews.
The film, which is part of the X-Men universe, was originally set for release in April 2018. It opened in the US on Friday with an estimated $7m and is set for a UK release this weekend, on September 4.
Disney's Onward, first released prior to lockdown, held its position in the top five and added £185,000, up 29% on the previous weekend. It means the Pixar animation has now grossed £6.65m in total from 12 weekends.
After four consecutive weeks, Altitude's Russell Crowe-led thriller Unhinged finally left the number one slot. The film took £111,871 from 414 locations, meaning it has grossed £1.21m in the UK and Ireland to date.
Two Vertigo Releasing titles continued to perform well. Animation 100% Wolf added £139,275 and is up to £827,695 after five weekends, while Matteo Garrone's adaptation of Pinocchio added £93,607 on its third session and is up to £555,487.
Trafalgar Releasing re-released concert film Bring The Soul: The Movie, starring South Korean boy band BTS. The event cinema release, limited to the three-day weekend, took £39,085 from 214 sites, taking its cume to £680,529. It came ahead of the band's new film, Break The Silence: The Movie, set to open on September 10.
Aside from Tenet, other new releases included romantic drama Hope Gap, which Curzon-Artificial Eye released at 39 sites and took £16,000 (with more sites yet to report). Including previews, the film is up to £72,359.
Munro Film opened critically-acclaimed animation Away and took £5,345 from 52 screens. The film, directed by Latvia's Gints Zilbalodis, will expand to more sites as cinemas continue to reopen.