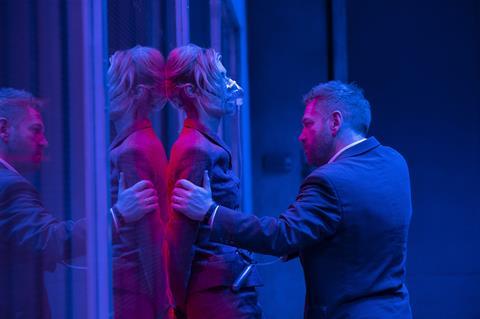 | | | | | |
| --- | --- | --- | --- | --- |
| Rank | Film (Distributor) | Three-day gross (Sep 4-6) | Total gross to date | Week |
| 1 | Tenet (Warner Bros) | £2.1m | £10m | 2 |
| 2 | The New Mutants (Disney) | £359,562 | £686,360 | 1 |
| 3 | After We Collided (Shear Entertainment) | £174,645 | £254,771 | 1 |
| 4 | Unhinged (Altitude) | £134,841 | £6.9m | 13 |
| 5 | 100% Wolf (Vertigo) | £97,221 | £1.4m | 6 |
GBP to USD conversion rate: 1.32

Christopher Nolan's sci-fi blockbuster Tenet topped the UK and Ireland box office for a second consecutive weekend, grossing £2.1m.
The film has now grossed £10m, making it the seventh highest-grossing film of the year so far in what is a unique time for film releases. It fell back 35% on its opening weekend total and brought in just short of a 70% share of the total market.
The New Mutants, Disney's first major release since cinemas reopened, took £359,562 on its opening Friday-Sunday, playing in 540 locations for a £668 average.
The film started previews the week before and has grossed £686,360 in total.
After We Collided, the latest in the After series adapted from Anna Todd's novels, opened to an outstanding £174,645 from just 40 locations, for a £4,366 location average - the second-highest since cinemas reopened, behind only Tenet. Including previews, the film has £254,771 at an average of £6,369. The film is expanding to over 100 locations for next weekend. Voltage/Shear Entertainment are distributing.
Disney's Onward added £134,841 on its 13th weekend – a 27% drop – and has £6.9m in total.
The company's strongest catalogue performers were Black Panther with £48,334, and Star Wars: Episode V – The Empire Strikes Back with £9,884.
Former number one title Unhinged continued to perform well for Altitude, taking £97,221 – a 14% drop - for a £1.4m cume.
The distributor also opened Ladj Ly's Oscar-nominated Les Misérables to £41,480 from 128 locations for a £319 average. It has £48,090 including previews.
Vertigo Releasing's Australian family animation 100% Wolf continues to perform well under the circumstances, grossing £96,820 to take it past the £1m mark after six weekends.
The film took £33,130 on its opening weekend; its 192% weekend-on-weekend increase to now suggests that there is an audience ready for new titles where cinemas are open.
Matteo Garrone's Pinocchio added £56,524 to reach £684,928, also for Vertigo.
Universal's highest-grossing title was Trolls World Tour which added £49,533 for £762,929 total.