Screen editor Matt Mueller considers the effects of Trump's victory on this year's awards season.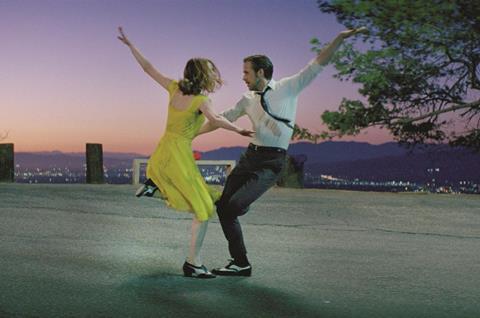 What impact might Donald Trump's shock victory in the US presidential election have on this year's awards season? It may seem an inelegant question to ask, given that Trump's presidency is going to have a seismic effect on the entire world's geopolitical axis, let alone the film industry's annual march towards wrangling one or more of those golden statuettes on Oscar night.
But given his campaign ploughed a furrow of racism, misogyny and intolerance, I wonder if Oscar (and Bafta and Globe) voters could feel more inclined to recognise narratives, storytellers and performances that celebrate the best of humanity rather than the worst, choosing stories filled with courage, hope and optimism over those marked by more pessimistic themes.
Or maybe it will be the complete opposite, and many will decide that tragedy, sadness and sorrow best fit their mood following recent events, and vote accordingly (you can switch these around, too - I'm sure there are many awards-season voters for whom Trump's election is welcome news whose names are not Stephen Baldwin).
Whatever your views, there is no doubt the Trump factor has added an air of unpredictability to this awards-season contest, and should make events over the coming months even more intriguing to follow.
The critics groups and awards bodies will begin to make their announcements in late November, leading into the Golden Globe, Bafta and Oscar nominations on, respectively, December 12, January 10 and January 24 (six days before Trump's inauguration).
For now, everything is still to play for - although Damien Chazelle's Venice opener La La Land, Kenneth Lonergan's Manchester By The Sea, Tom Ford's Nocturnal Animals, Barry Jenkins' Moonlight and Denzel Washington's Fences are all staking their ground as early favourites. Clint Eastwood's Sully, Jeff Nichols' Loving, Denis Villeneuve's Arrival, Mel Gibson's Hacksaw Ridge and Martin Scorsese's Silence — even though it's yet to be seen - are also big in the conversation.
Whereas most years there's a freight train-worth of actors jostling for attention, this year, for a change, it's the actress categories that are crowded with contenders. In this issue alone, our Actors special, we speak to Isabelle Huppert for Elle, Ruth Negga for Loving, Jessica Chastain for Miss Sloane, Sonia Braga for Aquarius, Amy Adams for Arrival and Nocturnal Animals, Meryl Streep for Florence Foster Jenkins, Kate Beckinsale for Love & Friendship and - in the supporting category - Naomie Harris for Moonlight.
We also talk to best actor frontrunner Casey Affleck for Manchester By The Sea and Adam Driver for Paterson, as well as two of the sure-to-be-lauded supporting actors, Moonlight's Mahershala Ali and Nocturnal Animals' Michael Shannon. We will be covering many more in the weeks to come, along with directors, writers, producers and a multitude of below-the-line talents.
Diverse contenders
Following last year's #OscarsSoWhite controversy, this year's race is looking far more diverse - a very good thing in the year of Trump.
There is always progress to be made and that will remain the case for a long time to come, but this year features strong contenders from a diverse group of film-makers, with films such as Moonlight, Fences, Collateral Beauty, Loving, A United Kingdom, Queen Of Katwe and Hidden Figures all generating different levels of buzz.
There would be another potent contender in Nate Parker's The Birth Of A Nation, had that film not become embroiled in the controversy surrounding the director's past. Parker's muted introduction at the start of the film's gala screening at the BFI London Film Festival in October did not exude the confidence that he - and Fox Searchlight, which paid $17.5m for the worldwide rights - must have felt coming out of Sundance, when many were predicting awards glory for Birth.
There is still time, I think, for the film to regain traction - a couple of key critics' group wins would put the wind right back in its sails. Whether that happens, though, remains to be seen in this most unpredictable of years.