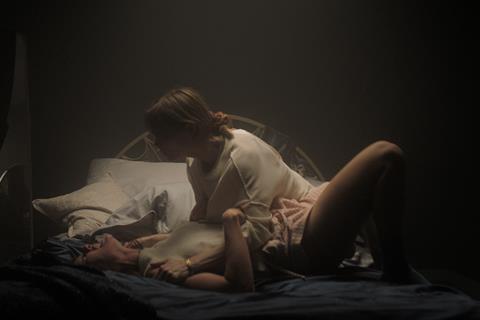 World premieres of Ruth Paxton's UK horror A Banquet, Agustina San Martín's Argentinian genre tale To Kill The Beast and Sébastien Pilote's Canadian period drama Maria Chapdelaine are among Contemporary World Cinema and Discovery selections announced by Toronto International Film festival (TIFF, September 9-18).
Scroll down for full list of new titles
The festival also unveiled additional Gala and Special Presentations titles, and introduced TIFF Rewind featuring filmmakers in conversation about memorable selections from the past.
Gala screenings include the world premiere of Camille Griffin's UK comedy Silent Night starring Keira Knightley. World premieres of Nathalie Biancheri's Irish-UK mystery Wolf starring George Mackay and Lily-Rose Depp, Stephen Karam's US Thanksgiving drama The Humans with Steven Yeun and Amy Schumer, and the North American premiere of Eva Husson's Cannes selection Mothering Sunday are included as Special Presentations.
The Canadian government has said it will relax entry restrictions for all fully vaccinated visitors by September 7 in time for the start of the festival.
"The news on relaxed border restrictions was crucial in TIFF's plan to safely welcome international press and industry back to that unique TIFF experience they know and love," said Joana Vicente, executive director and TIFF co-head. "While remaining diligent, TIFF continues working within the parameters and guidelines of the government and health officials for the health and safety of all our stakeholders. We're ecstatic to bring a portion of the in-person experience back to the press and industry who've supported TIFF films throughout the years."
As previously reported, TIFF heads have added Scotiabank Theatre Toronto to a limited list of in-person screening venues for the first five days of the festival to accommodate a select number of additional public and press and industry screenings.
As previously announced, the world premiere of Stephen Chbosky's musical adaptation Dear Evan Hansen will open the festival.
Contemporary World Cinema
Are You Lonesome Tonight? (China), dir. Wen Shipei – North American premiere
The Box (La Caja, US-Mex), dir. Lorenzo Vigas – North American premiere
Costa Brava, Lebanon (Costa Brava, Leb-Nor-Swe-Fr-Sp-Den-Qat), dir. Mounia Akl – North American premiere
The Daughter (La Hija, Sp), dir. Manuel Martín Cuenca – World premiere
The Hill Where The Lionesses Roar (Luaneshat e kodrës, Kos-Fr), dir. Luàna Bajrami – North American premiere
Întregalde (Rom) dir. Radu Muntean – North American premiere
Kicking Blood (Can), dir. Blaine Thurier – World premiere
La Soga 2 (USA), dir. Manny Perez – World premiere
Maria Chapdelaine (Can), dir. Sébastien Pilote – World premiere
Medusa (Bra), dir. Anita Rocha da Silveira – North American premiere
Murina (Cro-Braz-USA-Slo), dir. Antoneta Alamat Kusijanović – North American premiere
Nobody Has to Know (Fra-Bel-UK), dir. Bouli Lanners – World premiere
The Odd-Job Men (Sis Dies Corrents, Sp), dir. Neus Ballús – North American premiere
The Other Tom (El Otro Tom, Mex-US), dirs. Rodrigo Plá, Laura Santullo – North American premiere
OUT OF SYNC (Tres, Sp), dir. Juanjo Giménez – North American premiere
Terrorizers (Taiw), dir. Wi Ding Ho – World premiere
Unclenching The Fists (Rus), dir. Kira Kovalenko – North American premiere
Vengeance is Mine, All Others Pay Cash (Seperti Dendam, Rindu Harus Dibayar Tuntas, Indo-Sing-Ger), dir. Edwin – North American premiere
The Wheel (USA), dir. Steve Pink – World premiere
Whether The Weather Is Fine (Kun Maupay Man It Panahon, Phi-Fr-Sing-Indo-Ger-Qat), dir. Carlo Francisco Manatad – North American premiere
Discovery
Aloners (SK), dir. Hong Sung-eun – international premiere
Anatolian Leopard (Anadolu Leoparı, Ger-Den-Tur-Pol), dir. Emre Kayış – World premiere
As In Heaven (Du Som Er I Himlen, Den), dir; Tea Lindeburg – World premiere
A Banquet (UK), dir. Ruth Paxton –World premiere
Dug Dug (Ind), dir. Ritwik Pareek – World premiere
Farha (Jor-Swe-Saudi), dir. Darin J. Sallam –World premiere
The Game (Ser-USA), dir. Ana Lazarevic – World premiere
Learn To Swim (Can), dir. Thyrone Tommy – World premiere
Lo Invisible (Fr-Ecu), dir. Javier Andrade – World premiere
Paka (River Of Blood, Ind), dir. Nithin Lukose – World premiere
Quickening (Can), dir. Haya Waseem – World premiere
Scarborough (Can), dirs. Shasha Nakhai, Rich Williamson – World premiere
Snakehead (USA), dir. Evan Jackson Leong – International premiere
To Kill The Beast (Arg-Bra-Can), dir. Agustina San Martín – World premiere
Tug Of War (Vuta N'Kuvute, Tanz-SA-Ger-Qat), dir. Amil Shivji – World premiere
Wildhood (Can), dir. Bretten Hannam – World premiere
Gala Presentations
The Good House (USA), dirs. Maya Forbes, Wallace Wolodarsky – World premiere
Silent Night (UK), dir. Camille Griffin – World premiere
The Worst Person In The World (Verdens Verste Menneske, Nor-Fr-Swe-Den), dir. Joachim Trier – North American premiere
Special Presentations
The Falls (Pu Bu, Tai), dir. Chung Mong-Hong – North American premiere
The Humans (USA), dir. Stephen Karam – World premiere
Inu-Oh (Jap-Chi), dir. Masaaki Yuasa – North American premiere
Lingui, The Sacred Bonds (Lingui, Chad-Fr-Ger-Bel), dir. Mahamat-Saleh Haroun – North American premiere
Mothering Sunday (UK), dir. Eva Husson – North American Premiere
The Power Of The Dog ( Aus-NZ), dir. Jane Campion – Canadian premiere
Sundown (Mex), dir. Michel Franco – North American premiere
Wolf (UK-Ire-Pol), dir. Nathalie Biancheri – World premiere
TIFF Rewind
This is a free series of digital talks with filmmakers and cast who revisit memorable festival film premieres. Canadians with a Crave subscription can stream the films that are part of the series on the Best of TIFF Collection on Crave.
Confirmed films and guests include:
Antoine Fuqua on Training Day (2001 North American premiere);
Christopher Guest, Eugene Levy and Catherine O'Hara on Best in Show (2000 world premiere);
Patricia Cardoso and America Ferrera on HBO's Real Women Have Curves (2002 international premiere); and
Viggo Mortensen on Eastern Promises (2007 world premiere).