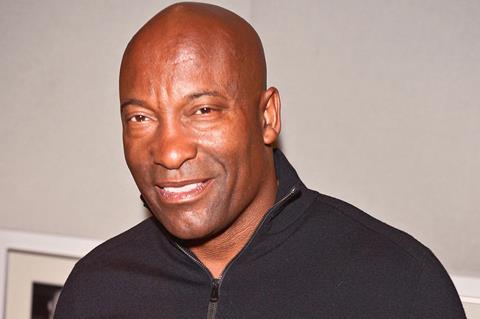 The entertainment world has been paying tribute to John Singleton, the pioneering director who died in Los Angeles on Monday aged 51 following a stroke.
Several of those who took to Twitter to express their condolences used the word "inspirational", indicating the depth of feeling and the debt of gratitude many in film felt towards the late filmmaker.
Singleton was in his early 20s when he found widespread fame with Boyz N The Hood. He became the first African American to earn a best directing Oscar nomination for the film in 1991, and remains the youngest person ever to receive a nod in the category when he was 24.
His body of work included Poetic Justice, Higher Learning, Baby Boy, Rosewood, Shaft, and 2 Fast 2 Furious.
"RIP John Singleton," Jordan Peele wrote on Twitter. "So sad to hear. John was a brave artist and a true inspiration. His vision changed everything.
Viola Davis said, "The best life is when we leave a trail. We leave something on this earth bigger than us. John Singleton….you inspired a generation of Artists. We will shoulder on [sic]….'May flights of angels sing thee to thy rest". RIP
Samuel L. Jackson wrote, "Mourning the loss of a collaborator & True Friend John Singleton. He blazed the trail for many young film makers, always remaining true to who he was & where he came from!!! RIP Brother. Gone Way Too Soon!"
A statement on the official handle of The Black List said: "RIP John Singleton. Singleton was the first black filmmaker ever nominated for Best Director and remains the youngest ever nominee - he was only 23 years old while making BOYZ N THE HOOD. Thank you for the powerful stories you shared with us, John - you will be dearly missed."
"John Singleton was a talented director and a kind man," said genre master John Carpenter. "He died too young. He will be missed."
Writer-director Peyton Reed said, "I'm really sorry to hear about John Singleton. I saw BOYZ N THE HOOD the night it opened and remember how inspirational it was. I had several conversations with John over the years about movies and comics and our industry. A lovely guy. My condolences to the Singleton family."
"This is way too sad," said Edgar Wright. "The word 'groundbreaker' is thrown around too easily, but it applied to John Singleton, an inspirational, influential film-maker. While he had many accomplishments in TV and film, you felt he had still more surprises up his sleeve. 51 is far too young to go."
"Stars in the universe that burn the brightest, live shorter lives than others," said the astrophysicist and broadcaster Neil deGrasse Tyson. "And with their high-energy light, they transform all that basks in their luminosity. Farewell John Singleton (1968-2019)."
An excerpt from a statement by Dean Elizabeth Daley of the USC school of cinematic arts read, "John will always be a beloved son of this institution. He started "attending" USC even before he was officially a student, while still a teenager in high school in South Los Angeles. Faculty and staff of the time remember him as a precocious film historian, roaming the halls, asking questions about their work, and engaging them in conversations about favorite films, his being Akira Kurosawa's Seven Samurai. The success of Boyz n the Hood soon after graduation made him an instant inspiration and role model to our students, a role he embraced without hesitation and performed with wholehearted enthusiasm."
Frank Price, chairman of the school of cinematic arts board of advisers who as chairman of Columbia Pictures hired Singleton to direct Boyz N The Hood, wrote: "My wife Katherine and I are deeply saddened by the news of John Singleton's passing. When I was asked to form a board of advisors for the USC School of Cinematic Arts in 1991, my greatest motivation in saying yes was my relationship with John, who exemplified the School's reputation for finding and nurturing extraordinary talent. Just a few years before, as the chairman of Columbia Pictures, I made one of the best decisions of my career in buying the script of Boyz n the Hood and hiring John to direct it. Since then, I have been honored to call him my friend. Over the years he has sent me first drafts of his scripts, from which I always learned something new about our place as Americans, and as human beings. I will miss his friendship, our conversations, and his contributions to our industry. Katherine and I send condolences to his mother, his children, and their family members."