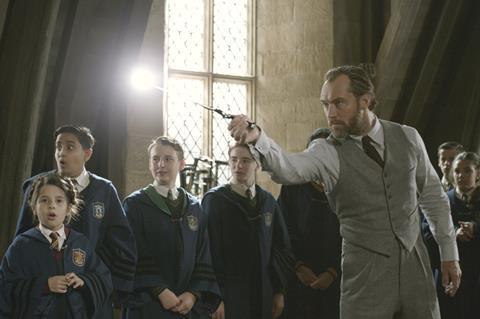 Warner Bros' fantasy sequel Fantastic Beasts: The Crimes Of Grindelwald is the stand-out opener at the UK box office this weekend.
With a cast including Eddie Redmayne, Jude Law, Katherine Waterston, Ezra Miller and Johnny Depp, the story sees current Defence Against The Dark Arts professor Albus Dumbledore (Law) enlist the help of Newt Scamander (Redmayne) in combatting the growing threat of dark wizard Gellert Grindelwald (Depp).
A spin-off of the hugely successful Harry Potter film series, the first title, Fantastic Beasts And Where To Find Them, opened to £15.3m in the UK from 669 sites and a £22,920 average on the same weekend in November 2016.
It went on to total £54.7m, making it the second highest-grossing title released in the UK that year behind Disney's Rogue One: A Star Wars Story.
Coming only five years after the final Potter film instalment (2011's Harry Potter And The Deathly Hallows: Part 2), it showed appetite for the Wizarding World franchise has not been dimmed by either the frequency of releases nor the breakaway from JK Rowling's original seven novels.
Deathly Hallows: Part 2 was the most successful of the original Potter titles in the UK, taking £73.1m total, although the 2004 Alfonso Cuarón-directed third entry The Prisoner Of Azkaban had the best opening with a stunning £23.9m start.
Rowling adapted the first Fantastic Beasts film from her own adjunct text to the Potter books, and is writer and producer again on Crimes Of Grindelwald.
Other new openers this week include Suspiria, Luca Guadagnino's remake of Dario Argento's 1977 horror classic. MUBI is releasing the film in the UK, and including it on its MUBI Go ticketing platform, through which subscribers to the streaming service can claim one complimentary cinema ticket a week to a film chosen by the MUBI programming team.
Suspiria premiered at Venice Film Festival in September, and stars Dakota Johnson as the ambitious young dancer Susie Bannion attending artistic director Madame Blanc (Tilda Swinton)'s world-renowned dance company.
Guadagnino's best UK opening to date was £347,704 (including £42,631 from previews) for A Bigger Splash in 2016. His Oscar-winning Call Me By Your Name, released in October 2017, went on to a higher total of £1.8m compared to A Bigger Splash's £1.2m.
Vertigo has serial killer amusement park film Hell Fest opening; the film is directed by Get Out editor Gregory Plotkin and produced by Tucker Tooley and The Walking Dead executive producer Gale Anne Hurd.
Independent distributor Modern Films is releasing Emily Atef's 3 Days In Quiberon. The story of the last interview of Austrian actress Romy Schneider premiered at Berlin in February, and won 7 Lolas at this year's German Film Awards including best film.
Curzon is releasing Laurent Cantet's French mystery drama The Workshop in select venues.
Further limited releases this weekend include New Zealand title Waru through specialist distributor Day For Night; 1950s London drama Adrift In Soho from Burning Films; and comedy Dead In A Week (Or Your Money Back) starring Aneurin Barnard and Tom Wilkinson, through Republic Film Distribution.
BFI Distribution, the British Film Institute's distribution arm, is re-releasing Colin Higgins' 1980 comedy 9 to 5 starring Jane Fonda, Lily Tomlin and Dolly Parton, as part of the BFI Comedy Genius season, running from October 2018 until January 31 2019.
Key holdovers this weekend are Universal's 3D animation The Grinch, the Steve McQueen-directed heist thriller Widows, and two musical box office successes – Queen biopic Bohemian Rhapsody and Bradley Cooper's A Star Is Born remake.