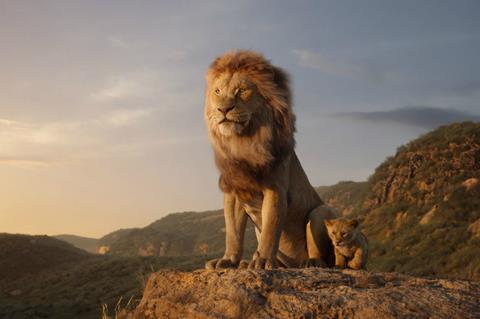 CGI animation The Lion King is the latest Disney remake to hit UK cinemas, and will look to challenge the highest openings of the year on its first weekend.
Its target will be the £31.4m three-day gross of Avengers: Endgame in April this year – by some distance the record opening weekend for a film in the UK.
The presence of several other blockbuster titles still in cinemas – Toy Story 4 and Aladdin from Disney, plus Sony's Spider-Man: Far From Home – make this a lofty goal.
However the enduring popularity of the 1994 animation on which Jon Favreau's film is based, plus an all-star voice cast led by Donald Glover and Beyoncé, mean the record isn't out of the question.
Closer targets among Disney's other recent remakes include the £19.7m of Beauty And The Beast in March 2017; the £9.9m of The Jungle Book in April 2016; the £6.1m of Dumbo in March this year; the £5.7m of Aladdin in May this year; and the £3.8m of Cinderella in March 2015.
For this year, after Endgame the highest openings are Toy Story 4 (£13.3m), Captain Marvel (£12.8m), Spider-Man: Far From Home (£8.3m) then Dumbo and Aladdin.
The Lion King will certainly look to top that group, and take Toy Story 4's record for the highest opening for an animation in the UK.
Also on release
Looking to capitalise on public interest in cricket following England's nerve-shredding victory in the World Cup last weekend is The Edge, a documentary about the England team from 2009 to 2013 when they won the Ashes both home and away and became the number one Test side in the world. Producers Noah Media Group are releasing the film through its distribution arm Noah X.
Cricket films to have had a UK theatrical release are uncommon; 2011 documentary Fire In Babylon, about the great West Indies team of the 1970s and 80s, started with £107,312 and ended on £230,797, while Bollywood drama Lagaan, about Indian peasants who challenge their colonial British rulers to a cricket match, started with £91,281 in June 2001 and ended on an impressive £687,416, buoyed by an Oscar nomination for best foreign language film.
The Edge is the latest sports documentary from Noah Media Group, which made Bobby Robson: More Than A Manager last year (opened: £8,887, finished: £25,296) and are in production on a film about English football World Cup winner Jack Charlton.
Vertigo is releasing Annabel Jankel's romantic drama Tell It To The Bees, an adaptation of Fiona Shaw's novel about a mother in 1950s Scotland who starts a relationship with the doctor caring for her young son.
The film premiered at the 2018 Toronto Film Festival, and stars Holliday Grainger and Anna Paquin in the lead roles.
It is Jankel's first feature in 26 years; she last made 1993's Super Mario Bros., which, despite overwhelmingly negative critical reaction, opened to £907,342 and ended on £3m.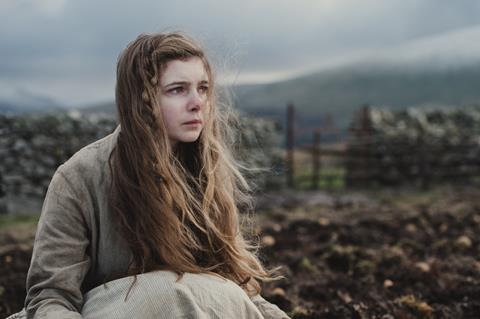 A further Toronto 2018 title, William McGregor's BFI-backed drama Gwen, is being released by Bulldog Film Distribution. Starring 2016 Screen Star of Tomorrow Eleanor Worthington-Cox, it is a dark folk tale set in the hills of Wales during the industrial revolution.
The film is McGregor's feature debut; he has previously made his name in television, directing episodes of series including Misfits, Poldark, The Missing and the BBC's upcoming His Dark Materials.
Park Circus is releasing Michael Winterbottom's latest film, The Wedding Guest, which also launched at Toronto last year and stars Screen Star of Tomorrow 2008 Dev Patel as a British Muslim on a journey across Pakistan and India.
The prolific Winterbottom, who has now directed 32 features since 1990's Forget About Me, has 2002's 24 Hour Party People as his record gross with £1m.
Patel, meanwhile, scored a huge hit with his debut role in 2009's Slumdog Millionaire, which took £31.7m and won eight Oscars including best picture. He will next be seen in Armando Iannucci's The Personal History Of David Copperfield, recently announced as the opening film of this year's BFI London Film Festival.
BFI Distribution, the British Film Institute's releasing arm, is distributing the late Agnès Varda's final film Varda By Agnès, a documentary made with photos and film excerpts looking back at her career.
Varda's films typically appeal to a niche market; her record gross in the UK was the £118,592 made by Oscar-nominated documentary Faces Places, co-directed with artist JR and released in September last year.
Other releases include 2018 Rotterdam Film Festival title My Friend The Polish Girl through Republic, about a filmmaker manipulating the story of a Polish actress living in London; music documentary Lisbon Beat through ICA Films; Japanese anime Okko's Inn through National Amusements; and Dominic Dromgoole's war drama Making Noise Quietly through Verve Pictures.
Aside from Spider-Man and Toy Story 4, key holdovers include horror Annabelle Comes Home and Working Title's Danny Boyle and Richard Curtis collaboration Yesterday.