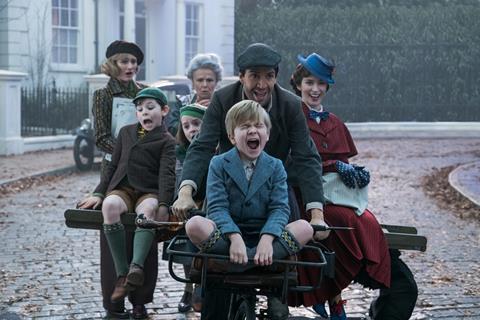 UK cinemas are dominated by one title this weekend, as Disney's musical fantasy Mary Poppins Returns launches in venues across the country.
The film is the most high-profile of the titles to fill the void left by Star Wars' fallow year.
By way of comparison, Disney's Beauty And The Beast – another franchise title mixing live action, animation and songs – started with £19.7m in March 2017, going on to a massive £72.4m. For Disney hits over the Christmas period, Frozen began with a comparatively modest £4.8m in December 2013, but ended on £43.1m, buoyed by the popularity of the songs.
Mary Poppins Returns is poised to set a new UK best for director Rob Marshall, whose previous titles include Into The Woods (£9.9m in 2015), Pirates Of The Caribbean: On Stranger Tides (£32.9m in 2011) and Chicago (£16.4m in 2002).
Led by Screen Star of Tomorrow 2004 Emily Blunt alongside Lin-Manuel Miranda, Ben Whishaw and Emily Mortimer, the feature is set two decades after the events of the original film and sees the magical nanny return to the Banks family after they are beset by tragedy.
It marks a debut blockbuster role for Miranda, who is known as the creator and star of the hit musical Hamilton and has also written music for films including Disney's 2016 Moana.
Blunt's previous lead roles include 2015 crime drama Sicario, which grossed £5m in the UK, and 2014's Edge Of Tomorrow, which totalled £7.9m.
With Poppins expected to command a large number of screens, there are few other new openers this weekend.
Signature Entertainment launches Michael Noer's crime drama Papillon starring Charlie Hunnam and Rami Malek, after a Toronto 2017 premiere.
Valérie Müller and Angelin Prejocaj's Venice 2016 ballet feature Polina, starring Anastasia Shevtsova and Juliette Binoche, will be released in select locations by 606 Distribution.
Yash Raj Films is opening the Hindi-language romance Zero, featuring Bollywood star Shah Rukh Khan.
Holdovers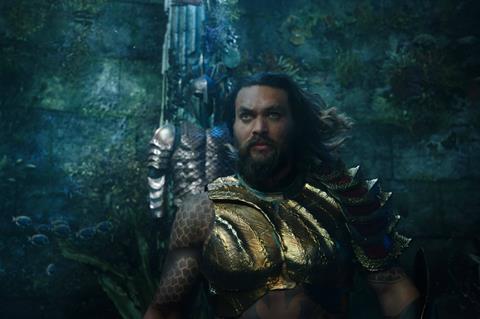 The titles looking to pick up the non-Poppins audience include Warner Bros' Aquaman, which started with £5.2m including previews – a disappointing opening compared to its performance in other territories.
Second weekend totals for recent DC Comics adaptations include Justice League's £3m in November 2017 (first weekend of £7.3m, 59% drop); Wonder Woman's £3.5m in June 2017 (first weekend of £5m, 30% drop); Suicide Squad's £4.2m in August 2016 (first weekend of £11.3m, 62% drop); and Batman V Superman: Dawn Of Justice's £4.7m in March 2016 (first weekend of £14.6m, 68% drop).
Sony has Spider-Man: Into The Spider-Verse, which began previews on December 8, and launched last weekend to £2.3m total; while Universal's The Grinch rolls into its seventh week with a gross to date of £21.7m.