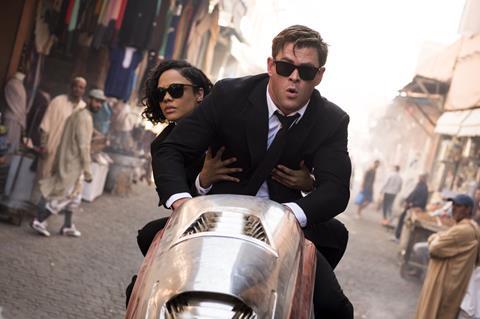 Sony Pictures Entertainment's Men In Black: International, the latest title in the popular sci-fi secret agent series is hoping to to end the three-week reign of Disney's Aladdin at the top of the UK box office.
The fourth title in the Men In Black franchise stars Chris Hemsworth and Tessa Thompson as employees of a London branch of the titular agency, who must travel around the globe to counter a series of alien attacks.
Previous Men In Black films have been box office hits in the UK. The first title, Men In Black, opened to £7.1m and finished on an impressive £35.8m in 1997. Sequel Men In Black 2 started with £6.2m and ended on £22.3m in 2002; while after a 10-year hiatus, Men In Black 3 had the lowest launch of £2.9m in 2012, but still made it to a strong £22.3m, just pipping the previous instalment by £3,635.
The new film is a reunion for Avengers castmates Hemsworth and Thompson, who starred in Thor: Ragnarok in 2017 (opened: £12.4m, finished: £31.1m).
Director F. Gary Gray's box office pedigree includes 2017's Fast & Furious 8 (opened: £14m, finished: £29.7m), 2015's Straight Outta Compton (opened: £2.5m, finished: £8.2m) and 2009 actioner Law Abiding Citizen (opened: £1.5m, finished: £6.4m).
Altitude's feature documentary Diego Maradona is also opening this weekend. The latest film directed by Asif Kapadia (a best documentary Oscar-winner for 2015's Amy) follows the brilliantly gifted but troubled Argentinian footballer, focusing on his time at Italian club Napoli in the 1980s when he became the biggest sports star in the world. Maradona premiered in official selection at the Cannes film festival last month and made its UK premiere at Sheffiled Doc/Fest last weekend.
Altitude also released Kapadia's Amy which opened with £523,192 in July 2015, ending on £3.8m. Kapadia's earlier documentary, the Bafta best documentary winner Senna, opened with £375,173 and notched up a final gross of £3.2m.
Vertigo is distributing Kim Nguyen's The Hummingbird Project, a Canadian-Belgian thriller about high-frequency trading starring Jesse Eisenberg, Alexander Skarsgård and Salma Hayek.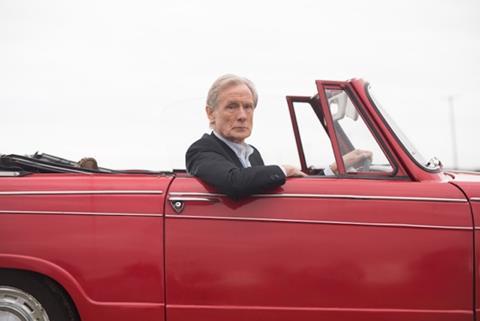 Parkland Entertainment has UK Scrabble comedy Sometimes Always Never, in which Bill Nighy plays a tailor whose son stormed out of the house after a round of the popular board game. The tailoring-themed title refers to which buttons are traditionally done up on a suit jacket.
Pinpoint Films is opening the comedy drama Wild Honey Pie! directed by the UK's Jamie Adams and starring Girls actress Jemima Kirke and Alice Lowe. It is about a woman who decides to mount an ambitious Shakespeare by the Sea festival in Wales, which has tricky ramifications for her marriage.
Director Adams has two titles premiereing at next week's Edinburgh International Film Festival – Biffy Clyro-soundtracked Balance, Not Symmetry, and music drama Bittersweet Symphony with Suki Waterhouse.

Further new releases include Toronto 2017 title A Season In France from New Wave Films; historical drama Bharat, set around India's move to independence in the 1940s, from CinemaNX; oil painting documentary Prophecy from Koenig Pictures; and hot air balloon thriller Balloon through Studiocanal.
Key holdovers alongside Aladdin's run at the top include the second session of X-Men: Dark Phoenix, which disappointed on opening last week; Elton John biopic Rocketman; and animated family film The Secret Life Of Pets 2.