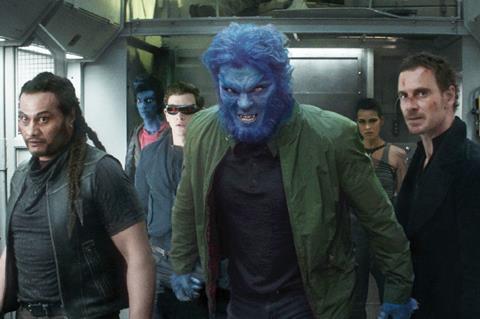 Today's GBP to USD conversion rate: 1.27
Full screen
| | | | | |
| --- | --- | --- | --- | --- |
| Rank | Film (Distributor) | Three-day gross (June 7-June 9) | Total gross to date | Week |
| 1 | Aladdin (Disney) | £3.9m | £26.1m | 3 |
| 2 | X-Men: Dark Phoenix (20th Century Fox) | £2.7m | £3.8m | 1 |
| 3 | Rocketman (Paramount) | £2.2m | £16.1m | 3 |
| 4 | The Secret Life Of Pets 2 (Universal) | £2m | £14.9m | 1 |
| 5 | Take That - Greatest Hits Live (CinemaLive) | £1.8m | £1.8m | 1 |
Disney
Live action remake Aladdin marked a third session at the top of the UK box office, falling just 20% on its previous session with a £3.9m weekend, beating X-Men: Dark Phoenix into second place.
The film scored the highest location average in the top 10 with over £6,009. It has now reached £26.1m, passing fellow Disney adaptation Dumbo (closing out on £24.9m).
Three weeks on top marks a strong result for Disney, although it will struggle to get near the lifetime totals of 2016's The Jungle Book (£46.2m) and 2017's Beauty And The Beast (£72.4m).
Avengers: Endgame added £275,000 for £87.4m, and looks set to settle in fifth place on the all-time UK box office, behind Avatar's £94m.
20th Century Fox
X-Men: Dark Phoenix landed in second spot on its opening weekend with £2.7m, suffering in comparison to previous titles in the franchise. The film, starring Game Of Thrones' Sophie Turner alongside franchise regulars, opened on Wednesday June 5 and has £3.8m total.
Of the 11 previous X-Men films, the highest opening was 2016's Deadpool with £13.7m (ending on £38.1m), while the lowest was 2013's The Wolverine, still some way ahead of Dark Phoenix with £4.7m (ending on £13.8m).
Paramount
Rocketman pulled in £2.2m on its third weekend for £16.1m total, a slim 13% drop. The film won't match up to Bohemian Rhapsody's stellar £54.9m, but it is on track for a decent total for a 15-rated film.
Paw Patrol: Mighty Pups added £75,000 and is at £1.3m.
Universal
In its third weekend The Secret Life Of Pets 2 fell 31%, taking £2m for a £14.9m cume. Passing the £36.6m total of the 2016 first title now looks unlikely.
Octavia Spencer-led horror Ma added £257,595 on its second weekend for £1.1m, while buddy comedy The Hustle topped up £38,462 for £3.3m.
Cinema Live
Event cinema release Take That – The Greatest Hits Live broke into the top five with £1.8m across the weekend, and is the highest-grossing live concert release of all time in the UK, passing the £1.67m of André Rieu's Maastricht Concert, 'Amore' from August last year. Its £1,783,222 on its Saturday launch made it the second highest-grossing title that day. This surpasses the two previous concert film releases of the popular boyband, with Take That Live 2015 scoring £1.04m and Take That: Wonderland Live From The 02 2017 hitting £1.1m.
Select showings of the title continue today.
Warner Bros
Godzilla: King Of The Monsters added £1m on its second weekend, with a drop of 55% being rather more severe than the other top 10 titles.
Whether through poor reviews, a crowded box office or both, the film won't finish in the vicinity of either 2014's Godzilla (£17.2m) or the 1998 title of the same name (£16m).
Pokémon Detective Pikachu added £364,000 and has £13.1m total, having last week passed 2000's Pokémon: The First Movie (£11.7m) as the highest-grossing title in the franchise.
Lionsgate
John Wick: Chapter 3 – Parabellum fell just 28% on its fourth weekend, adding £463,005 for £8.9m to date. It has already far surpassed the lifetimes of the previous two John Wick films (£1.6m and £6m respectively).
eOne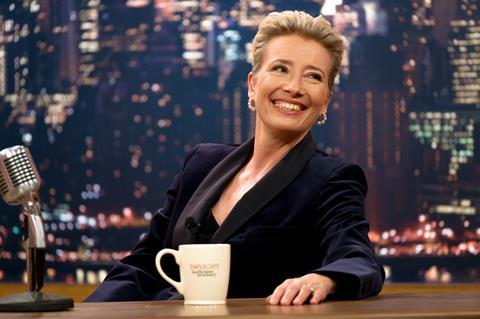 Emma Thompson and Mindy Kaling comedy Late Night opened with £425,742 from 430 sites, a slow start compared to its US limited launch of $249,654 (£197,177) from just four locations, a $62,414 (£49,296) average stateside.
Booksmart added £160,164 and has passed the £1m mark.
Trafalgar Releasing
An event cinema release of RSC The Taming Of The Shrew on Wednesday June 5 brought in £212,967, with Shrewsbury's Old Market Hall the top location with £2,249.
Park Circus
A re-release of Steven Spielberg's war epic Saving Private Ryan took £65,249 on Thursday 6, and £76,857 in total.
Curzon
Gloria Bell starring Julianne Moore started with £69,267 from 46 sites for a £1,506 average, and has £80,886 including previews.
Sunset added £8,356 for £58,025, while Birds Of Passage increased £9,546 for £143,936.
Studiocanal
Aretha Franklin doc Amazing Grace took £17,442 for a healthy total of £629,095.
Eros International
Pakistani romantic comedy Wrong No. 2 took £12,346 on opening weekend and has £23,549 including previews.
Vertigo
Thunder Road added £11,584 and is up to £79,830.