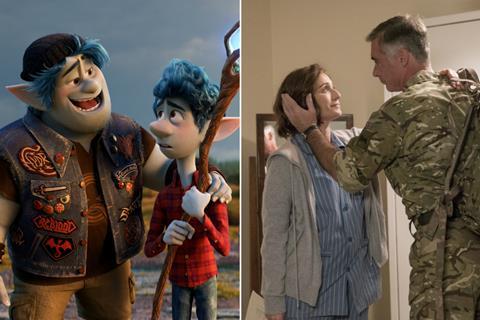 Disney-Pixar's latest animated offering Onward opens wide at the UK box office this weekend, as the coronavirus epidemic threatens to affect UK box office takings.
Directed by Dan Scanlon, Onward is the story of two teenage elf brothers in a suburban fantasy world who embark on a quest to see if magic still exists.
Screen Star of Tomorrow 2012 Tom Holland and Chris Pratt lead the voice cast, which also includes Julia Louis-Dreyfus, Octavia Spencer and Lena Waithe. The film debuted as a Special title at last month's Berlin Film Festival.
Scanlon's first Disney credit came as an animator on straight-to-video 1998 sequel Pocahontas II: Journey To A New World. He has worked on further sequels including The Hunchback Of Notre Dame 2: The Secret Of The Bell, 101 Dalmatians 2: Patch's London Adventure, and Tarzan 2: The Legend Begins. Scanlon graduated to the senior creative team at Pixar for 2012's Brave (opened: £820,084, closed: £22.2m), and held a spot on the team for 2015's Inside Out (opened: £7.4m, closed: £39.3m), 2018's Coco (opened: £5.2m, closed: £18.9m), 2018's Incredibles 2 (opened: £9.6m, closed: £56.2m) and 2019's Toy Story 4 (opened: £13.3m, closed: £66m).
His sole theatrically-released directorial feature so far is 2013 sequel Monsters University, which began with £3.5m in the UK on its way to £30.8m.
After a slew of blockbuster titles across last year including Avengers: Endgame, Toy Story 4 and The Lion King, 2020 has been a quieter start for Disney. Star Wars: The Rise Of Skywalker took a sizeable £14.4m opening but dropped off sharply to finish around the £58.1m mark; 2019 release Frozen II is still in cinemas after an impressive 16 weekends, having grossed up to £53.6m last time out.
This weekend also sees the return to UK cinemas of British director Peter Cattaneo, with Toronto 2019 title Military Wives, released through Lionsgate. Starring Kristin Scott Thomas and Sharon Horgan, it is a fictionalised version of the true story of the wives of British military personnel away in Afghanistan who formed a choir which gained international attention.
Cattaneo's last feature The Rocker was released 12 years ago, opening to £217,745 and ending on a low £401,231.
However, he still holds the record for the highest-grossing independent film in the UK. The £52.2m takings of 1997's The Full Monty, from a modest £1.6m start, is one of the great British cinema success stories, and boosted the careers of actors such as Robert Carlyle and Tom Wilkinson.
Cattaneo also directed 2001's Lucky Break (£1.3m cume) and 2006's Opal Dream, which was not released theatrically.
Fantasy Island, Photograph open up
Two popular US titles will attempt to replicate their success across the pond this weekend.
Blumhouse's Fantasy Island (called just Fantasy Island in the US) is the latest title produced by horror specialists Blumhouse, released by Sony. Michael Peña, Maggie Q and Lucy Hale star in the adaptation of the 1970s TV show about a magical island resort.
Another Blumhouse production, The Invisible Man, topped the box office last weekend with an impressive £2.2m opening. If it holds well, it will aim towards the company's record gross of £11.4m for 2017's Split.
Middling reviews and the absence of a star such as Elisabeth Moss mean Fantasy Island would do well to break into a seven-figure opening.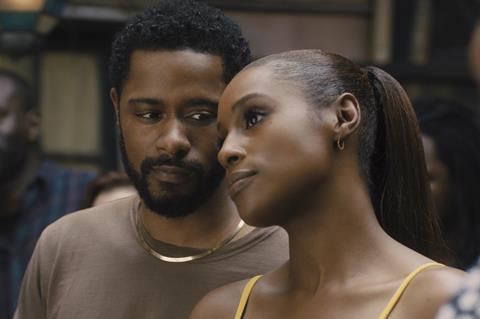 Universal is opening The Photograph, a romantic drama directed by Stella Meghie and starring LaKeith Stanfield and Issa Rae. It has attracted attention as one of a small number of major studio romances led by BAME actors.
It took $12.2m (£9.4m) on opening in the US, and is at $19.6m (£15.1m) as of last weekend.
Stanfield has racked up a quality list of credits since appearing alongside Brie Larson, Rami Malek and Kaitlyn Dever in Destin Daniel Cretton's 2013 Short Term 12 (opened: £12,294, closed: £38,891).
He had key supporting roles in 2017 breakout horror hit Get Out (opened: £2.2m, closed: £10.4m) and 2020's Uncut Gems (released through Netflix in the UK, who do not provide figures); while he led 2018 Sundance title Sorry To Bother You, which opened to £251,137 and took £736,457 in total.
Rae is best known for her starring role in TV's Insecure, while her film credits include The Hate U Give and Little.
Republic has Timothy Greenfield-Sanders' latest documentary Toni Morrison: The Pieces I Am, about the successful US writer who passed away in August 2019.
The director has previously made six features, five of which are part of the 'List' series (eg. 2008's The Black List: Volume One and 2013's The Out List).
Modern Films is releasing Julian Jarrold's Sulphur And White starring Mark Stanley and Emily Beecham. It is UK director Jarrold's sixth feature; his highest gross to date is the £3.8m made by Jane Austen origin story Becoming Jane in 2007, from a £649,323 opening.
Pedro Costa's Vitalina Varela, about a Cape Verdean woman discovering the illicit life of her recently deceased husband in Lisbon, Portugal, is released through Second Run.
This is Costa's ninth feature as a director, in a career that began with 1989's Blood. He criticised the current state of filmmaking in a recent masterclass session at International Film Festival Rotterdam.
Jonny Tull has fin-de-siècle drama Sea Without Shore; while Signature is distributing Francis Annan's Escape From Pretoria, a thriller starring Daniel Radcliffe and Daniel Webber about the real-life prison break of two political captives.
In non-English language titles, Disney has Bollywood action threequel Baaghi 3, while Magnetes Pictures is distributing Polish-language singer biopic Zenek and Miracle Comms has Japanese drama Immortal Hero.
Aside from The Invisible Man, key holdovers include Sonic The Hedgehog, and Oscar winner Parasite, which is on £10.9m as of Thursday, March 5 and should become the highest-grossing non-English language title of all time this weekend, overtaking the £11.1m of The Passion Of The Christ.