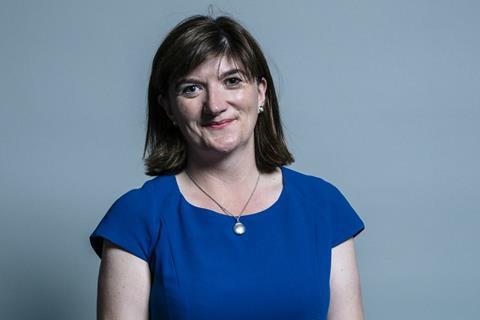 The creative industries have offered initial reaction to the appointment of Nicky Morgan as the UK's new secretary for Digital, Culture, Media and Sport (DCMS in new prime minister Boris Johnson's inaugural cabinet.
Morgan replaces Jeremy Wright. She was formerly secretary for education.
Immediate reactions from UK bodies noted that while the country's creative industries continue to experience a boom, the prospect of a no-deal Brexit was a threat to their future success.
Caroline Julian, director of policy and programmes at UK body the Creative Industries Federation, highlighted the importance of the role, particularly against the backdrop of Brexit uncertainty: "Given the importance of the creative industries to both the UK's economy and global reputation, this position is a crucial one at this uncertain time."
"More than two million people work in our creative industries, and creative jobs are growing at three times the UK average. The sector is worth more than £100bn to the UK's economy, and its output makes a difference to the quality of life of every person living in the UK," she continued.
"We look forward to working closely with Nicky Morgan on this important brief, and to realise the many opportunities ahead for the UK's creative industries. Particularly, we urge her to acknowledge the extent to which the success of the sector is built upon the talented creative people working within it. To this end, the sector must be enabled both to bring in highly skilled people from around the world and to maximise the extent to which creative education in this country can develop the next generation of creative talent.
"We will continue to stress the immeasurable damage that would be caused to the sector if the UK were to crash out of the EU, and hope to work with Nicky Morgan to avoid the worst-case scenario of a no-deal Brexit," Julian said.
Adrian Wootton, chief executive of Film London and the British Film Commission, welcomed Morgan into the role, citing her recent role as chair of the Treasury Select Committee as "bringing essential economic expertise paired with her education background, which will of course be of significant benefit to the hugely successful screen and wider creative industries at this moment of such rapid growth".
He also noted new prime minister Johnson and Munira Mirza, director of the Number 10 policy unit, had been "hugely supportive of Film London" when Johnson was mayor of London between 2008 - 201 and Mirza was deputy mayor for education and culture. Wootoon said he was "looking forward to working with the new Government team and continuing to strengthen the industry and generating new opportunities for inward investment, jobs, skills and growth".
Harriet Finney, the BFI's director of external affairs, added: "We are looking forward to working with the new Government. We will be working hard with them to build on the current success of our film and screen industries and ensure we have the best possible environment going forward to deliver continued cultural and industrial prosperity for the UK."