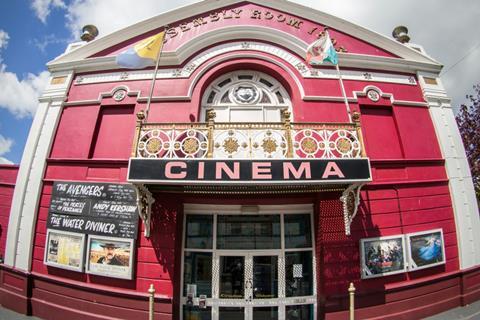 The BFI Film Audience Network (FAN) has allocated emergency funding to independent exhibitors across the UK, which has seen cinemas remain closed since March due to the Covid-19 pandemic.
As independent cinemas continue to suffer financial losses nearly three months after closing their doors, awards of up to £23,000 have been made to 130 members of FAN, which comprises eight film hubs managed by film organisations across the UK.
The support has come via the BFI FAN Covid-19 Resilience Fund, which includes £1.3m of National Lottery funding. The Mayor of London's Culture at Risk Business Support Fund has contributed a further £150,000 to help exhibitors in the capital which are in critical financial need as they continue to face closure and uncertainty.
Supporting exhibitors who often represent the only cultural offer in their local area, recipients include MacRobert Arts Centre in Stirling, Scotland; Jam Jar Cinema in Whitley Bay, England; Magic Lantern in Tywyn, Wales; and Bounce Cinema in London,
The UK government has indicated that cinemas could open from July 4. But the majority of UK independent cinemas would only survive three months with social distancing measures, according to a survey by the Independent Cinema Office (ICO).
More than 40% of those surveyed said social distancing would prevent them from reopening, mainly due to a reduction in seating capacity and related income. Almost half of those that did believe they could reopen said it would be in September at the earliest.
Ben Luxford, head of UK audiences at the BFI, said the emergency grants would prove a "lifeline" for exhibitors to stay in business "in the immediate term". "However, it is clear that these vital and unique organisations, which are crucial to the rich cultural fabric of their local communities, are still in crisis," he added.
"When allowed to reopen, safely implementing social distancing guidance will not only be logistically impossible for some, but many are also unlikely to cover their costs when operating at reduced capacity. Losing these exhibitors would be a huge cultural loss for UK audiences, so I am pleased FAN has been able to help them keep the lights on while we all face the oncoming challenges."
A fighting chance to reopen
Recipients of the grants explained how vital they were for their ongoing survival. Dan Ellis, managing director of the Jam Jar Cinema in the north of England, said the venue "probably wouldn't survive this crisis" without the funding.
"This support gives us a fighting chance to reopen and we're using this time to figure out what we need to do differently," he said. "But it's not just enough to survive, it's about coming back and being there for the people who use us, need us and are yet to discover us… With this support we hope we can work together with our audiences so that our organisation, our community and our town can thrive once again."
Natalie Jode, executive director of Creative Arts East in the south of England, said: "This year, [the funding] will allow us to balance the books, maintain employment for our staff and continue to support our network of 64 community cinema groups with remote training and digital programming.
"Crucially, this investment affords us the time and capacity to move out of a financial firefight for 2020-21 and begin looking to and preparing solutions for the medium and longer-term challenges that we are facing alongside our colleagues in the wider arts and cultural sector."
Rhiannon Wyn Hughes is festival director and cinema co-ordinator at the Wicked Wales Film Festival and Cinema in Rhyl, and said: "With Film Hub Wales support, we started our community cinema three years ago to bring affordable cinema back to some of the most deprived communities in Wales.
"This period of lockdown meant losing contact with the audiences we had worked so hard to build up. This funding will enable our volunteers to continue to have a place to work from and an opportunity to reach out to our existing and new audiences ready for when we open the doors again."