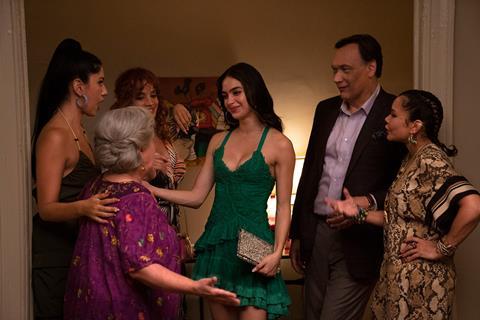 Warner Bros' long-awaited musical In The Heights arrived in cinemas across the UK and Ireland this weekend, as one of several wide-release titles looking to benefit from the National Lottery Cinema Weekend campaign.
Set up by the BFI Film Audience Network, the campaign has made 200,000 free cinemas tickets available to National Lottery players, at over 500 UK venues.
With wetter weather forecast for much of the UK, distributors are hoping to see audiences seek shelter in the cinema. However this will be offset by interest in the ongoing football Euros 2020 tournament which may keep viewers away, particularly for the England vs. Scotland game this evening (Friday 18).
In The Heights is directed by John Chu and written by Quiara Alegría Hudes, based on Hudes and Lin-Manuel Miranda's stage musical. It was scheduled for release in June 2020, before being delayed by the pandemic.
It opened in the US last week in theatres and on HBO Max, taking $11.5m (£8.3m) from 3,456 locations at a £3,327 average – lower than the projections of a $15m to $20m opening. The UK-Ireland release is cinemas only while the territory awaits an HBO Max rollout.
The story is set in the Washington Heights neighbourhood of Upper Manhattan in New York City, where members of the community pursue their dreams of a better life.
Musical films have been profitable territory in recent years, with highlights including Bohemian Rhapsody (£55.1m), The Greatest Showman (£49.1m), A Star Is Born (£30.2m), Rocketman (£23.4m) and Yesterday (£14m). Projections will be below those given the ongoing capacity limits on cinemas; Warner Bros will hope for the film to play as a counter-programming alternative to the football.
Universal is releasing Ben Wheatley's US-UK co-production In The Earth, a horror in which people are struggling to find ways to live as a deadly virus ravages the world.
Playing in 175 locations, the film debuted at Sundance in January this year, and grossed $1.1m (£804,458) in the US through Neon in April. Wheatley's highest-grossing film to date in the UK and Ireland is J.G. Ballard adaptation High-Rise (£2m from a £542,788 opening in 2015. Universal will want to push beyond that, with horror titles dominating the top of the chart since reopening.
The Hitman's Wife's Bodyguard, a sequel to 2017 title The Hitman's Bodyguard, is opening in 521 locations through Lionsgate. The first film opened to £2m from 467 sites, closing on a total of £7.3m. Returning cast Ryan Reynolds, Samuel L. Jackson, Salma Hayek and Richard E. Grant reunite to locate a terrorist intent on destroying the European power grid due to impending European Union sanctions on Greece.
Sony is releasing Paul W.S Anderson's latest videogame adaptation Monster Hunter, about a group of soldiers in a battle for survival against enormous enemies with incredible powers, in over 270 locations. It is the latest of Anderson's films to star his wife Milla Jovovich, which include four Resident Evil titles, the highest-grossing of which was 2010's Resident Evil: Afterlife with £4.8m.
Relaxed version
Picturehouse Entertainment's The Reason I Jump heads the indie openers, playing in 38 sites. Jerry Rothwell's documentary about the autistic spectrum is based on a 2007 biography attributed to Naoki Higashida, a nonverbal autistic person from Japan.
Picturehouse has created an alternative DCP with a 'relaxed version' of the film, which is fully subtitled with on-screen warnings and countdowns for potentially intense or triggering sequences that may be challenging for autistic audiences. The alternative version will be screened alongside the standard one in 28 of the 38 venues this weekend, with several of the remaining 10 requesting it for further down the line.
In limited releases, New Wave Films is distributing Elia Suleiman's Cannes 2019 Competition entry It Must Be Heaven in 11 locations. Suleiman stars as himself, in a comedy about a man who escapes Palestine for a new beginning, only to encounter the same problems as back home. It was selected as Palestine's entry for the 2020 Oscars.
Key holdovers include horror titles A Quiet Place Part II (number one for consecutive weekends) and The Conjuring: The Devil Made Me Do It; Peter Rabbit 2: The Runaway; and Disney's live-action Cruella.