Restoration of London's Regent Street Cinema receives greenlight.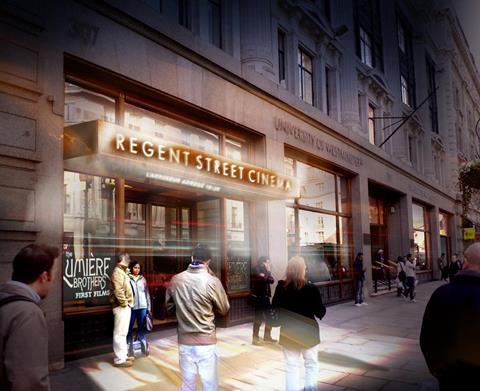 The restoration of the UK's first cinema, on London's Regent Street, has been given the go ahead by Westminster City Council, as the campaign to raise funds for the landmark project moves into its next phase.
The Regent Street Cinema, currently used as a lecture theatre within the University of Westminster, is known as the 'Birthplace of British Cinema' as it was used by pioneering filmmakers, the Lumière brothers, to perform their first ever moving picture show in the UK on Feb 21, 1896.
The project will see the preservation of the key architectural features of the cinema from its 1920's heyday, combining the restored fabric with up-to-date technology. Once completed, the venue will house a 200-seat auditorium that will be open to the public.
The restored cinema's programming will combine cutting edge and experimental work with a mix of current releases, documentary films, retrospectives and classic repertory titles.
The design scheme for the restoration has been created by Tim Ronalds Architects, a practice that has experience of working with landmark theatre spaces, such as the Hackney Empire redevelopment and plans for Wilton's Music Hall.
Building work will commence this April and the opening of the cinema is expected in April 2015.
A major campaign to raise money for the restoration project was publicly launched in March 2012 and the University of Westminster is seeking additional supporters to get involved.
To date, the University has secured two thirds of the £6m needed to complete the restoration and reopen the cinema. Donors have included the Heritage Lottery Fund, Quintin Hogg Trust, Garfield Weston Foundation and Odeon.
As part of the wider campaign the University has also secured donations to name over a quarter of the seats in the new Cinema and is aiming to have all 200 named by its supporters well ahead of the Cinema opening. The University previously received a £1 million donation from the MBI Al Jaber Foundation, which was used to restore the Edwardian-style Grand Entrance Hall at the Grade II listed campus.
The cinema project is being backed by British film industry figures who sit on its advisory board including Working Title co-chair Tim Bevan, Senna director Asif Kapadia, Saving Mr Banks producer Paul Trijbits, and Avengers Assemble cinematographer Seamus McGarvey.