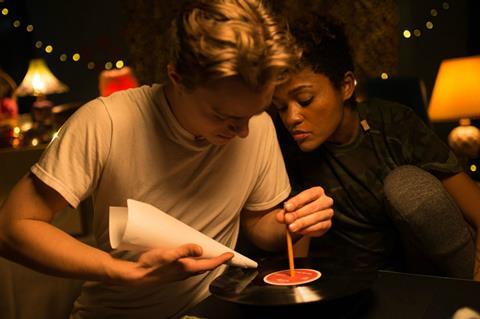 The 4th International Film Festival & Awards Macao (IFFAM) closed on Tuesday night (10) with the top award going to US film Give Me Liberty directed by Kirill Mikhanovsky.

Stars such as Carina Lau and Juliette Binoche were on the red carpet for the festival, which showed 43 films including 10 in International Competition and six in the New Chinese Cinema Competition. It ran from December 5-10 in and around the Macau Cultural Centre.

Chinese filmmaker Peter Chan Ho-sun headed the jury for first and second-time directors in the international competition. He was joined by producer Ellen Eliasoph (US), actor Tom Cullen (UK), actress Dian Sastrowardoyo (Indonesia) and director Midi Z (Myanmar).

They unanimously gave the best film award, which comes with a cash prize of $60,000, to Give Me Liberty for its "farcical and poignant portrait of a day in the life of America's challenged and disenfranchised. The film starts with hilarious, inexhaustible energy and then weaves into a story of empathy, compassion, and most of all, hope. It's no coincidence that the film is set in a city on the brink of a political meltdown, with a protest in the end that makes the film all the more relevant to the world we are living in right now."

Mikhanovsky thanked the jury as well as organisers, saying, "You truly crafted an amazing event" as "a meeting of intellects" with passion for cinema.

He said Give Me Liberty had nearly never happened, remembering how producer and fellow scriptwriter Alice Austen "was with two phones – one organising the set and the other raising the money. Being here is an award. This [the award itself] is the gravy."

International Competition – best director went to Fyzal Boulifa for UK-France co-production Lynn + Lucy, a film in which a toddler's death opens up a Pandora's box in a community in crisis. The jury said "the hand of the director in every scene was palpable." The film also picked up best actress for Roxanne Scrimshaw for her performance.

The International Competition's best screenplay award went to writer-director Hamish Bennett for New Zealand film Bellbird for telling a "story unique to the place".

The section's best actor award went to Sarm Heng for his "raw, bold and honest performance" in Australian film Buoyancy. While thanking the jury and organisers, he also paid tribute to the victims of modern slavery that the film was based on.

Buoyancy also picked up the Macao Audience Choice Award. Director Rodd Rathjen also thanked "the survivors of modern slavery that shared their stories with me. They endured incredible trauma, making this even more meaningful."
New Chinese Cinema
In the New Chinese Cinema competition for films from Chinese-speaking territories, Xiaogang Gu's mainland China film Dwelling In The Fuchun Mountains won Best New Chinese-language Film of the Year.

The New Chinese Cinema competition jury was led by producer Cristian Mungiu (Romania) with Noah Cowan (Canada/US), former executive director of SFFILM, director-writer Kirsten Tan (Singapore), BFI London Film Festival director Tricia Tuttle (UK) and director-writer-cinematographer Qiu Yang (China).

Mingjiu said, "We spent a week in Macau. The people here are wonderful and we saw a lot of talent in the films, young filmmakers with fresh voices. We need to encourage people to tell everyday life stories because this is how we live and get to know one another and if you know each other's culture and civilisations, it makes things better."

Presenting the award, he said, "The director managed to do some magnificent architecture of his scenes and he had a way of storytelling that we appreciate. This is the most complex narrative we've seen and the director needs to be encouraged."

New Chinese Cinema – best director award went to Anthony Chen for his Singaporean film Wet Season. Chen thanked his cast and crew as well as the organisers who brought them over to Macau.

"It's such a wonderful place to meet old friends and new friends. There are a lot of directors here that I admire - it's so wonderful to bump into them here," he said. His film also picked up the Cinephilia Critics' Award.

Best screenplay in this section went to Johnny Ma's China-France co-production To Live To Sing. The jury lauded it for its "sincere and humanistic treatment of its subject matter" as well as its "stylistic approach" and "pathos".

"It's not easy to make films and meet with audiences in China," said Ma, encouraging people to go see films in theatres. To Live To Sing also picked up the NETPAC Award.

New Chinese Cinema - best actress went to Zhou Dongyu for her work in Hong Kong-China film Better Days, while best actor went to Wu Xiaoliang for his work in Chinese film Wisdom Tooth.

Juliette Binoche, as one of the IFFAM ambassadors, presented the Asian Blockbuster Film 2019 award to Korean film Parasite, directed by Bong Joon Ho. Producer Kwak Sin Ae accepted on his behalf while the director sent his thanks via video greeting.

Cinephilia Critics' Award for Best Macau Film went to omnibus film Years Of Macau, produced by Tracy Choi and directed by nine local filmmakers including Penny Lam Kin Kuan and Maxim Bessmertnyi.

"Spirit of Cinema" Achievement Award went to fifth-generation director Li Shaohong (Bloody Morning, A City Called Macau) for her contribution to cinema with her films and filmmaker training.

The festival closes tonight with the screening of Wong Hing-Fan's Hong Kong SAR film I'm Livin It.