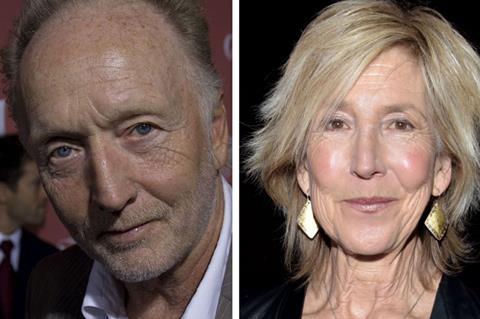 Voltage Pictures arrives at the EFM with international sales rights to upcoming horror feature The Call, which stars the Saw franchise's Tobin Bell and Lin Shaye from the Insidious films.
Timothy Woodward Jr. directs from a screenplay by Patrick Stibbs about a group of friends who tormented an elderly woman suspected to be a witch. After the old woman dies, the friends are forced to call a phone installed in her casket. To their horror, someone on the other end picks up.
The feature, currently in production, is being produced by Wonderfilm Media's Kirk Shaw (Primal, Extraction), Woodward Jr., Shaye, Gina Rugolo, Randy J. Goodwin, Jeffrey Reddick, Zeb Huling and Stibbs.
Matthew Helderman, Luke Taylor and James Shavick are executive produciers. Voltage Pictures' Babacar Diene and Sarah Dunn negotiated the deal with Shaw.
"Tobin and Lin, or Saw's Jigsaw and Insidious' Elise Rainier, as they're known to legions of fans around the world, are match made in horror heaven," said Voltage president and COO Jonathan Deckter. "Timothy Woodward Jr. is a master of the kind of elevated horror that buyers love. This is a twisted and terrifying tale that is sure to set both pulses and box office racing."
Bell is best known for portraying the maniacal mastermind John "Jigsaw" Kramer in Saw and appeared in all eight films in the franchise. His credits include J. Davis' Manson Family Vacation, Linas Phillips' Rainbow Time, and Jason Mac's Old Man And The Pond.
Shaye played Elise Rainier in the Insidious films alongside Rose Byrne and Patrick Wilson. She has also starred in Ouija, The Final Wish (also directed by Woodward Jr.), and The Grudge. She will next be seen in Showtime's Penny Dreadful: City Of Angels.
Recent titles on the Voltage sales slate include the Toronto International Film Festival FIPRESCI Prize winner Skin starring Jamie Bell; $3m global hit Tupac Shakur biopic All Eyez On Me starring Demetrius Shipp Jr., Danai Gurira, and Kat Graham; and drama Her Smell starring Elisabeth Moss, Amber Heard, Cara Delevingne, and Dan Stevens.
The current sales slate includes action-thriller The Marksman starring Liam Neeson, and gangster crime biopic Lanksy starring Harvey Keitel, Sam Worthington and Annasophia Robb.