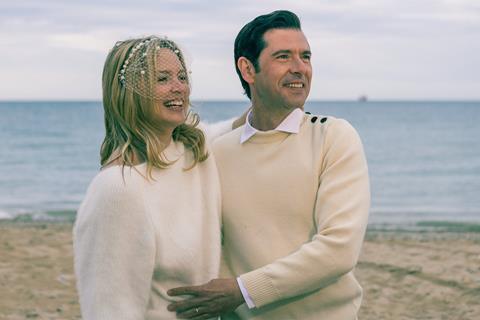 Paris-based sales outfit Wild Bunch International has boarded Valerie Donzelli's domestic abuse drama Just The Two Of Us (L'Amour Et Les Forêts) and will launch sales at the upcoming AFM market along with a star-powered slate which includes new titles The Price Of Money: A Largo Winch Adventure and Mexican military drama Heroic.
Just The Two Of Us stars Virginie Efira as a woman caught up in a toxic relationship with a possessive man played by Melvil Poupaud. Co-written with Happening director Audrey Diwan, Donzelli's sixth feature is an adaptation of the French novel of the same name (L'Amour Et Les Forêts) by Eric Reinhardt.
Wild Bunch International's Eva Diederix called the film "a domestic abuse story narrated like a thriller that shows the viewer how this woman gets entangled in a web of violence until she explodes and finds her way out." She added: "In this post #MeToo era especially, it's an important film."
Just The Two Of Us is produced by Edouard Weil and Alice Girard at Rectangle Productions who are also behind Diwan's Venice 2021 Golden Lion winner Happening. France 2 Cinema and Les Films de Françoise co-produce. Diaphana will release the film in France and Wild Bunch will show a promo reel to buyers to kick off sales at AFM.
Donzelli's Declaration Of War screened in Cannes at Critics Week in 2011, earned six César nominations and was France's candidate for the best international feature Oscar in 2012.
The film's lead Virginie Efira has become one of France's most ubiquitous talents. She hosted the opening ceremonies of the 75th Cannes Film Festival in May and also starred in Alice Winocour's Revoir Paris and Serge Bozon's Don Juan which premiered there, followed by Rebecca Zlotowski's Other People's Children in Venice. Other People's Children, also sold internationally by Wild Bunch International, has been a box-office success in France after premiering in Venice and Toronto with 364,000 tickets sold after five weeks in theatres.
AFM slate
Wild Bunch International will also show its mood reel of The Price Of Money: A Largo Winch adventure to buyers at AFM. Tomer Sisley returns as the titular character for the film directed by Olivier Masset-Depasse whose Duelles screened in Toronto and 2010 title Illegal in Cannes.
Described as "Taken meets Jason Bourne" the action adventure, shot in English and French, takes Largo Winch from Canada to Burma to Bangkok. Diederix says the film produced by Pan-Européene is about "power games" and is "pure action all along".
Wild Bunch International will also unveil a first promo reel for David Zonana's Mexican military feature Heroic produced by Michael Franco (Sundown, April's Daughters), which it describes as "a chilling and incisive social drama feature that reveals the systemic violence rife in contemporary Mexico".
The film follows an 18-year-old boy with indigenous roots who enrols in a military college hoping for a brighter future, but finds himself within a rigid and violent system where the young cadets are subject to physical and moral abuse. Zonana's 2019 feature Workforce made its festival rounds at TIFF, San Sebastian and the Palm Springs Film Festival.
Wild Bunch International's animation arm Gebeka International will show a mood reel of The Legendaires directed by Guillaume Ivernel (Dragon Hunters) and produced by Pan-Européene. The film is based on the comic book that sold nine million copies.
Wild Bunch International is also handling sales on Louis Garrel's The Innocent, another Cannes 2022 title that has performed well at the French box office with more than 350,000 tickets sold after just two weeks in theatres. It has also screened at several festivals and opened the recent Lumiere Festival in Lyon.
LA base and screenings
Wild Bunch International has rented the Sepulveda Screening Room in LA where the sales powerhouse will screen their new promo reels and teasers for buyers in addition to a market premiere screening of James Huth's The New Toy and market screenings of Garrel's The Innocent and Our Ties, a bittersweet comedy directed by Other People's Children star Roschdy Zem set for a French release via le Pacte on November 23.
The New Toy is produced by Paris-based Eskwad whose Les Tuche trilogy grossed more than $95m worldwide. The family comedy stars Jamel Debbouze and Daniel Auteuil and was released on October 19 in France via Sony Pictures.
Wild Bunch International will also host a handful of screenings at the Chinese Theater with the AFI including Alice Diop's Saint Omer, the French entry for the 2023 Oscar for best international feature.