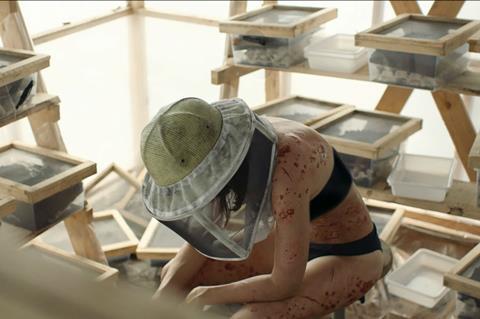 France's Wild Bunch International (WBI) and Capricci are joining forces to create a new production company called Wild West which will be focused on French genre feature films and series.
Its remit will encompass genre "in its broadest sense" and span horror, fantasy, sci-fi, crime, thriller and superhero films.
The joint venture will officially kick off its activities with a special event in the French city of Bordeaux next week (June 9 and 10) at which it will present its first slate of films. Alongside this physical event, there will also be virtual presentations aimed at potential partners in the US and Asia.
CAA Media Finance, which has long represented the US rights to WBI films, will run the presentations for the US and also represent films produced under the Wild West label.
The aim of both events is to find partners for a rolling working capital production fund as well as support for the individual projects, and lay the groundwork for potential remake deals or series adaptations.
"Our hope is that the general quality and originality of this first slate will give a taste of what is to come," commented WBI founder and head Vincent Maraval. "The rolling fund will give us the freedom to start production on projects without having to secure a distributor or platform, in the style of Jason Blum, or going further back, Roger Corman."
Companies signed up for the Bordeaux event include platforms Netflix and Amazon as well as a number of local players with strong genre track records such as pay-TV giant Canal+, Orange Studio (the cinema arm of telecom company Orange), distributor Metropolitan Filmexport and sales company WTFilms.
Long-time collaboration
The joint venture has grown out of a five-year collaboration between sales powerhouse WBI and film and publishing company Capricci, around the latter's So Film Genre screenwriting residency.
Capricci co-founder Thierry Lounas launched the residency in 2016 in response to a dearth of support and resources in France for genre filmmaking. Wild Bunch has been a partner from the beginning. The initiative annually supports the development of around 10 features with directors and producers attached and another 10 screenplays at an earlier stage of development.
Under their new Wild West banner, the partners plan to develop an annual line-up of around 12 French genre feature film and series projects a year, drawn from the past editions of the residency.
"Wild West offers a French genre cinema – genre cinema that speaks directly to and about the world today – as well as providing a tremendous laboratory for a new generation of filmmakers," said Lounas.
Beyond supporting the production of the original projects, Maraval also sees strong international potential around remake rights with partners in Europe, the US and Asia. WBI will not, however, automatically handle international sales on the features and series coming out of the initiative.
Natural evolution
One of the first features to come out of the residency was Just Philippot's The Swarm. Set in rural France, the thriller combined horror elements with social drama and starred French actress Suliane Brahim as a single mother who is struggling to get her grasshopper farm off the ground until she discovers her livestock thrive on human blood.
It was selected for the 2020 label of Cannes Critics' Week as well as theSitges International Fantastic Film Festival last autumn where it won best actress and the jury prize. The Jokers Films is set to release the film in France on June 16 while WBI handled international sales and secured a deal to the rest of the world with Netflix.
"The creation of Wild West marks the natural evolution of our collaboration with Thierry Lounas and Capricci," said Maraval. "The quality of the work done and the successful experience of The Swarm encouraged us to commit further to this adventure, allowing Wild Bunch International to reconnect fully with genre cinema, which since the beginning has embodied Wild Bunch's original and distinctive editorial approach."
Genre has long been at the heart of the Wild Bunch line-up alongside auteur cinema and more mainstream fare. One of the first films the company sold was French director Lionel Delplanque's horror film Deep In The Woods before moving on to work with the likes of Guillaume del Toro, George A Romero and Nicolas Winding Refn.
WBI's current slate features Michel Hazanavicius's zombie comedy Final Cut, a French-language remake of the 2017 cult Japanese hit One Cut Of The Dead, while its recently launched production company Getaway produced Alexandre Aja's Oxygen for Netflix.