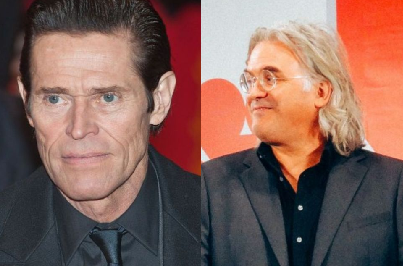 At Eternity's Gate star Willem Dafoe and 22 July director Paul Greengrass will receive tributes at the 2018 IFP Gotham Awards.
Dafoe will receive the Actor Tribute and Greengrass will receive the Director Tribute on November 26 in New York City.
"Willem Dafoe is one of the most iconic actors of our generation," said Joana Vicente, the outgoing executive director of IFP and the Made in NY Media Center who will join Toronto International Film Festival as director and co-head on November 1.
"Throughout his legendary career, he has consistently brought versatility, boldness and daring complexity to his roles. Whether a Hollywood tentpole franchise or a small-scale independent film, Willem's artistic curiosity has led him to film and theatre projects all over the world, making him one of the most internationally respected actors. The IFP is thrilled to be honoring Willem with the Actor Tribute this year.
"We are equally delighted to present Paul Greengrass with the Director Tribute. Paul brings a startling realism to all of his films whether directing a stellar cast in a cat and mouse thriller that stretches around the globe or directing relative unknowns in a tragic docudrama within the confines of a doomed plane. His singular ability to create a visual – and visceral – narrative from his meticulously redrawing of impactful historical events will have a lasting influence on cinema for generations to come."
Dafoe earned plaudits for his portrayal of Vincent Van Gogh in Julian Schnabel's upcoming At Eternity's Gate that premiered at the 75th Venice Film Festival, where Dafoe won the Volpi Cup for Best Actor. The film will close the 56th New York Film Festival next month and opens in the US via CBS Films on November 16.
He has earned three supporting actor Oscar nods, for The Florida Project, Shadow Of The Vampire, and Platoon. His credits include Antichrist, Wild At Heart and The Hunter and upcoming projects include Aquaman, Motherless Brooklyn, The Lighthouse, and The Last Thing He Wanted.
Greengrass is in awards contention this season for 22 July, his drama about the massacre in Norway by Anders Behring Breivik at a youth camp in 2011. Netflix will launch the film on October 10 and in select theatres. His credits include The Bourne Supremacy, The Bourne Ultimatum, Jason Bourne, United 93, which earned him a directing Oscar nod, and Captain Philips.
The IFP recently announced that Rachel Weisz and Jon Kamen will receive the Actress Tribute and the Industry Tribute, respectively.
Gothams nominees will be announced on October 18.