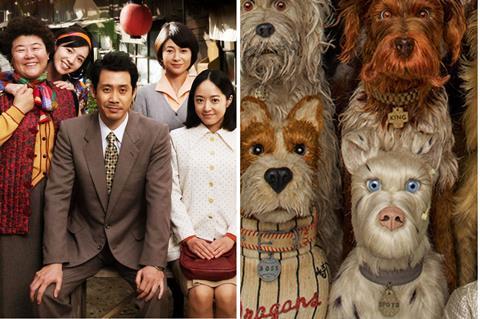 In South Korea, the 19th Jeonju International Film Festival (JIFF) has announced a record 246 films in its selection, up from 229 last year.
Running May 3-12, the fest will open with the world premiere of Chong Wishing's Japanese film Yakiniku Dragon, based on his award-winning stage play about Korean villagers in Japan around the time of the 1970 Osaka Expo with their shared trauma, love and strife.
The fest will close with Wes Anderson's Isle Of Dogs, which opened this year's Berlinale and picked up an audience award at the recent SXSW.
The stop motion drama from the director of The Grand Budapest Hotel has been drawing criticism about racism and cultural appropriation in its homage to Japanese culture.
JIFF programmer Lee Sang-yong addressed this saying, "We're aware of the controversy in the US. We think this film deals with Japanese political issues as well as American, and it's well worth having a substantial discussion about the work of such a Western director at the festival."
Jeonju Cinema Project
Festival director Lee Choong-jik said, "We had record admissions, but the greatest outcome last year was from the films the festival produced in the Jeonju Cinema Project (JCP). The First Lap won Best Emerging Director at the Locarno film festival, The Poet And The Boy was received well at the Toronto film festival and Our President was a hit with audiences on release. This year, we've increased the number of productions to five from three."
Set to make their world premieres at the fest, the JCP films are: Lee Hark-joon's North Korean refugee film A Good Business, Jang Woo-jin's night-in-a-temple drama On A Winter's Night and Lim Taegue's father-son story The Land On The Waves – all three from South Korea; Alejandro Fernandez Almendras' theatre director scandal The Best We Can, a Czech Republic-Chile-Korea-France co-production and Camila Jose Donoso's mystery NONA. If You Soak Me, I Will Burn You, a Chile-Brazil-France-Korea co-production.
Jeonju Project Market
Celebrating its 10th anniversary, the Jeonju Project Market (JPM) has launched a new initiative, JCP: Next Edition, for foreign film projects to compete for $95,000 (KW100m) and the chance to be one of next year's JCP films.
Six finalists, including Ignacio Aguero's The Drift and Ju Anqi's Grassland On The Sea, have been selected from submissions and will pitch their projects May 7 with the final winner to be announced May 8 at the JPM Awards.
The project market has also altered its Jeonju Cinema Fund for local films this year. Instead of simply giving grants as it did last year, JPM gave development funds to six projects, including Jung Jae-hoon's They Live By Night and Kim Jungin's A Long Way Gone, and will have them pitch at the market May 6, also with the winner to get $95,000 and chance to be one of next year's JCP films.
Other titles
JIFF will screen 61 world premieres including horror director Park Kihyung's Hong Kong-Korea co-production Encroach in Midnight Cinema and five international premieres including Oda Manabu's Japanese love story Saimon & Tada Takashi in International Competition.
Events will include masterclasses with local directors Jang Joon-hwan (1987: When The Day Comes) and Na Hong-jin (The Wailing), whose films will also screen in the Korea Cinemascape section alongside world premieres such as Yeo Kyundong's Stranger Than Jesus and Choe Equan's roooom.
The fest will hold retrospectives on Chilean director Raul Ruiz (Mysteries Of Lisbon), Russian director Aleksey German, Jr. (The Last Train) - whose father was given a showcase last year - and a comprehensive "archiving" showcase on Disney with 30 animated films led by 1937's Snow White And The Seven Dwarves.