Set report: director and cast discuss US-set drama The House That Jack Built during Tuesday 7 March press event.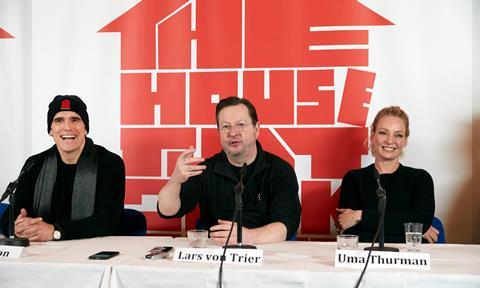 "I chose Matt and I chose Uma because they obviously can't read," Lars von Trier says with the hint of a smile.
The Danish director is sitting in a village hall a few kilometres outside the town of Bengtfors in a snow-covered part of Sweden which is standing in for the state of Washington, where his next film, the serial killer-drama The House That Jack Built, is set.
Von Trier is flanked by Matt Dillon and Uma Thurman, two of the main actors in the film, and two of his producers, Louise Vesth from Zentropa and Madeleine Ekman, and they are faced by a large group of journalists, mostly from Scandinavia and some from the rest of Europe.
He continues: "There were so many people we sent the script to, who said they would do anything to work with me, except this script. And then there were two, who said yes and I asked, 'are you sure?' And they said, 'yeah yeah yeah.' I think we should make a little test of their reading abilities."
Obviously Lars von Trier hasn't lost his wry, oftentimes sarcastic sense of humour in the six years that have passed since the director last spoke in public during Cannes 2011 when his infamous Hitler/Nazi 'jokes' at the Melancholia press-conference led to his temporary ban from the festival and a self-imposed vow of silence.
But he seems much more fragile than before, shaking, acting somewhat subdued – admittedly, meeting the press has never been one of his favourite pastimes – and mostly staring at the table in front of him.
Some time ago the anxiety-ridden and depression-prone von Trier announced that he had stopped drinking and taking drugs but the abstinence was affecting his creative process, and, he confirms at the press-conference that he has started drinking again, though not as much as before.
"I hate fairy tales"
It is only the second day of shoot on The House That Jack Built, which has a budget of €8.7m and will be shooting in both Sweden and Denmark until May before going into an extensive period of post-production and visual effects-work.
The film takes place in America in the 1970's and over the course of 12 years charts the evolution of a serial killer, Jack (Matt Dillon), and the art he makes out of the women he kills, among them 'Lady 1' played by Uma Thurman (the other women in Jack's life will be played by Siobhan Fallon Hogan, Sofie Gråbøl and Riley Keogh).
The press is allowed to see a little bit of the shooting of a scene, where Lady 1 has a flat tyre and for the first time meets Jack, who takes her to a blacksmith to get her car jack fixed.
"I don't find anything especially interesting about serial killers," Lars von Trier tells his audience.
"It's more the women. For some strange reason all the women I have been with have been crazy about serial killers. That might have something to do with me. Also I thought I could fool people to go into the cinema. There are so many books and films and TV-shows about serial killers. But still I picked it up – of course I know I can't do something drastically different but I had fun writing it."
Von Trier is reluctant to talk about the story and his take on the genre and when asked what he plans to do with it, he says, he doesn't know.
"I am 61 and I can allow myself to say 'I don't have a fucking idea what I am gonna do!' But it is maybe out of instinct and then I am having some actors here who should help everybody understand what the hidden meaning is. I am sure if you ask them they will tell you the whole thing."
But The House That Jack Built is definitely not a fairy tale, von Trier insists.
"I hate fairy tales. When I was a child everybody read Hans Christian Andersen to me, and I hated it and I threw the books out."
He does, however, agree that there is a relationship between the act of killing and the act of making art: "Oh yes, you have to be a cynic to do both."
Not Tarantino's The Bride
It is the second time Uma Thurman is working with von Trier – she had a very memorable scene in the director's previous film, Nymphomaniac – and she didn't hesitate, when he sent her the script for The House That Jack Built.
"When I worked with Lars before I had a wonderful time," she says.
"And I didn't disappoint him that badly. He grumbled just a little bit at me occasionally, but I kept trying. It was a really spectacularly challenging part that he wrote in Nymphomaniac, and I was so thrilled that he sent me the new script. Then I read it and I went, 'here it goes.'"
She laughs.
"Lars is an amazing director for actors. I can tease him and say that he is incredibly sensitive and tender in what he is trying to get, in a brutal way, out of things. We will see. It is in his hands."
Uma Thurman is then asked if Lady 1 is at all like the character of 'The Bride' she played in Quentin Tarantino's Kill Bill.
"This is not The Bride. The film is about a serial killer and she doesn't survive. I don't choose my parts because of how they end up. I usually choose to work with a filmmaker, writer-director, quite often. Believe me, the script for Kill Bill was terrifying also. It could easily be interpreted in other ways … the same material interpreted by another person would not have been that same event.
"You trust the creative integrity of the person and sometimes an actor has to trust the soul of the director – and that they have one. If they do, it's great, it will come out, and if they don't, then it will be just another movie. I don't like to compare directors. Lars and Quentin are totally different. There is nothing to compare … Well, you are both stubborn."
In good hands
For Matt Dillon it is the first time with the Danish director, and it is something he relishes.
"The films, that he makes, are always unique," he says.
"We have only been working together for a couple of days, but I really, really enjoy the experience. Also that Lars insisted to me that he takes full responsibility for his films. I am very excited and looking forward to this. I have worked with a number of actors who have worked with Lars, and I'd say from an acting standpoint, that I have always been really impressed with the performances.
"We actors know that you can end up … you can give a great performance, and you can be edited a certain way, where you kind of roll your eyes and say, 'what did I do here?' But I feel that I am in good hands here with Lars."
The American actor won't go into any detail about the plot either, but he says that The House That Jack Built tells a very dark story.
"Serial killers are unfortunately a part of the world we live in and have been for quite a long time, so it is an object worthy of investigation, creatively. That's how I felt when I read the script and knowing there is also a very poetic side to it and it isn't like a sterile non-fiction kind of a story. This is very much Lars' point of view and very interesting.
"We have talked about how serial killers don't look like serial killers. If you were to just look at some of the worst people in history and they sometimes look clownish or strange, not necessarily menacing or frightening. The opportunity to play a character like this and explore it from an acting standpoint is a what we look for as actors."
Another vital character in the film, the mysterious Verge, is played by Swiss actor Bruno Ganz. Asked if they can expand on the relationship between Jack and Verge, both Lars von Trier and Matt Dillon says that they can't.
"Except that he is one of my favourite actors for a very a long time," Dillon says, before von Trier makes one of those remarks, that has gotten him into trouble before.
"Didn't he play Hitler?"
Everybody laughs, and then producer Louise Vesth says, only half joking, "don't go there."
The plan is to finish The House That Jack Built in time for Cannes next year, Vesth said earlier in the day.
Croisette habitué von Trier says that he has spoken with people he knows at the festival and that he would maybe like to return.
After all, Cannes is the festival to which he will be forever associated, for better and worse.