EXCLUSIVE: Projects hail from Australia, China, Brazil, UK, Lebanon and US.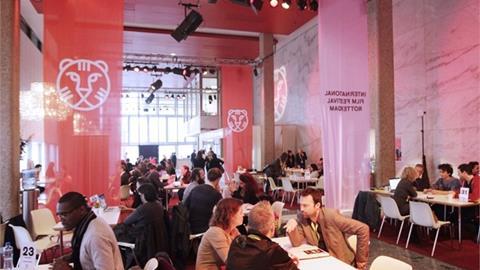 Scroll down for full line-up
International Film Festival Rotterdam's (IFFR) co-production market CineMart (Jan 31-Feb 3) has revealed its line-up for the upcoming 2016 edition.
The line-up includes new works from filmmakers from the Netherlands, Australia, China, Brazil, the UK, Lebanon, France and the US. The selection also includes two Art:Film projects.
Filmmakers selected this year include Romania's Radu Jude, whose Aferim! won the Silver Bear at the 2015 Berlinale and will present his new feature project, Is This What You Were Born For?.
Director Guido van Driel from the Netherlands, whose debut feature film Resurrection of a Bastard was the opening film of IFFR in 2013, will present his new project Bloody Marie.
Colombian director Ciro Guerra, whose third feature Embrace of the Serpent won the Art Cinema Award in Directors' Fortnight at Cannes 2015, will attend with his next feature, Birds of Passage.
Selected titles qualify for three awards:
Eurimages Co-Production Development Award of €20,000;
Arte International Prize of €7,000;
Wouter Barendrecht Award of €5,000.
Two of the selected titles, Over the City (Emir Baigazin) and Sick, Sick, Sick (Alice Furtado) both received Script and Project Development support from IFFR's Hubert Bals Fund.
Three filmmakers whose projects have been selected for CineMart have previously won Hivos Tiger Awards and are returning to Rotterdam with new projects: The Announcement (Mahmut Fazil Coskun, winner Hivos Tiger Award 2009 with Wrong Rosary); Vikings (Daniel Hoesl, winner 2013 Hivos Tiger Award with Soldate Jeannette); and Wild Princess (Ester Martin Bergsmark, winner 2014 Hivos Tiger Award with Something Must Break).
Speaking about this year's selection, Marit van den Elshout, IFFR head of industry and CineMart, said: "We could not be more excited about this year's CineMart line-up, featuring some outstanding projects – great discoveries with high potential.
"The selection includes no less than five debut feature films, ready for the international market and to be attached to financiers.
"We are looking forward to another great edition of CineMart, supporting the future of storytelling by nurturing the work of all these great filmmakers, both emerging and established."
Full selection list for CineMart 2016
The Announcement - Mahmut Fazil Coskun - Turkey/Bulgaria - Filmotto Production/The Chouchkov Brothers
Berlin Alexanderplatz - Burhan Qurbani - Germany - Sommerhaus Filmproduktion GmbH
Birds of Passage - Ciro Guerra - Colombia - Ciudad Lunar/Blond Indian Films
Bloody Marie - Guido van Driel - the Netherlands/Germany - Family Affair Films/Schiwago Film GmbH
Bootlegger - Caroline Monnet - Canada - Microclimat Films
Dark Room - Itamar Alcalay - Israel - Lama Films
The Devil Outside - Andrew Hulme - UK - Ipso Facto Productions
Is this What You Were Born For? - Radu Jude - Romania - Hi Film Productions
Jessica - Ninja Thyberg - Sweden - Plattform Produktion
The Last Harem - Maryam Keshavarz - France/Portugal - Neon Productions/ Ítaca Films/MaraKesh Films
(Art:Film) The Notebooks - Joana Hadjithomas, Khalil Joreige - Lebanon/France - Abbout Productions
Over the City - Emir Baigazin - Kazakhstan/Germany - Emir Baigazin Production/Augenschein Filmproduktion
Pompei - John Shank, Anna Falguères - Belgium/Italy - Tarantula/Solaria Film
Rafaël - Ben Sombogaart - the Netherlands/Italy/Belgium/Tunisia - Rinkel Film/Verdeoro/Entre Chien et Loup/Nomadis Images/Cinetelefilms
Sick, Sick, Sick - Alice Furtado - Brazil - Estúdio Giz/Oceano
Slam - Partho Sen-Gupta - Australia - Invisible Republic
Sleep. - Jan-Willem van Ewijk - the Netherlands - Waterland Film/Propellor Film
The Strange Ones - Christopher Radcliff, Lauren Wolkstein - France/USA - Adastra Films
Teenage Jesus - Marie Grahtø - Denmark - Beofilm
Under the Sun - Qiu Yang - France/China - House on Fire/Colorful Age Culture & Media
Der Unschuldige - Simon Jaquemet - Switzerland - 8Horses
Ursa Major - Benjamin Crotty - USA/France - AgX/Les Films du Bal
Vikings - Daniel Hoesl - Austria - Ulrich Seidl Film Produktion GmbH
Wild Princess - Ester Martin Bergsmark - Sweden - Garagefilm International
(Art:Film) What if Women Ruled the World? - Yael Bartana - UK - Jacqui Davies Limited
Running concurrent with CineMart is Rotterdam Lab: a five-day training workshop for young and emerging producers, designed to build their international network and provide skills and confidence to navigate the festival circuit, including international film financing, sales and distribution.