In Screen's latest For Your Consideration screening series, writer/director Abner Benaim and star Ilse Salas discussed Panama Oscar submission Plaza Catedral.
Watch the interview above, which was hosted by Screen International contributing editor Nikki Baughan.
Writer/director Abner Benaim is part of the new vanguard of filmmaking in Panama. His 2008 feature Chance was the first Panama production in 60 years; his 2014 documentary Invasion was the country's first ever Oscar submission and now his latest, Plaza Catedral, has been chosen as Panama's official Oscar entry for 2022.
"I just wanted to make films, and I happen to be from Panama," said Benaim, acknowledging there are "challenges to make films in a country where there is no [filmmaking] tradition. But there's also been a lot of goodwill toward the films."
Plaza Catedral follows Alicia, played by Mexican actress Ilse Salas, who is lost in her grief after the death of her six-year-old son, and forges an unlikely bond with troubled young street kid Chief, played by Fernando Javier De Casta. The film made it its debut at Guadalajara International Film Festival in October, where it won the MEXCAL awards for best actress and best actor, and has recently played in the International Film Festival of Panama, where it won the audience award.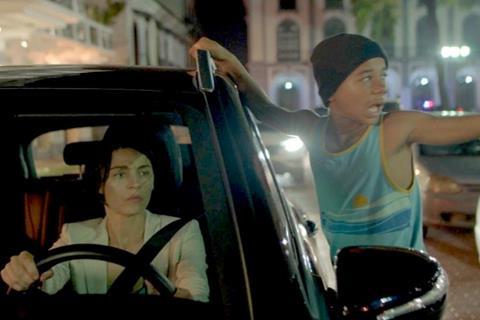 International sales are handled by Luminosity Entertainment and Gulfstream Pictures.
Its narrative of loss and redemption is made even more poignant given the fact that newcomer De Casta was shot and killed earlier this year. Benaim, who dedicated the film to De Casta's memory, says that the young man — who the production found through video auditions and workshop sessions with local boys — was a natural talent. "There was also his charisma, his intelligence, his instinct."
For Salas, who travelled to Panama from Mexico to make the film based on the strength ofthe script, working alongside De Casta was a memorable experience. "I was deeply in love with the guy," she said. "It was so interesting and joyful to play against him. He was very truthful, and I like those kinds of people."
Salas also relished the challenge of playing a character that was so introspective, despite the traumas that have befallen her. "Alicia is dealing with that loneliness and a dark side. It was quite scary because, as an actor, you carry your characters and their soul. But I was sure I was in good hands!," she said.
"I had a feeling that I had to hold on to her almost all the time," continued Salas, who also had to learn martial arts for the sequences in which Alicia does let herself go, physically at least. "When I was playing her, I always felt [a sense of] vertigo, without ever showing it."
"We were worried about not really showing [the audience] anything," added Benaim. "But I trust Ilse's instincts very much, and when she kept everything inside [the character] I was always pleasantly surprised."
Bemaim also explained that, despite Salas' restrained performance, PlazaCatedral comes from a personal, emotional place. "I see it as something intimate, even though it's not my own story. It's based on feelings, moments in my life. I used to live in the same apartment where we shot the exteriors, the one overlooking the plaza, and there was a man who used to take care of cars, and we had conversations.
I thought, 'there's something interesting going on here. [The film] was like a vessel to put in stories that I knew were compelling."

Founded by Abner Benaim in Panama City, 2004, Apertura Films specialises in independent fiction and documentary films. Its most recent productions are Chance, Maids And Bosses, Invasion, Ruben Blades Is Not My Name and Plaza Catedral.