The full line-up of Toronto's Special Presentations strand, with details on each title including sales contacts.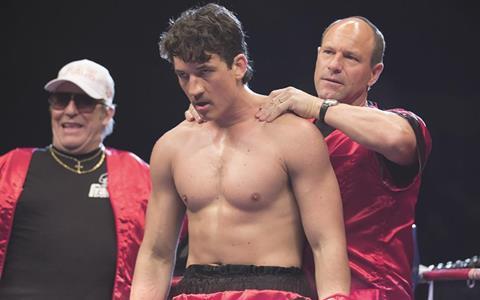 150 Milligrams (Fr)
Dir Emmanuelle Bercot
Sidse Babett Knudsen (Borgen) stars in 150 Milligrams, a French-language film based on the real-life story of whistleblower Irene Frachon. Frachon is a hospital doctor who discovers a link between an increased number of deaths and state-approved medicine. Haut et Court has produced the film from prolific actress-filmmaker Bercot, the first woman director to open Cannes with Standing Tall in 2015. Benoit Magimel co-stars.
Contact: Wild Bunch, obarbier@wildbunch.eu
All I See Is You (US)
Dir Marc Forster
Forster (Finding Neverland, World War Z) returns to Toronto with his latest film, the story of a young blind woman who begins to uncover unsettling details about her marriage when her sight is restored. Starring Blake Lively (The Shallows), Jason Clarke (Zero Dark Thirty) and Ahna O'Reilly (The Help), this erotic thriller was shot in Thailand and Spain, and is produced by SC International Pictures, LINK Entertainment, 2Dux2 and Wing And A Prayer Pictures.
International contact: Sierra/Affinity, info@sierra-affinity.com
US contact: WME, www.wmeentertainment.com
Asura: The City Of Madness (S Kor)
Dir Kim Sung-soo
Continuing a trend in Korean cinema to tackle corruption in the political and judicial system, this drama from Kim (Beat) follows a detective whose unscrupulous relationship with a corrupt mayor is tested when a ruthless prosecutor applies pressure to co-operate in an investigation against the politician. Featuring Jung Woo-sung (Scarlet Innocence) alongside Hwang Jung-min and Kwak Do-won, who both starred in critical and commercial hit The Wailing, the film is scheduled for a South Korean release in late September.
Contact: CJ Entertainment, filmsales@cj.net
Barry (US)
Dir Vikram Gandhi
Following 2011 SXSW-premiered documentary Kumaré, Gandhi makes his English-language fiction feature debut with a biopic of Barack Obama set during his days as a college student. Newcomer Devon Terrell stars as the future US president, alongside Jason Mitchell (Straight Outta Compton), Anya Taylor-Joy (The Witch), Ellar Coltrane (Boyhood) and Ashley Judd. Gandhi produces with Black Bear Pictures' Teddy Schwarzman and Ben Stillman (The Imitation Game, Broken City), along with Cinetic's Dana O'Keefe.
Contact: Black Bear Pictures, info@blackbearpictures.com
Below Her Mouth (Can)
Dir April Mullen
Mullen's impressively prolific, eclectic career as both a performer and director (2012's Dead Before Dawn 3D, 2015's 88, 2015's Farhope Tower) takes another unexpected turn with Below Her Mouth, a "relentless" drama charting the intense weekend love affair between two women: roofer Dallas and fashion editor Jasmine. Shot with an all-female crew, the film stars Canadian actress Natalie Krill and Swedish model Erika Linder in her first acting role. Elevation Pictures has set a Canadian theatrical release of February 2017.
Contact: Elle Driver, sales@elledriver.eu
The Birth Of A Nation (US)
Dir Nate Parker
Debut writer-director Parker's film about slave Nat Turner (played by Parker) who led a rebellion in Virginia in 1881 premiered at Sundance Film Festival, where it won the Audience Award and Grand Jury Prize, and was picked up for worldwide distribution by Fox Searchlight in a $17.5m deal. It makes its international premiere at TIFF. After Parker was told the film was an impossible sell, he financed it himself with other investors including former basketball player Michael Finley and producer Aaron L Gilbert of Bron Studios.
Contact: Fox Searchlight, www.foxsearchlight.com
Birth Of The Dragon (US-China-Can)
Dir George Nolfi
In San Francisco, 1965, a young US martial-arts student causes Bruce Lee, on the eve of becoming a global phenomenon, to challenge kung-fu master Wong Jack Man. Nolfi (The Adjustment Bureau) directs a script by Christopher Wilkinson and Stephen J Rivele, starring Hong Kong-born Philip Ng as Lee, opposite mainland star Yu Xia and Billy Magnussen. The film is produced by Michael London and Janice Williams of the US's Groundswell Productions and financed by China's Kylin Films.
Contact: WME, www.wmeentertainment.com
Blue Jay (US)
Dir Alex Lehmann
Blue Jay is one of the Netflix original films under the streaming giant's deal with Mark and Jay Duplass and also falls under the brothers' separate deal with The Orchard, which handles global theatrical and ancillary rights. Mark Duplass and Sarah Paulson star as former high-school sweethearts who reconnect and reflect on the time they shared together. Lehmann directs his first fictional feature after the documentary Asperger's Are Us came out earlier this year.
Contact: ICM Partners, jlacy@icmpartners.com
Brain On Fire (Ire-Can)
Dir Gerard Barrett
Irish film-maker Barrett (a Screen LA Star of Tomorrow in 2014) has also written the screenplay for this adaptation of New York Post journalist Susannah Cahalan's bestselling 2012 memoir Brain On Fire: My Month Of Madness. Chloe Grace Moretz takes the role of Cahalan, who suffers from a rare autoimmune disorder characterised by violent outbursts and severe amnesia. Barrett's previous film Glassland (2014) played in Sundance's World Cinema competition, winning Jack Reynor the best actor prize. Broad Green Pictures will distribute in the US.
Contact: Mister Smith Entertainment, info@mistersmithent.com
Brotherhood (UK)
Dir Noel Clarke
UK actor/film-maker and Bafta Rising Star award-winner Clarke premieres the third in his London-set coming-of-age films, following 2006's Kidulthood (directed by Menhaj Huda) and 2008's Adulthood (Clarke's directorial debut). Here, he directs and takes the central role of the former gang member struggling to adapt to a new way of life. Brotherhood, which is produced by Clarke's Unstoppable Entertainment, has its international premiere at TIFF after Lionsgate releases in UK cinemas at the end of August.
Contact: Unstoppable Entertainment, info@unstoppableentertainmentuk.com
Burn Your Maps (US-Mongolia)
Dir Jordan Roberts
Burn Your Maps is the first film from writer-director Roberts since he co-wrote Disney's Big Hero 6. Room's Jacob Tremblay stars as a boy who persuades his parents (Vera Farmiga, Marton Csokas) that he is a Mongolian goat herder born in the wrong place. Based on a short story by Robyn Joy Leff, it was produced by Cinelou and will be distributed internationally by Warner Bros as part of a six-film deal with Cinelou.
Contact: Creative Artists Agency (US), info@caa.com; Cinelou, info@cinelou.com
Carrie Pilby (US)
Dir Susan Johnson
Fresh from her breakthrough performance in The Diary Of A Teenage Girl, rising star Bel Powley takes the title role in this adaptation of Caren Lissner's 2003 bestselling novel. Carrie Pilby marks the feature directorial debut of Independent Spirit Award-winning producer Johnson (Mean Creek, God Help The Girl) and follows a Harvard graduate as she struggles to cope with the New York dating scene. The film, which was partially funded through Kickstarter, is jointly produced by Susan Johnson,Suzanne Farwell, Susan Cartsonis, and Brent Emery.
Contact: Radiant Films International, mike@radiant-films.com
Catfight (US)
Dir Onur Tukel
Sandra Oh and Anne Heche star in this black comedy about two former school friends who renew their rivalry after attending the same event. Turkish-American New Yorker Tukel writes and directs; his last feature, Applesauce, premiered at Tribeca in 2015. Gigi Graff produces alongside Greg Newman, whose Southbound premiered at Toronto last year. Production outfit MPI Media, primarily known for genre fare, is continuing its relationship with Tukel, having distributed Applesauce as well as his 2014 feature Summer Of Blood.
Contact: MPI Media Group, info@mpimedia.com
City Of Tiny Lights (UK)
Dir Pete Travis
Veteran director Travis returns with this gritty UK crime thriller starring Riz Ahmed, Cush Jumbo and James Floyd — all former Screen Stars of Tomorrow. The noir-style story follows a deadbeat private eye trying to solve a murder; Patrick Neate adapted the script from his novel of the same name. Producers are Ado Yoshizaki Cassuto and Ken Loach's longtime collaborator Rebecca O'Brien, while Icon has UK and Ireland rights. Travis won Toronto's Discovery prize with his 2004 debut feature Omagh and was last at TIFF with Dredd in 2012.
Contact: Protagonist Pictures, info@protagonistpictures.com
A Death In The Gunj (India)
Dir Konkona Sen Sharma
The directorial debut of award-winning Bollywood actress turned film-maker Sen Sharma, A Death In The Gunj is a coming-of-age story about an introverted young student (Vikrant Massey) whose life falls apart during a family road trip in the late 1970s. The film is the first feature from MacGuffin Pictures, the new production house started earlier this year by director Abhishek Chaubey (Ishqiya) and casting director Honey Trehan, along with Studioz IDrream.
Contact: IDrream Independent Pictures, ashish@studiozidrream.com
Denial (US-UK)
Dir Mick Jackson
Rachel Weisz and Timothy Spall star in this true-life drama about the courtroom showdown between historian Deborah Lipstadt and notorious Holocaust denier David Irving. Veteran film-maker Jackson is perhaps best known for LA Story (1991) and The Bodyguard (1992) but scored multiple Emmy Award success in 2010 with HBO biopic Temple Grandin. Denial's screenplay was adapted by David Hare, writer of The Hours and The Reader, from Lipstadt's book.
Contact: Cornerstone Films, office@cornerstonefilm.com
The Duelist (Rus)
Dir Alexey Mizgirev
A blockbuster with impeccable indie credentials, Sony Pictures Russia is showing this epic adventure film in Imax cinemas around Russia on its release later this year. Mizgirev won the Silver Leopard for best director and the special jury prize at Locarno in 2009 for Tambourine, Drum, and his latest stars Petr Fedorov as a professional duelist who falls for the sister (Julia Khlynina) of his opponent. Producer is Alexander Rodnyansky of Non-Stop Productions.
Contact: Non-Stop Productions, shneyderova@yandex.ru
The Exception (UK)
Dir David Leveaux
An adaptation of Alan Judd's novel The Kaiser's Last Kiss, the feature debut of UK theatre director Leveaux stars Christopher Plummer as German Kaiser Wilhelm II, in post-First World War exile in the Netherlands. Lily James co-stars. The film is a co-production between Egoli Tossell KLK, Ostar Productions and Umedia.
Contact: Lotus Entertainment, info@lotusentertainment.com
Foreign Body (Tun-Fr)
Dir Raja Amari
In writer/director Amari's fourth feature, a Tunisian woman arrives in France seeking refuge from her Islamic fundamentalist brother. Foreign Body follows Amari's previous works Red Satin (2002) and Anonymes (2009) in exploring the experiences of Tunisian women, and is produced by France's Mon Voisin Productions and Dora Bouchoucha's Tunisia-based Nomadis Images. Nomadis produced Mohamed Ben Attia's feature debut Hedi, which played in Competition at Berlin in 2016 where it picked up the best first feature award.
Contact: Nomadis Images, nomadis.images@planet.tn
I Am Not Madame Bovary (China)
Dir Feng Xiaogang
After being wrongly accused of adultery, a village woman begins a 20-year legal struggle that takes her from her rural home to Beijing, exposing government corruption along the way. Adapted by Liu Zhenyun from his own novel, Feng's "absurdist comedy" stars Fan Bingbing and Guo Tao. The film will be projected as a circular image in order to accentuate the viewer's position as onlooker. It is produced by Beijing's Huayi Brothers.
International contact: Wild Bunch, obarbier@wildbunch.eu
Asia contact: Golden Network, info@goldnetasia.com
King Of The Dancehall (US-Jamaica)
Dir Nick Cannon
Rapper and America's Got Talent host Cannon wrote, directed and stars in this musical drama about a young Brooklyn man who travels to Jamaica to visit family and falls in love with the dancehall culture. Cannon previously directed 2014 musical School Dance. King Of The Dancehall is Cannon's first Toronto premiere, and stars Whoopi Goldberg, Busta Rhymes and Peter Stormare. It is executive produced by Bill Perkins, who served in the same capacity on the Roseanne Barr documentary Roseanne For President! and produced the grindhouse crime-comedy The Baytown Outlaws.
Contact: ICM Partners, ptrinh@icmpartners.com
The Limehouse Golem (UK)
Dir Juan Carlos Medina
Carol producer Number 9 Films is behind this horror thriller, which screenwriter Jane Goldman (Kick-Ass, Kingsman: The Secret Service) adapted from Peter Ackroyd's novel Dan Leno & The Limehouse Golem, set in Victorian-era London. Bill Nighy plays an intrepid police inspector who investigates a series of brutal killings that seem to be linked to a fearsome creature of Jewish legend. It marks the second feature from Medina, whose fantasy horror debut Painless received its world premiere in TIFF's Vanguard strand in 2012.
Contact: HanWay Films, info@hanwayfilms.com
The Long Excuse (Jap)
Dir Miwa Nishikawa
The first feature from writer-director Nishikawa since Dreams For Sale (2012), which also screened at Toronto, The Long Excuse is an adaptation of her Naoki Prize-nominated novel. The family heartwarmer follows the aftershocks of a crash as a widowed writer offers to care for the children of a truck driver who also lost his wife in the same accident. The film stars Masahiro Motoki (Departures) and was presented at Busan's Asian Project Market in 2014.
Contact: Asmik Ace, intl@asmik-ace.co.jp
Mascots (US)
Dir Christopher Guest
Guest (Best In Show) returns with his first film in 10 years, a satire built around a competition for professional sports mascots. Mascots stars several of Guest's regular troupe — including Parker Posey, Bob Balaban, Jane Lynch and Fred Willard — and the comedy will go out in the US through Netflix in October. Guest's last feature, awards-season comedy For Your Consideration, also premiered in Toronto in 2006.
Contact: Netflix, ccolmenero@netflix.com aboury@netflix.com
The Oath (Iceland)
Dir Baltasar Kormakur
After scaling Everest, Icelandic director Kormakur tells a more intimate story in the Icelandic-language psychological thriller The Oath. Kormakur also stars as a successful surgeon trying to save his daughter from drug addiction by committing the perfect crime. The film-maker's RVK Studios is producing The Oath in partnership with Film4 — a rare foreign-language project for the production company — and Germany's ZDF. Kormakur was at TIFF last year previewing his hit TV series Trapped, and he is a Toronto regular with titles including Jar City (2006), White Night Wedding (2008) and The Deep (2012).
Contact: XYZ Films, info@xyzfilms.com
Orphan (Fr)
Dir Arnaud des Pallieres
French film-maker des Pallieres follows his 2013 Palme d'Or contender Age Of Uprising: The Legend Of Michael Kohlhaas with this ensemble drama, described as a "narratively fractured" tale of the life of a young woman. The central character is played by a number of different actors, including Gemma Arterton (The Girl With All The Gifts) and Adele Exarchopoulos (Blue Is The Warmest Colour). Le Pacte has French distribution rights and is handling international sales.
Contact: Le Pacte, contact@le-pacte.com
Paris Can Wait (US)
Dir Eleanor Coppola
Writer-director Coppola (Hearts Of Darkness) makes her narrative debut with this romantic comedy about a middle-aged woman (Diane Lane) who is married to a successful Hollywood producer (Alec Baldwin) but feels her life is missing a spark. That jolt of unpredictability comes in the form of her husband's colleague (Arnaud Viard), with whom she embarks on an impromptu road trip across France. American Zoetrope, the company co-founded by Coppola's husband Francis Ford Coppola produced the film.
Contact: Protagonist Pictures, info@protaganistpictures.com
Rage (Jap)
Dir Lee Sang-il
A grisly unsolved murder links three seemingly unrelated stories in different Japanese cities. This thriller is the second time writer-director Lee has adapted a novel by Shuichi Yoshida; the first, Villain in 2010, won five Japanese academy awards. Rage also reunites Lee with Ken Watanabe, who starred in his Unforgiven in 2013, which also appeared as a Special Presentation at TIFF. The ensemble includes Satoshi Tsumabuki (The Assassin), Kenichi Matsuyama (Norwegian Wood) and Suzu Hirose (Our Little Sister).
Contact: Toho Co Ltd, tohointl@toho.co.jp / Versatile, www.versatile-films.com
(Re)Assignment (Can)
Dir Walter Hill
Veteran film-maker Hill bring to TIFF his first film as director in four years, following 2012's Sylvester Stallone-starring Bullet To The Head. Michelle Rodriguez stars as a hitman forced to undergo male-to-female gender reassignment by a ruthless surgeon (Sigourney Weaver). The film was produced by SBS Productions and Solution Entertainment Group.
Contact: ICM Partners, ptrinh@icmtalent.com
Sing (US-Fr)
Dir Garth Jennings
Universal's Illumination Entertainment follows up global smash The Secret Life Of Pets with another animal-themed comedy, this time about a koala bear (voiced by Matthew McConaughey) who tries to save his theatre by launching a singing competition. Jennings (The Hitchhiker's Guide To The Galaxy) writes and directs this Christmas release, corralling a voice cast that includes Reese Witherspoon, Scarlett Johansson, John C Reilly and Taron Egerton. Illumination's Chris Meledandri produces with regular partner Janet Healy.
Contact: Universal Pictures International, www.universalpicturesinternational.com
Trespass Against Us (UK)
Dir Adam Smith
Powerhouse TIFF regulars Michael Fassbender and Brendan Gleeson play two men caught in a life of crime in this debut fiction feature from Smith. The director previously worked on TV shows including Doctor Who and Skins, and helmed feature music doc The Chemical Brothers — Don't Think (the band scores this film). Alastair Siddons, who also produces alongside Potboiler's Gail Egan and Andrea Calderwood, wrote the script about a conflicted man (Fassbender) struggling between wanting a better life for his kids and loyalty to his father (Gleeson).
Contact: Protagonist Pictures, info@protagonistpictures.com
Una (UK)
Dir Benedict Andrews
TIFF plays host to the feature debut of acclaimed Australian theatre director Andrews, who most recently staged A Streetcar Named Desire with Ben Foster and Gillian Anderson in New York. Rooney Mara and Ben Mendelsohn star in Andrews' cinematic adaptation of David Harrower's play Blackbird (Harrower also penned the screenplay), about a young woman who turns up at the workplace of a man from her past in search of answers. Film4 and WestEnd Films produce with Jean Doumanian Productions and Canada's Bron Studios.
Contact: WestEnd Films, info@westendfilms.com
Unless (Can-Ire)
Dir Alan Gilsenan
Two-time Oscar-nominee Catherine Keener stars alongside Hannah Gross and Matt Craven in this tale of a writer who finds her runaway daughter begging on the streets. Irish director Gilsenan adapted the screenplay from the final novel of Canadian author Carol Shields, who passed away in 2003. The Canada-Ireland co-production is a joint venture between Toronto-based Sienna Films and Dublin-based Subotica, and received funding through Telefilm Canada's feature film fund.
Contact: Mongrel Media, info@mongrelmedia.com
The Wasted Times (China)
Dir Chang Er
A Japanese spy hunts down a former friend for the murder of his family in The Wasted Times. Tadanobu Asano, Zhang Ziyi and Ge You lead an international cast in this period thriller, written and directed by Chang (Lethal Hostage) and set in tumultuous 1920s Shanghai. Produced by Zhang Dajun, TK Yang and Lina Wu for Huayi Brothers, the film was originally scheduled for release in China in October 2015.
Contact: IM Global, info@imglobalfilm.com
Weirdos (Can)
Dir Bruce McDonald
In 1989, director McDonald won the best Canadian film prize at Toronto for his debut feature Roadkill. He has since become one of Canada's most prolific and consistent film-makers. Weirdos reunites him with award-winning playwright and screenwriter Daniel MacIvor and is a coming-of-age drama shot in black and white and set during the summer of 1976, as 15-year-old Kit (Dylan Authors) abandons small-town life to hitchhike towards a brighter future. Canadian distribution is via Films We Like.
Contact: Marc Almon, marc@marcalmon.com
American Pastoral (US)
Dir Ewan McGregor
McGregor's feature directorial debut, based on Philip Roth's devastating portrait of a family man's doomed American Dream, feels like a timely parable. Lakeshore Entertainment and Lionsgate financed and produced the drama, in which McGregor plays the central role of Swede Levov alongside Jennifer Connelly as his wife and Dakota Fanning as their increasingly unknowable daughter. Lionsgate will distribute in the US in October.
Contact: Lakeshore Entertainment, sales@lakeshoreentertainment.com
Bleed For This (US)
Dir Ben Younger
Following Boiler Room (2000) and Prime (2005), writer-director Younger takes on his biggest project to date: a biopic of world champion boxer Vinny Pazienza, who made an incredible comeback after a near-fatal car crash. Miles Teller, whose star-making film Whiplash played TIFF in 2014, takes the lead role, with Katey Sagal and Aaron Eckhart lending support. Oscar-winning outfit Bruce Cohen Productions (American Beauty, Milk, Silver Linings Playbook) is on board, along with Verdi Productions, Sikelia Productions and Younger Than You.
Contact: The Solution Entertainment Group, info@thesolutionent.com
Lion (Aus)
Dir Garth Davis
Top Of The Lake co-director Davis makes his feature debut with Luke Davies' adaptation of Saroo Brierley's book A Long Way Home. The See-Saw Films and Aquarius Films co-production tells the true story of an Indian boy who is adopted by an Australian couple and, 25 years later, uses Google Earth to track down his long-lost family. Harvey Weinstein paid $12m for world rights, excluding Australia and New Zealand, and has set a prime awards-season US release date of November 25. Dev Patel stars alongside Rooney Mara and Nicole Kidman.
Contact: The Weinstein Company, international@weinsteinco.com