From Borg/McEnroe to Luca Guadagnino's Suspiria remake, Screen profiles a selection of hot European projects in 2017.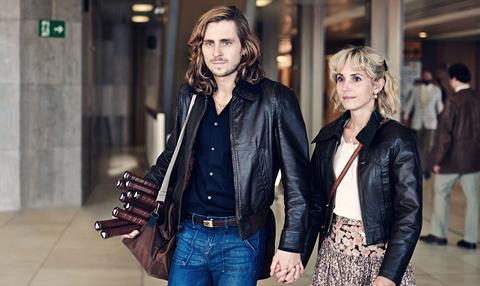 Nordic region
Backstabbing For Beginners (Den)
Dir. Per Fly

Monica Z director Fly's latest is an $8.5m English-language political thriller with a top cast of Theo James, Ben Kingsley and Jacqueline Bisset. James plays a Danish man caught in a power struggle with corrupt colleagues while working on the UN's Oil For Food programme. The Creative Alliance production unites Danish producers with Parts & Labor's Lars Knudsen and Jay Van Hoy. The film will be released in Denmark in the autumn so a Toronto premiere is a possibility.
Contact: Fortitude International
info@fortitudeint.com
Borg/McEnroe (Swe)
Dir Janus Metz
Metz (Armadillo, True Detective) directs this English-language sports story with action on Wimbledon's centre court as well as an exploration of the psychology of two driven tennis legends. The film is being readied for delivery in the summer or autumn. Shia LaBeouf stars as John McEnroe opposite Sverrir Gudnason as Bjorn Borg. Stellan Skarsgard plays Borg's coach, while the sportsman's 13-year-old son Leo plays his father at a young age. Curzon Artificial Eye has UK rights.
Contact: SF Studios
international@sf.se
The Other Side Of Hope (Fin)
Dir Aki Kaurismaki
Kaurismaki's latest feature is about a Finnish travelling salesman who meets a Syrian refugee. It is the second instalment in the film-maker's trilogy focusing on port cities, which began with 2011's Le Havre. The lead actors are Sherwan Haji as refugee Khaled and Sakari Kuosmanen as salesman Wikstrom. The film will launch in Finnish cinemas on February 3 and is selected for Competition at Berlin.
Contact: The Match Factory
info@matchfactory.de
The Square (Swe)
Dir Ruben Ostlund
Ostlund's English-language follow up to his acclaimed Force Majeure will explore how "society is becoming increasingly individualistic and higher ideals are being sacrificed". The Square, starring Danish actor Claes Bang (The Bridge) and Elisabeth Moss, tells the story of a museum director who plans a spectacular exhibition in a public square, which becomes controversial. It will probably not be finished in time for Cannes so the autumn festivals seem more likely.
Contact: The Coproduction Office
info@coproductionoffice.eu
Thelma (Nor)
Dir Joachim Trier
Norwegian director Trier moves into a new genre with this supernatural thriller about a young woman who falls in love and discovers she has terrifying and inexplicable powers. Eili Harboe (The Wave) takes the lead role. Trier returns to working in the Norwegian language after his English-language drama Louder Than Bombs. The film could be ready for late spring, and Trier is a Cannes regular since Oslo, August 31st in 2011.
Contact: Memento
sales@memento-films.com
Tom Of Finland (Fin)
Dir Dome Karukoski
This biopic of Finnish artist Touko Laaksonen - better known as Tom of Finland - tells his story from the 1940s to the 1980s, from serving Finland in the Second World War to his life in the gay scene of Los Angeles. Veteran director Dome Karukoski directs from a script by Aleksi Bardy. He says the story of the gay icon is also "a film about freedom of speech". Pekka Strang stars.
Contact: Protagonist Pictures
info@protagonistpictures.com
Under The Tree (Ice)
Dir Hafsteinn Gunnar Sigurdsson
Sigurdsson, director of Paris Of The North and Either Way, tells a more "brutal" story with this Icelandic drama laced with dark comedy and thriller elements. The story explores a suburban feud that erupts when one neighbour's tree casts a shadow over another's terrace. Rams' Grimar Jonsson of Netop Films produces. Under The Tree has already sold to Bac for France and Scanbox for Scandinavia.
Contact: New Europe Film Sales
jan@neweuropefilmsales.com
France
A Gentle Creature
Dir Sergei Loznitsa
Ukrainian director Loznitsa's first narrative drama since his 2012 Cannes Competition entry In The Fog is inspired by a Dostoyevsky short story. Vasilina Makovtseva stars as a woman who travels to a mysterious prison in search of her inmate husband after parcels she sent to him are returned unopened.
Contact: Wild Bunch
obarbier@wildbunch.eu
Happy End
Dir Michael Haneke
Cannes regular Haneke has brought together an ensemble cast - including Jean-Louis Trintignant, Isabelle Huppert, Mathieu Kassovitz and a host of newcomers - for his contemporary French-language drama about a bourgeois European family living comfortably in northern France oblivious to the hardship of others.
Contact: Les Films du Losange
b.vincent@filmsdulosange.fr
Ismael's Ghosts
Dir Arnaud Desplechin
Mathieu Amalric, Charlotte Gainsbourg, Marion Cotillard and Louis Garrel star in Desplechin's drama about a filmmaker who is sent mad by the return of an ex-lover. He is then visited by the ghosts of people who have been important in his life.
Contact: Wild Bunch
obarbier@wildbunch.eu
Jeannette
Dir Bruno Dumont
French director Dumont fulfils a longheld desire to make a musical in this exploration of the early life of Joan of Arc. Based on The Mystery Of The Charity Of Jeanne d'Arc, a poem by 20th-century essayist Charles Péguy, it was shot in northern France last summer and features a cast of newcomers and amateurs. The modern, rhythmical score is by electro-pop composer Igorrr (aka Gautier Serre). French choreographer Philippe Decouflé is also attached.
Contact: Luxbox Films
info@luxboxfilms.com
The Midwife
Dir Martin Provost
Catherine Frot stars as a dedicated medic whose traditional approach to delivery is under pressure amid cutbacks. An unexpected call from her father's ex-mistress, played by Catherine Deneuve, some 30 years after she disappeared from their lives, adds an unexpected dimension to her life.
Contact: Memento Films International
sales@memento-films.com
Redoubtable
Dir Michel Hazanavicius
The Oscar-winning director of The Artist pays tribute to Jean-Luc Godard in this portrait of the director during his so-called revolutionary period. Redoubtable details Godard's relationship with actress Anne Wiazemsky, kicking off with the 1967 shoot of La Chinoise. Louis Garrel stars as Godard opposite Stacy Martin as his muse. It is based on Wiazemsky's autobiographical account Un An Apres.
Contact: Wild Bunch
obarbier@wildbunch.eu
Spain
As We Like It
Dir Carlos Marques-Marcet
Following the success of his debut feature Long Distance (10,000km), director Marques-Marcet reteams with actors Natalia Tena (Game Of Thrones) and David Verdaguer for another take on love - and family, too, this time. Formerly titled Don't Fuck Around With Love, the film shot in London and is produced by Lastor Media.
Contact: Visit Films
info@visitfilms.com
The Bookshop
Dir Isabel Coixet
The latest English-language film from Spain's Coixet sees her working again with an international cast, this time headed by Emily Mortimer, Bill Nighy and Patricia Clarkson. The adaptation of Penelope Fitzgerald's Booker Prize-shortlisted novel is set in England in the late 1950s and is produced by Diagonal TV, A Contracorriente Films, Green Films and Zephyr Films.
Contact: Celsius Entertainment
in@celsius entertainment.com
Italy
Sicilian Ghost Story
Dirs Fabio Grassadonia, Antonio Piazza
Following the success of Salvo, which played in Critics' Week at Cannes in 2013, Piazza and Grassadonia - the winners of Sundance Institute's Global Filmmaking Award for 2016 - have wrapped production on Sicilian Ghost Story. The film is a dark fairy tale about two young teenagers whose love remains strong after the boy, the son of a mafia boss, is kidnapped.
Contact: The Match Factory
info@matchfactory.de
Suspiria
Dir Luca Guadagnino
The prolific Guadagnino's reworking of Dario Argento's horror classic Suspiria is a tantalising prospect. Set at a ballet school in Berlin, 1977, the English-language film stars Chloe Grace Moretz, Dakota Johnson and Tilda Swinton. Produced by Frenesy Film Company, Amazon Studios has taken worldwide rights to the film, which is now shooting. Guadagnino's Call Me By Your Name is premiering at Sundance.
Contact: Frenesy Film
office@frenesyfilm.com
Germany
In The Fade
Dir Fatih Akin
Germany-born, France-based Diane Kruger stars in her first German-speaking role for director Akin. In The Fade is the contemporary story of a grieving mother's unrelenting love for her family. Denis Moschitto, Ulrich Tukur and Numan Acar co-star.
Contact: The Match Factory
info@matchfactory.de
Western
Dir Valeska Grisebach
Komplizen Film, which produced Cannes 2016 favourite Toni Erdmann, has joined forces again with that film's co-producer, Austria's coop99 Filmproduktion, on Grisebach's third feature Western. Described as the story of a modern duel between a man and his rival, it was shot at locations in Bulgaria during the summer of 2015.
Contact: Films Boutique
contact@filmsboutique.com