As the 2018 American Film Market kicks off, Screen highlights some of the buzziest projects being offered by international sales companies.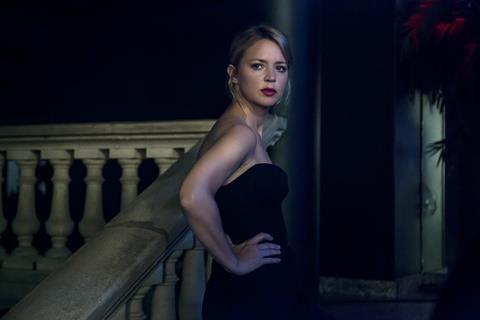 France
Doc & Film International is focusing on US director Jonathan Nossiter's end-of-the-world drama Last Words, set in 2085 and starring Nick Nolte, Charlotte Rampling, Alba Rohrwacher, Stellan Skarsgard and Valeria Golino, and fashion documentary House Of Cardin by P David Ebersole and Todd Hughes.
New titles on mk2 Films' slate include Justine Triet's drama Sibyl, starring Virginie Efira as a psychotherapist who becomes obsessed with a young actress played by Adele Exarchopoulos. Other upcoming titles include Céline Sciamma's 18th-century drama Portrait Of A Lady On Fire, starring Adele Haenel as a bride who gets involved with the female artist painting her portrait.
New titles on the TF1 International slate include How To Be A French Lover (Just A Gigolo), which stars Kad Merad as an ageing gigolo who enlists the help of his 10-year-old nephew to help him find a new millionaire. It also kicks off sales on Roxane starring Guillaume de Tonquédec as an organic egg producer trying to turn his favourite hen into an internet star in a bid to save his business.
Gaumont world premieres Alexis Michalik's big-screen adaptation of his stage hit Edmond, about the writing of the play Cyrano De Bergerac by Edmond Rostand in 1897. It will also show a first promo real for Anne Fontaine's fairytale-inspired sensual comedy Pure As Snow starring Isabelle Huppert.
Charades kicks off sales on Ben Stassen and Jérémie Degruson's family animation Bigfoot Superstar, as well as Jonas Alexander Arnby's drama Suicide Tourist, starring Nikolaj Coster-Waldau as a detective investigating a facility specialising in assisted-suicide fantasies. Other titles include psychological thriller Swallow, a debut feature from Carlo Mirabella-Davis starring Haley Bennett as a pregnant woman who starts uncontrollably eating objects.
Bac Films International shows a first promo for Martin Rosete's romantic comedy Remember Me, starring Bruce Dern as an old man trying to connect with a former love of his life who is battling Alzheimer's, and a new promo for family animation Terra Willy.
Playtime has the world premiere of Fred Grivois' Somalia-set hostage drama 15 Minutes Of War and launches sales on Emmanuel Hamon's drama Escape From Rakka, starring Swann Arlaud as a man trying to extract his wife and son from Syria. It also has 5 Is The Perfect Number, an adaptation of the Italian graphic novel by Igort, starring Toni Servillo and Valeria Golino, and Abdel Raouf Dafri's war drama The Breitner Commando, set during the Algerian war of independence. It will also show first footage of Francois Ozon's By The Grace Of God, inspired by the victims of a Catholic priest in Lyon accused of sexually abusing boy scouts.
Memento Films International premieres footage for Justin Kurzel's The True History Of The Kelly Gang, starring George MacKay as notorious Australian bush ranger and outlaw Ned Kelly. It also has Benedict Andrews' drama Against All Enemies starring Kristen Stewart as iconic actress Jean Seberg, when she becomes embroiled in an FBI investigation about her support for the civil rights movement in 1960s Los Angeles.
New additions to the WTFilms slate include UK director Paul Hyett's supernatural horror picture Heretiks, about a woman accused of witchcraft who is sent to an isolated convent where evils forces are at play.
Versatile shows the first teaser for Ninja Thyberg's feature debut Jessica about a Swedish girl who moves to Los Angeles with ambitions of breaking into the adult film industry, and a new promo-reel for Can Evrenol's fantasy-adventure Girl With No Mouth about four deformed children fighting to survive in the wake of a nuclear disaster.
SND premieres animation Asterix: The Secret Of The Magic Potion ahead of its French release in December.
Hot titles for Indie Sales include German director Thorsten Klein's English-language Second World War drama Adventures Of A Mathematician, inspired by the life of Polish-American hydrogen bomb scientist Stanislaw Ulam, and Memory: The Origins Of Alien, exploring the unreleased materials that inspired Ridley Scott's sci-fi classic. It will be ready to coincide with the film's 40th anniversary in 2019.
Other Angle kicks off sales on Love Is On The Move starring Romane Bohringer and Philippe Rebbot as a separating couple who decide to rebuild their lives in the same single apartment, splitting it in two, and All Inclusive, Fabien Onteniente's comedy starring Franck Dubosc, Josiane Balasko, Thierry Lhermitte and Francois-Xavier Demaison.
Celluloid Dreams continues sales on its Venice pair: Tunisian horror film Dachra and Sébastien Marnier's high-school thriller School's Out, starring Laurent Lafitte as a teacher who gets on the wrong side of a group of nihilistic students.
Elle Driver shows first images of fantasy thriller The Room; Roberto Saviano's big-screen adaptation of his bestseller La Paranza Dei Bambini, directed by Claudio Giovannesi, about teen crime bosses in Naples; and Cédric Kahn's family comedy-drama Happy Birthday, starring Catherine Deneuve and Emmanuelle Bercot.
Urban Distribution International (UDI) will show first images for Italian director Giovanni La Parola's western My Body Will Bury You, about female bandits operating on the island of Sicily on the eve of Italy's reunification.
Studiocanal will screen Michael Herbig's adventure thriller Balloon, about two families who escaped from Communist East Germany in 1979 in a homemade hot-air balloon. It will also show Amanda Sthers' comedy-drama Holy Lands, starring James Caan as a cardiologist who abandons his life in New York to set up a pig farm in Israel.
Pathé International launches sales on Alice Winocour's astronaut drama Proxima, starring Eva Green and Matt Dillon, and will also screen French family comedy The Brand New Adventures Of Aladin. Its slate also includes Paul Verhoeven's nun drama Benedetta.
Upcoming titles on The Bureau Sales slate include Eva Riley's Perfect Ten, about a 15-year-old gymnast at a crossroads in her life, and Harry Wootliff's couple drama Only You, which is in post.
Wide will market premiere Portuguese filmmaker Bruno Gascon's human-trafficking drama Carga.
Rest of Europe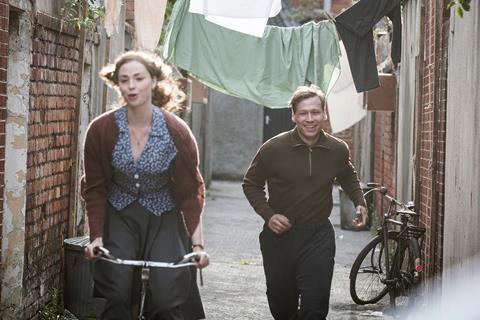 Germany
Picture Tree International is giving a market premiere to culture-clash comedy Kingdom Of Sweden, directed by Peter Dalle, in which Joseph and Mary are crossing the desert looking for a safe home for their unborn child — and end up in Sweden, the land of peace, equality and Ikea. A promo for minimalist drama 100 Things will be shown, loosely inspired by cult Finnish documentary My Stuff. It is also selling Polish horror thriller Dark, Almost Night from director Borys Lankosz.
Beta Cinema is screening first footage from Caroline Link's When Hitler Stole Pink Rabbit, based on Judith Kerr's bestselling novel. The company's AFM slate also includes Nikolaus Leytner's The Tobacconist about a young man's friendship with Sigmund Freud during the Nazi occupation of Vienna, which stars Bruno Ganz, and biopic Trautmann about the former German soldier Bert Trautmann who became a professional soccer player in Britain. Beta Cinema is also presenting its sex, drugs and ping-pong road movie 25 Km/h, about two brothers crossing Germany on mopeds. The cast includes Lars Eidinger and Franka Potente.
Ida Martins' Cologne-based Media Luna is giving a premiere to jazz-based film noir My Foolish Heart, about the final days of legendary trumpeter Chet Baker. Also on its AFM slate is the JA Bayona-produced I Hate New York, which explores the lives of a number of New York's most famous underground artists and trans activists.
Arri Media's new titles for AFM include Huseyin Tabak's Gipsy Queen, about a Roma single mother who uses boxing to better her life. The film is due for release in early 2019. Also fresh on the slate is wilderness drama Lysis, directed by Rick Ostermann and starring Oliver Masucci and Louis Hofmann. The film is about a father who takes his estranged son on a rafting trip, where things go very badly wrong. Arri's new family movie Double Trouble is a story about a fun-loving kid's misadventures with a magical mirror. It is the latest film from Marcus H Rosenmüller, currently winning plaudits for Traut­mann. The company is also presenting dark family drama In The Middle Of The River, starring Eric Hunter; giving a world premiere to horror movie The Sonata starring Freya Tingley and Rutger Hauer; and screening another horror picture, Hanna's Homecoming from Esther Bialas, fresh from its premiere at Hof International Film Festival.
Global Screen is presenting Cut Off, a psycho-thriller directed by Christian Alvart and starring Moritz Bleibtreu and Lars Eidinger. The film will receive its first market screenings following a successful autumn release in Germany. Just before AFM, the company picked up Thomas Sieben's thriller Kidnapping Stella, starring Max von der Groeben and Jella Haase. Also new on its slate for the market is animated feature Fritzi — A Revolutionary Tale from Ralf Kukula and Matthias Bruhn. Set in East Berlin in 1989, the film will be released next year in time for the 30th anniversary of the fall of the Berlin Wall.
Berlin-based Films Boutique is presenting Sudabeh Mortezai's sex-traffic-king drama Joy, which won the best film award in BFI London Film Festival's Competition section.
The Match Factory's AFM screenings include Arturo Infante's aliens-in-Cuba drama The Extraordinary Journey Of Celeste Garcia. Also on its slate, fresh from a world premiere in San Sebatian, are Iciar Bollain's Yuli, a biopic of ballet star Carlos Acosta, and Roberto Minervini's feted documentary What You Gonna Do When The World's On Fire?. The Match Factory will also bring Carlos Reygadas's Our Time to Santa Monica along with The Mountain by Rick Alverson, starring Jeff Goldblum and Tye Sheridan, and documentary Carmine Street Guitars by Ron Mann.
Stuttgart-based family specialist Sola Media is introducing buyers to its new animated feature, The Elfkins — Baking A Difference from Akkord Film, the outfit behind Raven The Little Rascal. The CG-animated feature looks at the German legend of the Elfkins — gnomes who used to help humans with household chores before being ousted by a tailor's malevolent wife; this is the story of their return. The film will be ready next year with Tobis planning a release for fall 2019.
Italy
Rai Com will launch sales on Volare from director Gabriele Salvatores. Currently in pre-production, the film is a father-and-son relationship story set on a road trip across northern Italy. The Italian outfit will also show a new promo for Freaks Out, the second feature from Gabriele Mainetti (They Call Me Jeeg) about a gang of circus freaks on the loose in Rome during the Second World War.
True Colours will screen The Legend Of The Christmas Witch at AFM, a fantasy-comedy from Italian genre director Michele Soavi starring Paola Cortellesi, who played the lead in last year's surprise Italian hit Like A Cat On A Highway. The company will also screen director Jacopo Rondinelli's extreme-sports action-thriller Ride.
Intramovies has two new Italian titles on its AFM slate. Lucania is a tale of land, blood and magic set in rural Italy from director Gigi Roccati, while The Vegetarian by Roberto San Pietro is a drama about an Indian boy who lives in Italy and works with cows. The animals are considered holy in the country of his birth, but in his new home are destined for the slaughterhouse.
Minerva Pictures is premiering its new acquisition Blood Fest here at AFM. Owen Egerton's horror title is set in the world of fantasy film festivals and stars Zachary Levi (Chuck). The company will also launch sales on Antonello Grimaldi's Italian road movie Friends Will Be Friends.
Filmexport will screen Nicolas Tuozzo's The Great Noise Of Silence, an Argentinian murder mystery produced by Fox International, and Falklands War-set military drama Soldiers Only Known By God from Argentinian filmmaker Rodrigo Fernandez Engler.
Summerside International is bringing the ska-themed documentary Rock The World, shot between Italy, Jamaica and Japan to connect the different roots of the genre. The Rome-based outfit's slate also includes Finnish drama The Violin Player by Paavo Westerberg, about a former violin player who falls in love with one of her students, and Love Therapy by Claudio Cicconetti, a comedy about two analysis patients forced to help each other.
Spain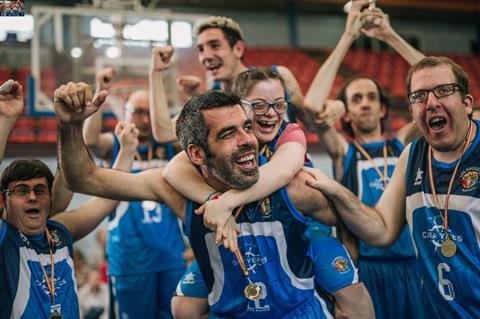 Film Factory Entertainment's AFM line-up includes Venice Competition and Toronto title The Accused, a psychological thriller revolving around sex, social media and the death of a young girl; Argentinian producers K&S and Rei Cine are jointly producing. Leonardo Sbaraglia (Wild Tales) stars as the conflicted father of the prime suspect played by Lali Esposito (That's Not Cheating). On the suspense front, Film Factory is also showing a trailer for Unbridled, a loose adaptation of Henrik Ibsen's classic A Doll's House from the producers of The Fury Of A Patient Man. Jota Linares is directing and Natalia de Molina (Quién Te Cantara) is starring. Film Factory is also selling buddy comedy Taxi To Treasure Rock, starring Dani Rovira.
With a strong Latin American slate as usual, Latido Films is showcasing Spanish box-office hit Champions by Javier Fesser (Camino), a dramedy about a basketball coach sentenced to do community service with a team of players with disabilities. Champions is Spain's entry for the Oscars and so are two other titles handled by Latido: Oscar pick for Uruguay and Venice title A Twelve-Year Night by Alvaro Brechner and Brazil's The Great Mystical Circus, which premiered at Cannes and is directed by veteran Carlos Diegues. Starring Vincent Cassel, the film tells the story of the family that owned the titular circus over five generations. Latido's slate also includes the latest from Argentinian filmmaker Juan Jose Campanella, whose The Secret In Their Eyes won the best foreign-language film Oscar in 2010. His new film is comedy The Weasels and the Madrid-based sales company has the first promo available at its AFM booth.
Filmax International's slate once again showcases its thrillers, with the company screening the market premiere of 70 Big Ones, a story about a bank robbery that premiered at Sitges International Film Festival. Directed by Koldo Serra, it stars Emma Suarez and Hugo Silva. San Sebastian's Golden Shell winner Between Two Waters, directed by Isaki Lacuesta, will also be handled by Filmax.
Nordics
TrustNordisk has added two titles to its slate for AFM: Nini Bull Robsahm's Norwegian horror/psychological thriller The Lake Of Death, adapted from a 1942 novel about friends fighting to stay alive in the dark forests and fjords of Norway, and May El-Toukhy's Queen Of Hearts, a Danish drama about a successful woman (played by Trine Dyrholm) who embarks on a dangerous affair with her teenage stepson (Gustav Lindh). Both films are now in post-production. At TrustNordisk's promo-reel screening, teasers will also be shown for Fenar Ahmad's Valhalla, a Norse mythology fantasy adventure starring Roland Moller and Stine Fischer Christensen, and Mikael Hafstrom's The Perfect Patient, about a Swedish journalist investigating a famous serial-killer case. David Dencik and Alba August star.
SF Studios will have a teaser for 438 Days, a dramatic thriller directed by Jesper Ganslandt and based on the true story of Swedish journalists imprisoned in Ethiopia. It also has promos for Britt-Marie Was Here, directed by Tuva Novotny and starring Pernilla August as a woman who starts her life over after 40 years of marriage, and Espen Sandberg's biopic Amundsen, about early 20th-century polar explorer Roald Amundsen. SF is screening the completed erotic drama An Affair from Norwegian filmmaker Henrik M Dahlsbakken, about a female teacher who begins a relationship with a student.
LevelK's titles include Australian drama Celeste, directed by Ben Hackworth and starring Radha Mitchell as a retired opera diva; Ukrainian sci-fi family adventure The Bobot directed by Max Ksjonda; and Finnish drama One Last Deal directed by The Fencer's Klaus Haro. One Last Deal has closed a series of deals since premiering in Toronto.
Yellow Affair is selling Selma Vilhunen's Stupid Young Heart, a Finnish drama about teen parents in a multicultural neighbourhood, Simo Halinen's thriller East Of Sweden and Kerstin Polte's German drama Cloud Whispers. The company is also offering a new edit of thriller Robin, directed by Antonio Tublén.
Further territories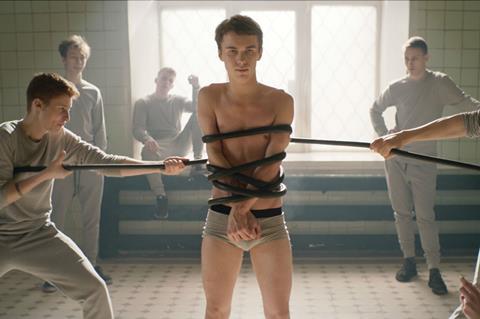 Australian outfit Odin's Eye is introducing action-thriller Angel's Rage, which is produced by Lene Borglum's Space Rocket, the company behind Only God Forgives and Neon Demon. Directed by Michael Spooner and starring David Sakurai, it is in pre-production. Horror-thriller The Furies, from the producers of Sundance hit The Killing Ground, will be presented to buyers at AFM. The company will also have first images from its animation franchise, Tales From Sanctuary City.
HNFF World Sales, from Hungary, is giving a first market screening to X — The eXploited, a quirky thriller from Karoly Ujj Meszaros about a police officer afflicted with a panic disorder that makes her afraid of crime scenes, who stumbles on a serial murder case.
Budapest-based Luminescence is pre-selling Pinocchio — A True Story. It is also introducing buyers to its new animated adventure comedy My Sweet Monster, directed by Maxim Volkov of Sheep And Wolves fame. My Sweet Monster is produced in 3D CGI by Sergey Selyanov.
Russian outfit Mars Media has teamed up with Central Partnership, the Russian distributor of its war epic T-34. Central Partnership will now handle Chinese rights on the film, which is due to be released on 2,000 screens in Russia in late December. Mars Media is screening high-concept thriller The Perfect Ones, and will show the first footage of Sabre Dance, a biopic of Aram Khachaturian, the celebrated Soviet-Armenian composer who wrote his most famous piece — the music for ballet Gayane — during the Second World War.
Central Partnership is beginning sales on Baba Yaga: Terror Of The Dark Forest, the latest production from Alexander Rodnyansky (Stalingrad, Leviathan, Loveless), and will be introducing buyers to sci-fi action movie The Blackout, directed by Egor Baranov. Its AFM slate also includes Evgeny Abyzov's horror film Guests, China-Russia comedy How I Became Russian (co-directed by Akaki Sakhelashvili and Xia Hao) and literary mystery thriller Gogol. A Terrible Vengeance, starring Oleg Menshikov. The latter is part of a trilogy about 19th-century writer Nikolai Gogol investigating supernatural murders.
Russian animation specialist Wizart is presenting The Snow Queen: Mirrorlands, due to be released at home in January, and Sheep And Wolves: Pig Deal.
Dutch Features Global Entertainment has two completed titles premiering at AFM: Israeli action drama The Bouncer and wildlife feature Living On The Edge, set in the Wadden Sea wetlands.
Poland's New Europe Film Sales is introducing buyers to Syllas Tzoumerkas's third feature, The Miracle Of The Sargasso Sea, currently in post-production. The company's slate also includes Ivan I Tverdovsky's Jumpman, fresh from its Karlovy Vary premiere in the summer.