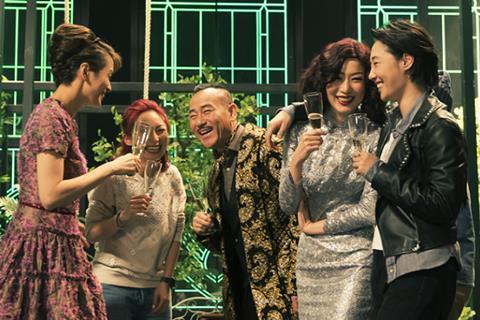 Hong Kong filmmaker Stanley Kwan's First Night Nerves, about rival star actresses reuniting in a stage play, is receiving its world premiere as a Gala Presentation in Busan.
It is the first film Kwan has directed since his short segment in 2011 omnibus Quattro Hong Kong 2, commissioned by the Hong Kong International Film Festival. In the meantime, he has been focusing on producing and executive producing mainland Chinese films such as Vicki Zhao Wei's So Young and Luo Dong's New York New York.
Kwan will be on hand to present First Night Nerves with its stars Sammi Cheng, Gigi Leung and Bai Baihe at Busan Cinema Center's Haneulyeon Theater this afternoon (October 5). Produced by Arena Productions and Phoenix Legend Films Co, the Hong Kong-China co-production is being sold internationally by Golden Scene.
Can you tell us what the film is about and how you made it?
I had a very enjoyable time making this film, because I can shoot the whole film in Hong Kong. I haven't made a film in Hong Kong in a very long time. Hong Kong's City Hall acts as the backdrop of the story, about two actresses with a history of rivalry – one got married and had a child, and the other became a famous movie star – and the film explores the unresolved tension between the two of them. There are just some things that you cannot let go of, and this knot that they have between them, is not something that can be resolved so easily.
Coincidentally, they've been invited to be co-leads in a stage play that is about the quarrels of two sisters in 1950s Hong Kong. It all takes place within the seven to eight days leading up to the opening night of the play. We see how their personal issues are resolved, and how the two leads take the next step in their lives.
I remember there were rumours a few years ago that the historical City Hall was going to be torn down. The people were against it, including the legislative council. They thought, 'How can you tear down something that was built in 1962, which has such historical value?' There have been generations upon generations of Hong Kongers who have attended film festivals, watched plays, music recitals, and attended art exhibitions at City Hall, so it had a very significant place in my heart when I was growing up.
How did you choose the cast? What was it like to work with them?
I usually have a habit of already having specific actors in mind while working on the script with the screenwriter. For this film, I had Sammi Cheng, Angie Chiu and Kam Kwok-Leung already in mind while writing. And as this film is a co-production between Hong Kong and China, the mainland Chinese investors prefer cast that also caters to the mainland market, so we invited mainland actresses such as Bai Baihe and Qi Xi to join the cast. Bai Baihe has made a name for herself as one of the biggest movie stars in China. I've previously worked with Sammi on Everlasting Regret, so I know all her strengths and weaknesses.
I think that working on an original screenplay, or even adapted screenplays like Rouge, Red Rose White Rose and Lan Yu, characters have almost taken the utmost priority. So I think that working with actors is all about building trust with each other, and that trust includes sharing a lot of my very personal life experiences, and also discussing decisions I've made in my life. I came out of the closet in 2006, but a lot of my closest friends in the industry already had a clear idea of my sexual orientation. So I think sharing these types of experiences with actors will encourage them not to just follow the words on the page, but also to remind them to channel these experiences into their characters.
What made this shoot special for you?
I've already mentioned my personal affinity towards City Hall. I very seldom construct sets for my films, and although we shot many of the scenes in City Hall's lobby and main entrance and used some exteriors, we also reconstructed a 1:1 set of the stage and the backstage area. We even had exact replicas of the chairs inside the theatre. The backstage area is notorious for being quite windowless and claustrophobic and we constructed this to seamlessly connect with the front of the stage.
It was a tremendous experience shooting in Hong Kong for this film. I'm also very thankful that City Hall was so welcoming of our shoot.
Could you tell us about your relationship with Busan and what you think of the festival?
I attended the festival in the past when Hold You Tight and Everlasting Regret were selected. I like how relaxed it is. It is not as glamorous as the European festivals like Cannes, Berlin and Venice, and has a calm and relaxing feel. I think that glamour does not always equate to respect for films. Busan strives to become the leading international film festival in Asia, and I think they're doing a great job. The heads of the festival have now been reinstated, following a few years of absence due to politics, and their return is supported by a lot of international critics, film industry people and audiences alike.
How do you think Hong Kong's film industry has changed over the years? What do you think is the most pressing issue in Hong Kong filmmaking these days?
People always say that the golden years of Hong Kong cinema was in the 1980s and 1990s, but we actually already started to see a decline in the late 1990s, in terms of quality and quantity. This definitely has to do with the emerging mainland Chinese market. A lot of Hong Kong filmmakers went to make films in China. I was one of the first, with Center Stage in 1991, but back then it was financed by a Hong Kong company and we shot on a studio backlot in Shanghai. It wasn't a co-production. Red Rose White Rose in 1994 was a co-production between Hong Kong and China, and we shot everything in Shanghai, so I really was one of the first filmmakers to work there.
In the late 1990s or early 2000s, the mainland Chinese industry could use the expertise of Hong Kong filmmakers in arthouse, action, comedy, period dramas, etc. But now mainland Chinese filmmaking skills and box office have increased exponentially. It has become one of the leading markets in the world, although this rapid growth makes it hard for the mentality of the industry to stay grounded. There is still an impetuous nature to the huge amounts of investment being pumped into the industry. But the audience is getting more sophisticated and they don't just watch anything the companies feed them, and they can discern a good film from a bad one.
In the case of First Night Nerves, the mainland Chinese investor allowed me to shoot everything in Hong Kong, and write in characters that are from mainland China. This is very important because it has to be organic to the story, and also cater to the audiences of both Hong Kong and mainland China. Which is why I think Hong Kong filmmakers should be developing scripts for Hong Kong-China co-productions that would allow for organic characters that fit the story. If the characters are well developed, then it can become quite universal.