China has a strong presence in this year's festival, while buzzy new action, war and comedy titles are available in the market from Hong Kong and China's sellers.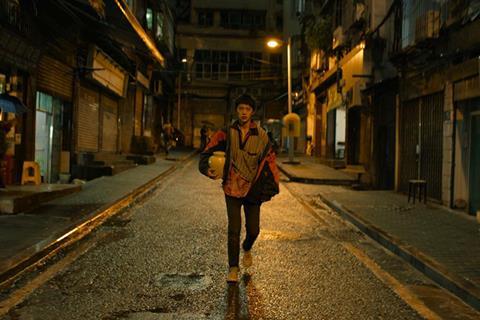 Although the Marché returns as an in-person event, it is unlikely to see a large physical attendance from Hong Kong and China.
Most sales and acquisition executives are not making the trip to France due to ongoing pandemic concerns, travel restrictions and onerous quarantine requirements. However, they will have a strong digital presence through virtual meetings and online booths, with plenty of new titles available for the online market, including action blockbusters and comedies from Hong Kong and patriotic war dramas from China.
China also has a strong presence in the festival with four films in various sections, including Striding Into The Wind director Wei Shujun's Ripples Of Life in Directors' Fortnight and Na Jiazuo's debut feature Streetwise in Un Certain Regard.
Festival
Are You Lonesome Tonight?
Dir. Wen Shipei
Starring Eddie Peng and Sylvia Chang, Wen's debut feature is a thriller revolving around the mysterious death of a man knocked over by a car, but whose body is riddled with bullets. Previously known as Tropical Memories, the project received the VFF Talent Highlight prize at the Berlinale co-production market in 2018. It is produced by Ning Hao's Beijing-based Dirty Monkey Studios and was released in China in June. The film is showing here in Special Screenings. Contact: Wild Bunch International
I'm So Sorry
Dir. Zhao Liang
After premiering Petition at the festival 12 years ago, filmmaker and multimedia artist Zhao returns to Cannes in the Cinema For The Climate section with a documentary looking at the dangers of nuclear energy. The film, which is described as having a style that suggests a near dystopian future, is Zhao's first international project and is backed by his own Image Production, Arte France and Les Films d'Ici. Zhao's previous documentaries include Behemoth and Crime And Punishment. Contact: Meng Xie, Rediance
Ripples Of Life
Dir. Wei Shujun
After short film On The Border played in 2018 and debut feature Striding Into The Wind was selected for the Cannes 2020 label, Wei returns to the Croisette, this time in Directors' Fortnight, with his second feature. It follows a major star who brings a film production to her remote hometown, where it is bogged down by endless debate between the director and the writer, while a bored local restaurant owner finds excitement as the star's stand-in. The cast features Yang Zishan, Huang Miyi and Liu Yang. Backers include Qingdao Zhong Chuang Ju He Film & TV, Factory Gate Films and Inner Self Films. Contact: Meng Xie, Rediance
Streetwise
Dir. Na Jiazuo
Executive produced by The Eight Hundred director Guan Hu, Na's debut feature — which plays in Un Certain Regard — is the story of a 21-year-old smalltown youth who becomes a debt collector to pay for his estranged father's medical bills, while having an ambiguous relationship with a young woman. The film's Chinese title translates as 'street kids'. The cast includes Li Jiuxiao, Huang Miyi and Yu Ailei. Na, who studied cinematography at the Beijing Film Academy, also wrote the lyrics, vocals and part of the composition of the film's theme song. Contact: Sebastien Chesneau, Cercamon
Market
The Battle At Lake Changjin
Dirs. Tsui Hark, Chen Kaige, Dante Lam
Billed as the largest-budget Chinese film ever, this epic $200m production marks the first collaboration between three notable directors from Hong Kong and China. The war-themed blockbuster is set in the winter of 1950 when a bloody battle between the US and Chinese armies takes place in the frozen Changjin Lake region of North Korea. It stars Wu Jing (Wandering Earth) and Jackson Yee (Better Days) and features a special appearance by Duan Yihong (The Looming Storm). Its release is being lined up for later this year. Contact: June Wu, Distribution Workshop

Far Far Away
Dir. Amos Why
Hong Kong director Why came up with this modern romantic comedy during lockdown last year as a way to explore themes of home and human connection. The story follows a young man who, in his quest for love, courts five women of different temperaments, each one of them living in Hong Kong's furthest reaches. The film reunites Kaki Sham and Jennifer Yu, who both starred in 2018's Distinction, with Cecilia So (She Remembers, He Forgets) and Hanna Chan (G Affairs) also in the cast. A late 2021 release is planned. Why's credits include Dot To Dot and Napping Kid. Contact: Golden Scene
Kowloon Walled City
Dir. Soi Cheang
Soi's action thriller, currently in pre-production, is set in the 1980s inside the eponymous lawless laby­rinth where a group of immigrants and outlaws fight against a triad gang sent by the British Hong Kong government to demolish their haven. It is an adaptation of the award-winning cult manga series City Of Darkness. Louis Koo, Richie Jen and Zhang Jin head the cast, with John Chong (Infernal Affairs series) and Wilson Yip (Ip Man series) as producers. Soi's noir thriller Limbo premiered in Berlinale Special earlier this year. Contact: Frederick Tsui, Media Asia
A New Old Play
Dir. Qiu Jiongjiong
Set to premiere in Locarno's main competition, Qiu's debut narrative feature is a Fellini-esque story based on the life of his grandfather who was a renowned clown actor in traditional Sichuan opera. The director is also a contemporary artist, and painted the props and shot the film in two self-built studios in Sichuan, which he constructed on a limited budget. Previously known as Neo-New Adventures, it is produced by Hong Kong's Uluka Productions and France's Hippocampe Productions. Qiu's feature doc Mr Zhang Believes premiered at Locarno in 2015. Contact: Uluka Productions
Railway Heroes
Dir. Yang Feng
This historical drama depicts the sabotage undertaken by a group of Chinese railway workers to destroy the Japanese invaders' supply lines during the Second World War. Produced by Huayi Brothers, the film stars Zhang Hanyu (Operation Red Sea), Fan Wei (One Second) and pop singer/actor Vision Wei. It is aiming for release during China's National Day holidays in October. Yang previously worked as a director and producer for a broadcasting company and is also a screenwriter and cinematographer. His feature directing credits include The Coldest City (2018). Contact: Vicky Ding, Blossoms Entertainment
Table For Six
Dir. Sunny Chan
The new film from Men On The Dragon director Chan is an ensemble comedy starring top Hong Kong stand-up comedian Dayo Wong — whose The Grand Grandmaster was a Chinese New Year hit in 2020 — Stephy Tang (My Prince Edward), Louis Cheung, Ivana Wong and Lim Min Chen. The story centres on a family gathering that goes sour when an old flame turns up, causing a kitchen nightmare for three half-brothers and the casual girlfriend of one of the boys. The film is scheduled for a Chinese New Year release in 2022. Contact: Edko Films
To Be Faced
Dir. Danny Pang
This action crime thriller follows two estranged longtime friends — one is now a cop and the other part of a powerful gambling gang — who cross paths again because of a kidnap incident that involves a betting official. The pair then decide to take revenge for a woman who died three years ago. Starring Wallace Chung, Francis Ng and Cheung Siu Fai, To Be Faced is directed by Pang, who alongside his brother Oxide is behind The Eye series. Release is scheduled for Q4 2021. Contact: Grace Chan, Entertaining Power
White Storm III
Dir. Herman Yau
Hong Kong director Yau (Shock Wave 2) is in production on the third instalment in the White Storm franchise. The action thriller sees the return of Louis Koo and Sean Lau, who are joined by new cast member Aaron Kwok. The story follows a cop working undercover in a Southeast Asian drug cartel, who forms a bond with a Thai drug dealer. Theatrical release is being targeted for the second half of 2022. Contact: Mia Sin, Universe Films Distribution