Independent film companies are increasingly setting up shop in China, and using their ability to distribute Chinese films overseas to open doors in the territory.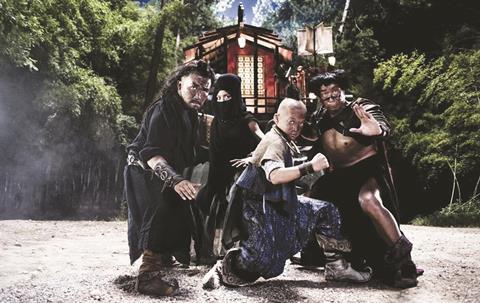 Although China's growth story is breathtaking, it is a complicated territory to deal with due to regulations and rapidly changing market conditions. A growing number of Western film companies are deciding the only way to engage with the new cinematic superpower is to have a presence in Beijing.
Over the summer, three international sales companies — IM Global, Wild Bunch and Arclight Films — announced they are setting up Beijing offices. DreamWorks and some large Western production and financing outfits already have operations in the country. Legendary East is developing English-language projects in a partnership with China Film, while Village Roadshow has invested in Chinese-language hits such as Stephen Chow's Journey To The West: Conquering The Demons and Say Yes!.
The companies all have a slightly different focus, but the overall picture is one of two-way exchange: selling into China and co-producing or handling international distribution of Chinese films.
IM Global's Beijing office, headed by former Huayi Brothers sales chief Leslie Chen, has three missions: managing IM Global's Apsara pan-Asian distribution label; overseeing international sales in the region, which includes selling into China; and acquiring Chinese films to sell.
"Apsara has five upcoming wide releases across the region, so that's already a full workload for the Beijing team," says IM Global CEO Stuart Ford. "Nevertheless, it's our hope to make some inroads into the Chinese-language film sales marketplace over the next 12 months. But it's a strategy that needs a measured approach. We're under no illusions we can just turn up and say, 'Give us your best movies.'"
Wild Bunch, which has partnered with Beijing-based Taihe Media, also plans to work on sales to China and international distribution of Chinese films. "China has a huge TV and VoD market where Taihe will work on our catalogue, and if needed some other catalogues, and a theatrical market where we'll work with Taihe to identify movies we can submit to the quota system," says Wild Bunch co-chief Vincent Maraval.
He adds: "The main goal of our joint venture is to develop Chinese production and structure it for exportation." Wild Bunch has previously been involved in Chinese titles such as Lou Ye's Purple Butterfly and Wong Kar Wai's The Grandmaster.
Arclight Films, which has hired former Tianjin Film Studio executive Elliot Tong to head its Beijing office, has outlined similar objectives and previously handled Chinese films such as The Four, Dangerous Liaisons and Special ID through its Easternlight label.
China eyes exports
With Fortissimo Films also active in the region, there should be no shortage of international sales companies looking to acquire Chinese movies. Both the Chinese government and film industry should welcome this, as they are keen to increase exports of local films, despite being buoyed by a massive domestic market. "There are a growing number of players who aspire towards global recognition and these companies are likely to drive the overseas distribution of big-ticket Chinese-language product," says Ford.
Western indies may also find they are viewed with less suspicion than the US studios, which previously became involved in Chinese production by offering the dual incentives of capital and global distribution networks. These days China does not need the capital and US studio networks have not proved adept at distributing local-language films. More recently, Fox International Productions has co-produced some big hits in China, but made it clear from the outset that any international revenue would be icing on the cake.
By emphasising their credentials in international distribution of smaller films, Western sales companies may find it easier politically to sell into the country and achieve their long-term objective of raising finance to get films made.
Meanwhile, Legendary East has direct access to international distribution through Legendary Entertainment's new deal with Universal Pictures, but is working on projects of a different scale: English-language tentpoles aimed at the global market. It is understood some of these will be Chinese co-productions, while others that do not fit the co-production requirements will have strong Chinese elements. Partnering with China Film — still the country's biggest player with access to funding, distribution and cinemas — gives Legendary a powerful ally.
The partnership also gives China Film a head start in its ambitions to be involved in international blockbusters. China realises it needs to make big movies to compete with the West and that the best way to gain this experience is to work with Western partners.
The irony is that these partners will be providing expertise while being held at arm's length — foreign companies are still not allowed to own production or distribution outfits in China. But given the size of the market, it is worth gaining a foothold in anticipation of the day when the rules change. Most Western players are also feeling the need to build long-term relationships and to have people on the ground to really understand the changing landscape.