TIFF's organisers have this year selected Keiichi Hara as the subject of the festival's popular animation focus.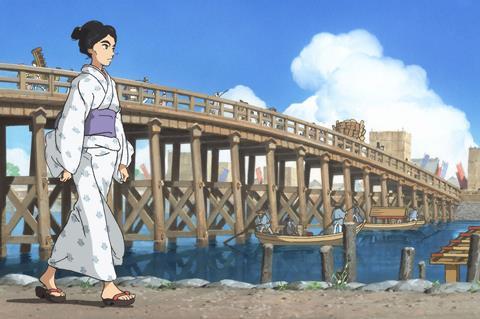 Although he's kept a fairly low profile over the years, Japanese animation director Keiichi Hara has been slowly building up international recognition, especially since making a splash at France's Annecy International Animated Film Festival with features such as Colorful (2010) and Miss Hokusai (2015).
Hara now has no choice but to enjoy the limelight — Tokyo International Film Festival (TIFF) has selected him as the subject of its annual Animation Focus, a popular strand that has previously spotlighted the works of Hideaki Anno, Mamoru Hosoda and the Mobile Suit Gundam franchise. Curated by anime researcher and lecturer Ryusuke Hikawa, The World Of Keiichi Hara will screen a wide selection of the director's works for both film and television, followed by panel discussions with special guests.
Born in 1959, Hara started his career with Tokyo-based studio Shin-Ei Animation, where he worked on two of Japan's longest-running animation series: Doraemon and Crayon Shin-chan.
With a fanbase in both Asia and the West, these two franchises have been running for decades but still churn out hit TV series and movies with impressive regularity. "As their main target is children, I learned some techniques to attract a kids' audience compared to other animation directors," says Hara, who worked first as episode then series director, as well as directing six Crayon Shin-chan movies. "I sometimes think if I'd started out creating works for another audience, say core animation fans, I'd have adopted a different style. But I've developed the ability to direct animation films for a much broader audience thanks to my career path."
As an in-house filmmaker, Hara was keen to start making more personal films. He proposed the idea for Summer Days With Coo (2007) at the in-house meeting of Shin-Ei Animation and was given approval to produce it.
The story of a schoolboy who befriends a 'Kappa', or mythical Japanese water sprite, the film won multiple awards in Japan and sealed Hara's reputation as an anime creator in his own right.
He followed this with Colorful — about a sinful soul given the chance to be reborn into the body of a schoolboy who has killed himself — which won a special distinction and the audience award at Annecy in 2011, along with several Japan Academy prizes.
His latest work, Miss Hokusai, about the daughter of the renowned Japanese artist Katsushika Hokusai, won the jury award at Annecy in 2015, as well as prizes at Sitges, Fantasia and the Asia Pacific Screen Awards. Both films, which were written by Hara's partner Miho Maruo, received theatrical distribution in France and other countries.
Realistic spirit
Although infused with the supernatural, all three of Hara's more personal works won rave reviews for their realistic and unsentimental depictions of Japanese life — whether he is portraying the Edo period of the 1800s or contemporary Japan.
Perhaps that realism stems from the fact his greatest influences are not animation films, but the masters of Japan's live-action cinema of the 1950s and 1960s, such as Yasujiro Ozu and Keisuke Kinoshita. Indeed, his only live-action film, Dawn Of A Filmmaker: The Keisuke Kinoshita Story (Hajimari No Michi), is a biopic about Kinoshita's experiences during the Second World War.
"I admire those directors because of their level of direction," Hara explains. "Currently, Japanese animation is recognised as influential worldwide, but in terms of direction, it is still immature. These Japanese masterpieces have a higher level of supervision and dramatic interpretation. As a result, they've stood the test of time. I'd also like to make films that remain indefinitely in the audience's mind."
With Hara's international success, recent mega-hits such as Your Name and a wide global release later this year for Studio Ponoc's Mary And The Witch's Flower, Japanese anime would appear to be in robust health, despite repeated rumours of its demise. But Hara says recent success masks larger structural problems.
"Actually, there are only a few animators who are able to make theatrical productions in today's Japanese animation industry," he says. "Because of this situation, every production lacks personnel and is fighting over staff." The biggest issue, he adds, is low salaries for feature film work, which means up-and-coming talent is often lost to the more highly paid games industry.
"A certain level of salary, commensurate with technique and labour, should be paid for the specialist skilled job of animation," says Hara. "Then the working environment for young, talented staff will improve. I don't think there's no future for Japanese animation — I just hope there will be more young people who have the courage to jump into this industry."