Documentary film-makers are finding new ways to attract finance and audiences. Ahead of today's Doc Corner Brunch, Colin Brown explores the cutting-edge strategies and the crop of documentaries at Cannes 2014.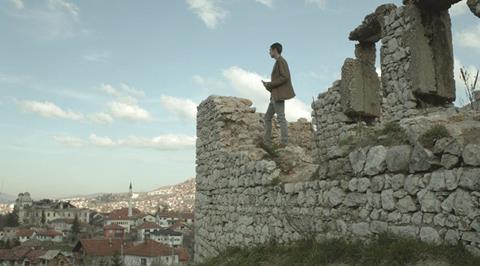 As in previous festivals, war is an ever-present theme in many of the documentaries selected for Cannes 2014.
It is there in the title of Laurent Bécue-Renard's Of Men And War, in which US war veterans from Iraq and Afghanistan try to process their traumas at a residential treatment centre.
It informs both Red Army, which looks at Russian hockey during the Cold War, and Bridges Of Sarajevo, an omnibus involving Jean-Luc Godard, Cristi Puiu and a dozen other film-makers in a commemoration of the 100th anniversary of the outbreak of the First World War.
And you don't have to delve too far into the photo collections of either Sebastiao Salgado or the French newspaper Le Monde, the respective subjects of Wim Wenders' Salt Of The Earth and Les Gens Du Monde, to witness the global scars of conflict.
Most immediately, two of this year's festival documentaries directly address ongoing battles that threaten to escalate beyond their domestic borders. The clashes in Ukraine are the subject of Maidan, which is still being filmed - and may well continue being chronicled after Cannes. And the civil war in Syria is at the very centre of Silvered Water, Syria Self-Portrait, which takes audiences inside the rebel-held besieged city of Homs.
Getting footage out of such life-threatening situations, in an attempt to inject visceral punch and human context to the numbing barrage of news reports, has always been one of documentary's defining strengths. The results are a testament to the guile of non-fiction film-makers.
With no set script to work from, creatively or financially speaking, the documentary world has been forced to pioneer adaptive new business strategies that their counterparts in the independent narrative realm have only started to latch on to.
Far from being the marginalised cousin of fiction, the long-form documentary is cinema's new frontline.
"Documentary film-makers have to be incredibly ingenious because of the very unpredictable nature of making a documentary. They need to be extremely resourceful, not only how they go about financing their docs but also how they actually go about making the docs themselves," affirms Anna Godas, CEO of UK-based documentary distributor Dogwoof.
"In documentary filmmaking you'll find, by its very nature, the most dynamic and innovative business models. Docs used to be dismissed as a hard genre to finance and market, and it's precisely those challenges that have created a breed of truly forward-thinking creative and business thinkers that are getting ahead of the game."
As an example of this paradigm busting, Dogwoof is in the midst of plans to market three as-yet-unannounced titles directly to consumers, across 10 countries simultaneously, all in partnership with a digital platform.

Ahead of the curve
"Independent film-makers love to talk about the indie model being broken. However, they need to take a hard look at how documentary has broken away from the traditional model and is now leading the way in innovative business models such as equity crowdfunding, engagement tactics, funding consortia and so on," adds Dogwoof chairman Andy Whittaker, who founded the company 10 years ago after experiencing first-hand the transformative effect of internet-enabled social technology as an executive at eBay.
This willingness to forge new paths even applies to a venerable documentary company such as Kartemquin Films, the 48-year-old Chicago-based production company that is celebrating its first film in Cannes with Steve James' Life Itself, about the late film critic Roger Ebert. The documentary marks the first time this non-profit institution has dabbled with profit participants - albeit in a far more co-operative guise.
"Traditionally, funding for our work comes from three main sources - broadcast pre-sales, foundation grants and individual donations. That's still the case, but on Life Itself we also experimented with equity investors and crowdfunding to raise the total budget," notes Kartemquin's executive director Justine Nagan.
"But Kartemquin runs on collaboration, so even those investors were digging in and contributing a lot of work to the film, not just funds."
While such engagement tactics have always been hard-wired into the documentary mindset, with its devotion to making a difference in the world, it has now found its perfect expression in the social media zeitgeist.
"For documentary film-makers, audience platforms, or crowdfunding platforms, are at the core of their projects from day one," adds Whittaker. "When you think about it, knowing there is an audience and backing for your film at the outset is a smarter way to develop your project. I think you'll see the indie business increasingly adopt the documentary approach and not see digital as the afterthought as we see happen with fiction films post-Cannes."
Indeed, some of those digital after-thoughts are entering the field as competitive funders in their own right. Xbox, the video gaming platform created by Microsoft, recently turned to Oscar-winning documentary producer Simon Chinn and his Emmy-winning cousin to spearhead a multi-film documentary series through their new multi-platform Lightbox company about the start of the digital revolution, each involving a different director.
Chinn points to the arrival of Xbox and other players such as Amazon, Hulu, AOL, Vimeo, as well as the ongoing rise of cable television, as evidence of a healthy landscape and appetite for non-fiction.
"New buyers like Netflix and CNN Films seemed to be everywhere at the last Sundance and deals for feature docs were being done in which rights were being split between theatrical, digital and TV alongside unorthodox windowing models," says Chinn.
"Unlike the painful and uncertain process of script development, I can get a feature doc set up in a matter of months on the basis of a great story, a couple of sides of A4 and a top director. By mixing and matching TV pre-sales, equity, grants and soft money, the path to recoupment - and profits - can be swift if sales are strong."

Media mix
For sure, such hybrid financing is born partly out of necessity.
"It is becoming increasingly rare to have a single broadcaster or financier cover the full budget," says Emmy-winning producer Julie Goldman of New York's Motto Pictures, "and so we have had to become more agile in putting together financing from different sources. We're very focused on raising non-recoupable funds through grants, donations and crowdfunding, which may not be a large sum but can help at a crucial moment and has the bonus of beginning to build an audience before the film is finished."
Among her current projects Goldman is teamed with Oscar-winner John Battsek to produce We Are The Giant, a film about the Arab Spring that was financed through a combination of private equity and grants and is now being presented by Kaleidoscope at the Marché.
While Battsek, who runs the film department at Passion Pictures, has remained largely broadcaster driven, he also acknowledges the pivotal role that crowdfunding now plays even for documentaries that end up being traditionally mounted.
"The platforms enable people to avoid the endless delay of waiting for conventional finance to commit so they can actually move on and make their films," he says.

Opening up online
As is the case with We Are The Giant, online mobilisation efforts can serve to bolster that traditional broadcaster reach.
"We are building a community out in the marketplace through the huge followings that the subjects in the film have in the social media landscape. And, of course, all the releases in the various international territories plan to capitalise on this presence and how it is reflected in their own territories," adds Battsek.
One of the positive effects of this insurgent thinking is that film festivals themselves can benefit from all the pent-up attention that is stoked during that fundraising and film-making process - as Nagan found out at Sundance this January.
"With Life Itself, launching the Indiegogo campaign in the lead up to the world premiere achieved multiple functions - bringing in funds, identifying and empowering super-fans, and raising mainstream media visibility - almost like a digital press junket that then exploded at Sundance with the stunning audience response and reviews. By having over 1,500 people also watching, and reviewing, the film from their homes that same night, it allowed us to multiply the impact of a festival screening tenfold."