These territories brought some local variety to their Disney release campaigns.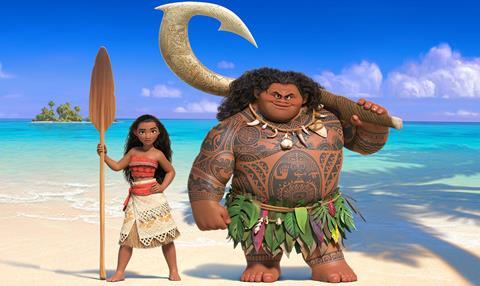 During a rare interview with Walt Disney Studios Motion Pictures UK and EMEA co-heads Tony Chambers and Lee Jury, they spoke to Screen about how the studio tailored their marketing to local markets.
Vaiana (Moana) in France
As in much of Europe, Disney Animation's Moana was called Vaiana in France. "They lent heavily into the French Polynesian connection that they felt they'd credibly be able to leverage," says Jury. "The movie was subtitled La Légende Du Bout Du Monde — the legend at the end of the world. So it was also magical, it ticked some of those Disney fairytale boxes. They also did an end-credit music piece that they shot live-action in French Polynesia."
Vaiana was the number one movie in France in 2016.
Inside Out in Germany
Germany was one of the last territories to release the Pixar hit, putting it out in late September 2015. The marketing mix had a more adult skew, with trailer placement and bespoke short-form content in big music festivals across the summer.
"We've dived pretty deep on what was the key to success with animation in Germany, and we found that humour is really important," says Jury. "On Inside Out, they worked with local TV comedy writers, and created a bunch of new social content. It wasn't exclusive to that market that we put the emotions into different real-life scenarios and had fun with them, but it was a much later releasing market, and they were able to fine-tune their campaign and really embed these funny characters into the German zeitgeist."
Finding Dory in the UK
With a 13-year gap since Finding Nemo, Disney played the nostalgia card, targeting young adults who had been small children for the original film.
Says Jury: "We used key platforms to access the 'generation Nemo' audience. Bespoke content was made to be relatable and relevant — for Wimbledon, the European Football Championships, key festivals including Glastonbury, Lovebox and Latitude, the Olympics, the British weather, and competitive releases such as The Secret Life Of Pets and Jason Bourne. A great example was on the Olympics - when the diving pool in Brazil mysteriously went green, we turned our campaign creative green, and suddenly Dory was swimming through algae. It allowed us to be part of the conversation."
Finding Dory was the number one animation in the UK in 2016.
Avengers: Age Of Ultron in Italy
"The superhero/sci-fi genre in general has been more of a challenge in Italy, but we've tried to find credible overcomes for the audience to make it more relevant for them," says Jury.
"Everyone knows that Italian males have a love of football. La Gazzetta Dello Sport is one of the country's biggest newspapers. Through a partnership with Juventus, we created a series of short social-media content elements, where very high-profile Italian players for Juventus played around with some of the iconography of the Avengers. It made it relevant to young adult males, who were perhaps not superhero fans."
Read more:
Disney UK and Europe co-heads share the secrets of their success