We looks at how the positive effects of film tourism can be maximised by countries and states.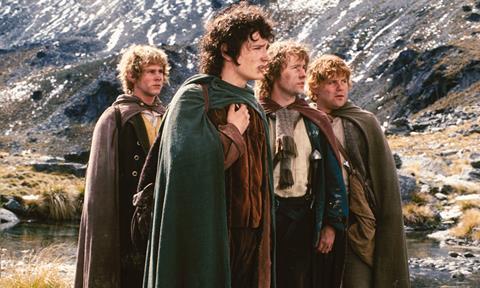 If the hills of Salzburg are alive with tourists, it's partly down to a movie. The Austrian city is said to attract 300,000 to 400,000 visitors a year for its The Sound Of Music tour, making the 1965 multiple Oscar winner a striking example of how film and television can drive tourism.
There are plenty more modern examples, from Notting Hill, the 1999 UK romantic comedy that, according to a 2014 study, has generated the equivalent of $26.3m (£24.9m) in online ad spend for London, through The Lord Of The Rings trilogy, which is largely credited with a 40% jump in New Zealand tourism between 2000 and 2006, to global hit TV series including Downton Abbey, Sherlock and Game Of Thrones (scroll down for more).
In the UK alone, according to a recent report for the BFI and other organisations, film tourism added $486m (£400m) to the 2013 national economy, and high-end TV tourism another $122m (£100m).
Only the beginning
While the statistics seem to confirm the efficacy of films and TV series as tourism drivers, they also suggest the full scope for screen tourism is untapped: a recent survey of members of the Association of Film Commissioners International (AFCI) by New Zealand-based researcher Stefan Roesch showed that only 56% currently invest in film tourism opportunities, while 97% intend to do so within the next five years.
Film commissions and tourism agencies have plenty of work to do in learning how to make the most of screen tourism opportunities. "I don't think we've even begun to see the potential of it," says Martin Cuff, a South Africa-based consultant and former AFCI executive director.
Targeting countries with the fastest-growing populations of cinemagoers and holidaymakers might be one way for film and tourism agencies to maximise potential. European countries already making efforts to lure Bollywood fans from India include Germany, the UK (a map to Scottish locations for Bollywood films has been made available) and Austria (where the state of Tirol has hosted more than 70 Bollywood feature shoots).
With its appetite for blockbuster feature films predominantly from the US, meanwhile, China represents an enticing screen tourism opportunity. "Those Asian markets are a whole new ball game," says Cuff.
Focusing on a wider range of content could be another strategy. 0
Screen tourism boosters see a lot of potential in high-end TV series — since their audiences tend to grow over time and are less unpredictable than those for features — and in film genres such as thrillers and animation.
"Even those kinds of films can be used for destination branding by just playing around with them a little," says Roesch, citing screen tourism campaigns behind animated hits Brave (leveraged to promote its Scottish setting), Frozen (with its Norway-inspired fantasy world) and Trolls (based on the dolls invented in Denmark).
Closer co-operation between film and TV companies and tourist bodies is seen by many as a reliable way to foster the screen tourism effect. But some tourism practitioners complain that film companies tend to be either unaware or, in the words of one, "incredibly unhelpful" when it comes to the subject of screen tourism. Others, though, suggest certain studios and independents are becoming more open.
VisitBritain, for example, has "good relationships with all the studios now", says Emily Wilkinson, senior brand marketing manager. This enabled the UK tourist authority's branded messages to appear in films including 2014's Paddington and 2015's Spectre. (In Paddington, posters of the GREAT Britain campaign promoting the country could be seen in a Tube station, while in Spectre, a taxi with the GREAT Britain logo appears.)
"It's great for our marketing to be seen within the movie," says Wilkinson, "and then for us to have a partnership when the film is released. It's an end-to-end partnership."
The screen tourism effect is already used by some film commissioners to help sell the idea of production incentives and tax breaks to politicians. "It undoubtedly helps us persuade government that film is good business for the UK plc," says Adrian Wootton, chief executive of Film London and the British Film Commission. "Tourism is an increasing part of our armoury to demonstrate that economic value."
Enhanced incentives
While there have been a few instances of tourism bodies making direct investments in film or TV projects, a more common approach is for countries to make co-operation on tourism promotion one way for productions to access additional incentives. Malta, for example, offers an additional 2% on top of its 25% rebate if a production "features Malta culturally". "So it's part of the cash rebate to push the idea of screen tourism," says the country's film commissioner Engelbert Grech.
New Zealand has also made promoting tourism one of the ways to qualify for a five percentage point uplift to the 20% cash grant it offers to eligible international productions. In 2016, Disney's family adventure Pete's Dragon became the first feature to tap the uplift by agreeing, among other elements, to form a marketing partnership with Tourism New Zealand. According to Tourism New Zealand, 92% of people who saw the resulting publicity campaign said they had become more motivated to visit the country.
Roesch notes: "It's not about manipulating the creative product, but if you have a 5% uplift, the filmmakers give you the copyrighted material you need — film stills and clips — and in return they get a bonus," he says. "All film commissions should offer a little bit of an upgrade in that regard."
Case study: Game Of Thrones
Northern Ireland is benefiting the most from Game Of Thrones-related tourism, even though the show also shoots in other European locations.
Even years ago, when it beat out Scotland to become the primary location for HBO's Game Of Thrones, Northern Ireland recognised its film and TV industry was in for a significant boost. But the potential benefit to tourism in the region — a picturesque 5,460-square-mile part of the UK once best known for the violent conflict of the Troubles — was much less obvious.
"No one knew the potential of the show in terms of the size and scale and how it's seeped into the zeitgeist," says Moyra Lock, head of marketing, communications and audiences at government-backed Northern Ireland Screen, and an early screen tourism proponent.
Catching on to the potential "hasn't happened overnight", adds Lock, whose agency provides production funding to Game Of Thrones, though none of it tied to tourism. Northern Ireland Screen works with both Tourism Northern Ireland and Tourism Ireland, the travel promoter for all of Ireland, to leverage the popularity of the blockbuster fantasy series. "It has taken a while for the tourist boards to come round to how they can maximise the opportunities," she says.
While Game Of Thrones fans also visit the show's locations in Croatia, Spain, Iceland and Malta, they have, over the past three years, been most actively courted in Northern Ireland. Dozens of tours and attractions offer to take them to the 'real' Winterfell (Castle Ward), Kingsroad (the Dark Hedges) or Vaes Dothrak (the Mourne Mountains).
Tourism Ireland's Thrones-related marketing strategies have included the creation of social media content, based on advance access to episodes, which is then distributed in line with European air dates, as well as stunts in the Northern Ireland capital of Belfast involving dragons, three-eyed ravens and white walkers. Last year, to tie in with the series' sixth season, Tourism Ireland created 10 carved doors inspired by moments from the show, which were installed in pubs and hotels around the region.
Besides winning awards and generating what the agency claims was $13.7m (£11.3m) worth of media coverage, the 'Doors of Thrones' campaign also helped build a legacy for the show, according to Tourism Ireland's head of marketing communications Brian Twomey. "We know the show will leave in two years," says Twomey, referring to the series' eighth and final season. "But, a bit like Lord Of The Rings [in New Zealand], what will remain once the show leaves — what people can see and touch that is linked to the show — will give fans a reason to visit."
Twomey says a recent study shows screen tourists, most of them interested primarily in the show, spend around $24m (£20m) a year in Northern Ireland. And he puts the success of the region's Thrones-related marketing drive down to the fact that Tourism Ireland approached HBO earlier than any of the other locations with "a clear proposal to put media money behind a strong creative idea".
Also important, Twomey says, has been working within parameters agreed with HBO. That means, for example, never dealing with on-screen talent and getting all tourist-directed marketing work approved by the series' top executive producers. The network, says Twomey, is "protective not only about the show but about the whole production process". But, over the three years, Twomey says, "We've developed a level of mutual respect and trust and the understanding that we can add value to their fanbase conversation and ultimately drive visitor numbers to Northern Ireland."