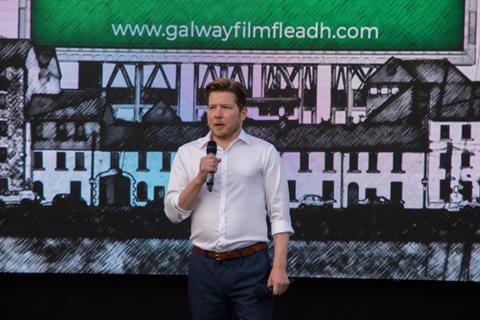 The Galway Film Fleadh opens today (July 5) with the world premiere of Irish director Emer Reynolds' fiction feature debut Joyride, starring Olivia Colman, staking its claim as the key launch pad for emerging Irish filmmakers.
As well as its packed international programme, the Fleadh will host a total of 32 Irish features that also include Declan Recks' Tarrac, an Irish-language character drama set in the Kerry Gaeltacht.
The Fleadh's world cinema line-up features films from 30 countries with a focus on Finnish and Ukrainian films.
Special events include a 30th anniversary screening of Irish drama Into the West, attended by screenwriter Jim Sheridan and director Mike Newell,while over 100 Irish and international shorts will compete for the Fleadh's Oscar-qualifying prizes.
Guests include actor Vicky Kreips, whose latest feature, Mathieu Amalric's Hold Me Tight, will screen at the Fleadh, and Derry Girls creator Lisa McGee, who will host a writing masterclass. Screen Ireland's four industry events include a distribution case study of Irish-language hit The Quiet Girl.
Director of programming William Fitzgerald talks to Screen about the films and filmmakers on which to keep an eye.
Which are the world premieres at Galway with the most international potential?
I'm excited to see people's reaction to Tarrac, particularly since it's coming on the heels of The Quiet Girl. In Lakelands, it's very savvy the way the two directors, Robert Higgins and Patrick McGivney, have created a drama around a search for identity when you're a young Gaelic football star and you have a career-ending injury.
The Sparrow, another world premiere, is Michael Kinirons' debut feature. Olly West makes a great feature debut playing a black sheep brother who lives in the shadow of Éanna Hardwicke's character.
Who are the noteworthy Irish filmmakers coming through this year?
With Joyride, Emer [Reynolds] would be known to a lot of people already as a (documentary) director. But given that this is her debut drama, it's really interesting to see her work in another format, with a dramatic script by Ailbhe Keogan.
Our documentary programme is particularly robust this year. There are 21 new Irish docs. Frankie Fenton's new film Atomic Hope is so interesting and couldn't be more relevant. It's not making the case for nuclear power, but it shines a light on the people who are making a case for it.
I'm really excited for Maurice O'Brien's The Artist And The Wall of Death in that it ties back to another classic of Irish cinema, Eat The Peach. [It tells the story of performance artist Stephen Skrynka and his obsession with the Wall of Death, who travels to Ireland to meet the fellow devotees who inspired Eat The Peach].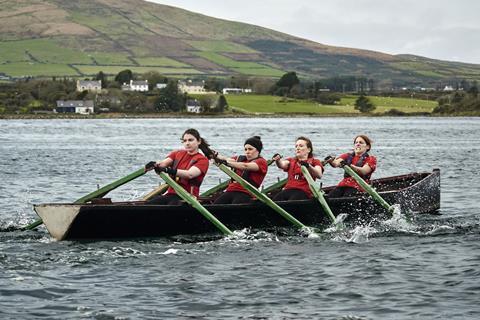 There's a strong strand of non-traditional narrative pieces in the programme. We have Aideen Barry's film, Klostés (Folds), about modernist architecture in the city of Kaunas in Lithuania. It's really something special.
We also have the world premiere of Dean Kavanagh's Hole In The Head. It's about film projectionist who tries to restage moments from his life to try and recreate lost memories.
Ciara Nic Chormaic's film, Clouded Reveries, is the biopic of the author Doireann Ní Ghríofa. Ciara records Doireann performing her own work in locations from different periods of her life.
What's in place in Ireland to produce and sustain such interesting filmmakers right now?
I think we're seeing the work of a lot of creative producers paying off. Ed Guiney and Andrew Lowe at Element [Pictures] forged a path of making distinctly European arthouse cinema in Ireland. I'm thinking of people like John McDonnell and Brendan McCarthy and rising stars like Jessie Fisk who is partnering with strong auteur filmmakers like Pat Collins and Nathalie Biancheri, and Roisín Geraghty who is building a slate of work with unique female voices like Ailbhe Keoghan, Oonagh Kearney and Claire Dix.
We're also telling stories - like Tarrac, like Lakelands - that are much more internal. They're much more driven by the internal conflict of the character. The investment in script development from Screen Ireland at an earlier process is, I think, really paying off.
What structures are available to filmmakers that are making a difference?
Ciné4 and Screen Ireland are hosting one of the many industry events taking place at the Fleadh this year for those with ideas to tell a story in the Irish language. They want people to know that the supports are there, and that they're actively looking for ideas. There are two panels on animation headed by Animation Ireland: pitching your animation project for the festivals and developing animation projects.
How do you think Ireland will evolve as a confident film nation?
I think the creative producer will play a great role. I would also like to see a return to the director and the screenwriter as the authors of their work in our national cinema. Producers wield the power still to get funding. Many directors and writers with an impressive body of work still struggle to get funding unless they're on a company's slate.