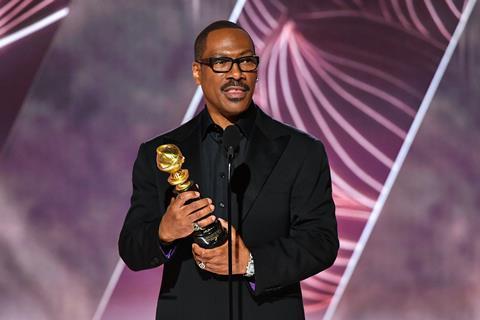 The Golden Globes got out of Hollywood jail to stage a live show on Tuesday night that delivered lots of stars, a rallying cry from Ukrainian leader Volodymyr Zelenskiy, and a Will Smith slap gag from Eddie Murphy that brought the house down.
Reunited with traditional ceremony broadcaster NBC – which is taking things slowly and agreed to air the show for one year following last year's boycott in the wake of a damning 2021 exposé of the Hollywood Foreign Press Association (HFPA) – the 2023 Globes took a while to get going.
Host and openly gay US comedian Jerrod Carmichael kicked things off with an excruciating, understated roast of the HFPA. "I'll tell you why I'm here, I'm here cause I'm Black" he quipped, adding that a friend had urged him to take the $500,000 payday for hosting the show.
Referring to the Times report that revealed the group had no Black members at the time, Carmichael said, "I won't say they were a racist organisation, but they didn't have a single Black member until George Floyd died, so do with that information what you will."
Carmichael said he declined a meeting with HFPA president Helen Hoehne, who wanted to talk about reforms to improve the group's record on diversity, and said he took the gig to celebrate the creative community.
It was at that point when the celebrity audience of Brad Pitt, Margot Robbie, Rihanna, Quentin Tarantino, Phoebe Waller-Bridge, Andrew Garfield, Ana de Armas and friends, who had been sitting stiffly in their seats and listening intently, let out a collective sigh.
The quiet but firm reprimand of the HFPA appeared to be over and everyone remembered this was meant to be the most relaxed and enjoyable show on the circuit. That said, the speeches were often heartfelt and emotional.
Best comedy or musical actress winner Michelle Yeoh from Everything Everywhere All At Once playfully snapped at the band to "shut up" and thretened to beat them up when they began to play her off. Castmate and best supporting actor winner Ke Huy Quan thanked Steven Spielberg in the audience for casting him as a child in Indiana Jones And The Temple Of Doom. That was back in 1984 and with the exception of occasional work on The Goonies and a couple of Cyndi Lauper videos Quan said he wasn't sure he'd act again until the Daniels hired him.
Presenter Sean Penn grimaced his way through a speech about freedom and – in one of the more stirring moments of the night – cued up a video message from Zelenskiy, who expressed confidence Ukraine would emerge victorious on the battlefield and insisted, "There will be no Third World War. It is not a trilogy."
Spielberg could barely hold back the tears upon accepting his third career directing Globe for The Fablemans and said this was the story he had been "hiding from" since he was 17. It was co-writer Tony Kushner who coaxed it out of him while they were shooting Munich. "Nobody really knows who we are until we're courageous enough to tell everyone who we are," Spielberg said, "and I spent a lot of time trying to figure out when I could tell this story."
In a reference to the Yiddish word for being delighted, Spielberg rounded off by noting his late mother Leah Adler would be "up there kvelling about this right now".
Showrunner Ryan Murphy gave an emotional address upon receiving the Carol Burnett Award and praised Pose stars Billy Porter and MJ Rodriguez, last year's first trans Globe winner, as well as The Inspection star Jeremy Pope and personal career champions such as Lady Gaga, Jamie Lee Curtis, Sarah Paulson, Jessica Lange, and Julia Roberts.
"My mission was to take the invisible, the unloved, and make them the heroes I longed to see but never did in pop culture," said the Glee, American Horror Story, and Nip/Tuck showrunner.
Absentees
Several award winners on the night were absent and the presenters appeared to be under a mandate to explain why.
Best dramatic actress winner and TÁR star Cate Blanchett was filming in the UK; Zendaya, the best actress in a TV drama for Euphoria was, according to Top Gun: Maverick's Jay Ellis, "busy, she's working… It's a good thing"; Amanda Seyfried, best actress in a limited series or TV film winner for The Dropout, was, we were told, "deep in the process of creating a new musical this week"; while Kevin Costner's absence after being named best actor in a TV drama for Yellowstone was attributed to his preference to stay home in Santa Barbara during the flooding that has beset parts of California, a reason that clearly amused presenter Regina Hall.
Brendan Fraser, a dramatic actor nominee for The Whale, stayed away from The Beverly Hilton in protest, citing "history" with the HFPA. The Oscar frontrunner alleged in 2018 that he was groped in 2003 by then president HFPA Phil Berk, who denied the allegation. Berk was kicked out of the group in 2021 after he told members the Black Lives Matter movement was a "racist hate group".
As the show went on the familiar Globes din enveloped the room as the drink flowed. Carmichael had to make himself heard and at one point clutched three Globes and joked they belonged to Tom Cruise – who returned his awards in protest over the 2021 Los Angeles Times exposé. "I say we take these three things and exchange them for the safe return of Shelly Miscavige," the host said, in reference to the Church of Scientology leader David Miscavige's wife, who has not been seen since 2007. Cruise is a prominent Scientologist.
Towards the end of the show Eddie Murphy stepped up to collect his Cecil B DeMille Award. As his quietly spoken words seemingly headed towards the annals of acceptance speech mediocrity, the star of Beverly Hills Cop, Dreamgirls, Beverly Hills Cop and Coming To America reminded everyone of his comedy chops.
"I want to let you know that there is a definitive blueprint that you can follow to achieve success, prosperity, longevity and peace of mind," Murphy said. "There's a blueprint and I've followed it my whole career. It's just three things: pay your taxes, mind your business…and keep Will Smith's wife's name out of your fucking mouth!" Cue hilarity.
The Golden Globes viewership numbers are expected to be announced on Wednesday.