KARLOVY VARY: Grzegorz Jaroszuk's debut feature Kebab & Horoscope is the eagerly awaited first feature from the graduate of Łódź Film School which will premiere in the East of the West Competition. Laurence Boyce asks him about his influences and improvisation.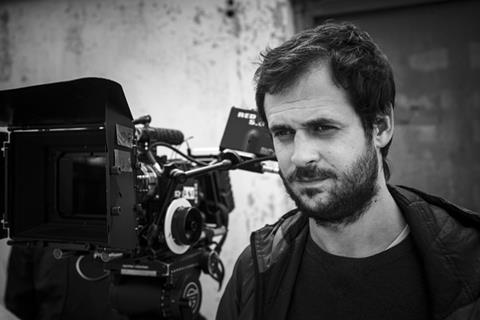 Polish filmmaker Grzegorz Jaroszuk really came to the attention of the film world thanks to his brilliantly deadpan 2011 short Frozen Stories. The story of two supermarket workers whose ambition is to appear on a TV show entitled 'The Unhappiest Person of The Month' resonated with audiences across the world and screened at the likes of Locarno, Sundance, Clermont-Ferrand and Palm Springs as well as garnering a European Film Academy for Best Short.
Jaroszuk – a graduate of Poland's renowned Łódź Film School – now makes his feature film debut in Kebab & Horoscope, a film which will receive its World Premiere in Karlovy Vary's East of the West competition. The story of two misfits who re-invent themselves as marketing executives, the film is a quirky black comedy full of strange characters and ridiculous situations that is redolent of the work of Finnish director Aki Kaurismäki and others.
What inspired you to make Kebab & Horoscope?
Once I asked myself a question: who's writing the horoscopes? It wasn't a ground-breaking one but it stayed in my mind. I didn't want to find the answer but I imagined the situation that a person who's reading and gets influenced by horoscopes meets someone who actually writes them. Disappointingly the author is not a fortune-teller but just an ordinary man. I imagined that this person who was reading horoscopes may feel disappointed and the author of horoscopes may feel guilty. I discovered that this situation could be absurd, funny and sad at the same time. This helped me to set the mood for the rest of the film.
You're working with Justyna Wasilewska and Piotr Zurawski again, after they both appeared in your brilliant short Frozen Stories. Was it important to get them specifically for the film and what is your working relationship like with them?
When I was writing the script I wasn't thinking about actors because I wanted to start doing casting with open mind. I wanted to test different options for each part and so I did. When I found that Justyna and Piotr are perfect for the parts I had in mind I was really happy. I really like working with them because I have the impression that they understand my sense of humour and that they somehow trust me. And working with them again meant that I can be sure that their parts will be good because they are great actors.
And where did you get the rest of the cast from?
During the process of casting I was working with my friend for the film school in Lodz, Marta Karwowska. She did a great job. Most of the cast are actors who are really well known in Poland. I knew that they are great actors. The only question was if they accept this sense of humour and way of acting. It was a big pleasure to work with all of them. They are very experienced and I've learnt a lot while working with them.
As your debut feature, was it a complicated or easy shoot? Was there much improvisation in the film or did the cast stick rigidly to the script?
Of course before the first day of shooting I was scared but when we started working I instantly felt all right and focused on my work. In fact the work on the set wasn't so difficult because shooting was planned so well that we had plenty of time to work on each scene and the whole crew was supporting me and doing a great job. As I said: before the first day I was scared but after the last day I really felt sad that the work was done.
During the shooting we were doing what was planned, there was not so much of improvisation. That's because I prefer to be really well prepared for shooting and I want the actors and the crew to be prepared as well. I don't trust improvisation so much but I believe that when everybody is well prepared and doing what they are supposed to do, something unexpected can happen in front of camera and sometimes that's something special.
The film would seem to have touches of the work of Aki Kaurismäki. Was his work an influence and is there anyone else that you take inspiration from?
The films from the North of Europe are an important inspiration for me. Of course I admire the work of Aki Kaurismäki but I have to say that I am much more impressed by work of Roy Andersson. It's because I find much more irony and a cold atmosphere in his work. Still, I have to say that even though if I'm watching a lot of films, literature is a much more important inspiration for me. For example - I consider Bohumil Hrabal [renowned Czech writer] a master and his work is the biggest inspiration for me. That's one of the reasons why I'm really happy that my film will be shown in Czech Republic.
How are you feeling about your Karlovy Vary selection?
I feel very proud that my film was selected. It will be the world premiere so I'm curious to discover how the audience reacts. I don't know what to expect but for sure the day of the screening will be very important for me.
What are planning on next?
I just know I would like to be back on the set as soon as possible.