SCREEN SUBSCRIBERS: Paris-based producer-distributor Haut et Court has carved a space in high-end TV drama while remaining true to its cinema roots. Co-heads Carole Scotta and Caroline Benjo reveal how they bridge the divide.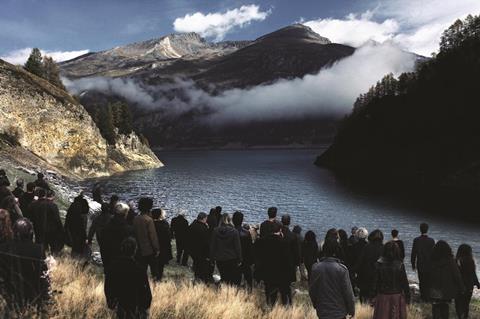 As producers of the 2008 Palme d'Or winner The Class and most recently co-producers on The Lobster, Carole Scotta and Caroline Benjo are regulars on film festival red carpets.
This autumn, however, the co-chiefs of Paris-based Haut et Court have been hitting the circuit with TV shows rather than films.
They were at Toronto International Film Festival with the second series of The Returned (Les Revenants), which screened in the festival's new Primetime section ahead of a Halloween-timed launch across Europe and the US.
A month later, Benjo arrived on the Croisette with the $25m, pan-European crime thriller The Last Panthers, inspired by the story of the Balkans' notorious Pink Panthers heist gang, which was the opening premiere screening of MIPTV.
Haut et Court co-produced the series, which stars Samantha Morton, Tahar Rahim and John Hurt, alongside the UK's Warp Films, with Sky Atlantic and Canal Plus on board as key financiers. The show rolls out this month across Europe with a planned US launch in spring 2016 by SundanceTV.
New horizons
In cinema circles, Haut et Court remains best known as a producer and distributor of independent cinema and a major player on the European co-production scene.
Kicking off with Alain Berliner's Golden Globe-winning transgender tale Ma Vie En Rose in 1997, the company has produced close to 50 features.
For the past five years, however, it has been using the experience and contacts gained in the film industry to carve out a place in Europe's burgeoning high-end TV drama production scene.
"We felt the pay-TV model in Europe and cable in the US was emerging and made a conscious move to distance ourselves from the traditional TV channels," says Scotta.
"From the start, our interest in TV came from a desire to build bridges between TV and cinema."
Early series included the ARTE-commissioned Xanadu, about a family porn empire on the verge of collapse.
It was the Emmy-winning The Returned - produced by Benjo and Jimmy Desmarais at Haut et Court TV with Scotta on board as associate producer - that put the company on the map as an emerging player on the European drama scene.
The supernatural series, which revolves around the living dead returning to a small Alpine town, is based on Haut et Court's 2004 production They Came Back, written and directed by Robin Campillo, who also co-wrote the screenplay for The Class alongside director Laurent Cantet.
Spearheaded by Fabrice Gobert, The Returned combines a TV and cinematic aesthetic and a cast of big-screen veterans, including Anne Consigny and Frédéric Pierrot, and rising stars such as Guillaume Gouix, Ana Girardot and Yara Pilartz, who made her debut in 17 Filles.
"Fabrice was more than a showrunner, he was also the writer, alongside the talented Audrey Fouché, and director at the same time. He really drove the series," says Scotta.
"It was a particular model — every series we do has its own particular DNA."
Jewel in the crown
The Last Panthers is the company's most ambitious TV production to date and is a textbook example of the cinema world crossing over to TV.
Haut et Court initiated the series after being approached by investigative journalist Jérome Pierrat, who spent years researching the real-life Pink Panthers gang.
"When we read the elements he'd given us, we said, 'There's not enough time in a feature-length film to tell that story,'" says Benjo. "A series seems more appropriate."
The partnership with London-based Warp Films, another film company that has delved into TV with Shane Meadows' long-running series This Is England, grew out of a long-time friendship with producer Peter Carlton.
"I've known Carole and Caroline since my days at Film4," says Carlton. "We'd meet all the time on the film festival circuits and watch and argue about films."
They decided to go for a 50:50 co-production set-up, running it like a traditional feature film co-production.
Scotta suggests Europe's cinema co-production veterans are better placed to operate in the region's emerging high-end TV series scene than long-time TV producers who have catered mainly for their domestic broadcasters.
"We're used to working across borders and with multiple partners. It's second nature for us," she notes.
Long-standing ties to the film world also led Haut et Court to join Lorenzo Mieli and Mario Gianani at Rome-based Wildside as co-producers on Paolo Sorrentino's upcoming The Young Pope, starring Jude Law and backed by Sky Italia, Canal Plus and HBO.
"We'd worked together on a previous project that didn't happen and then this came up," says Scotta.
Keeping the faith
Haut et Court remains faithful to cinema. It has just launched The Lobster in France and is gearing up for the release of Stefano Sollima's Suburra and Naomi Kawase's An.
The company also starts production in Brittany this month on Emmanuelle Bercot's 150 Milligrams (La Fille De Brest), starring Danish actress Sidse Babett Knudsen as a medic who discovers a link between a series of mysterious deaths and a state-approved drug.
Haut et Court also runs a handful of arthouse cinemas across France, including the Louxor - a beautifully restored 1920s theatre with a neo-Egyptian décor - and the Nouvel Odéon in Paris.
"We remain very much committed to the big screen as we feel cinema and TV still have a long-term dialogue to nurture," concludes Scotta.
Timeline
Haut Et Court
Founded by Carole Scotta in 1992 as an independent production and distribution house. Caroline Benjo joined shortly after.


Director Laurent Cantet was one of the company's first discoveries. Haut et Court has produced all his films, including Palme d'Or winner The Class.


Haut et Court's 50-title catalogue includes Ma Vie En Rose and Coco Before Chanel. The company distributes up to six independent films a year. Current releases include The Lobster, Lamb and Suburra.


Haut et Court TV was launched in 2008. Its biggest success to date is The Returned.


The company operates arthouse cinemas including Nouvel Odéon and Louxor in Paris.