In bringing Ma Rainey's Black Bottom to the screen, George C Wolfe wanted to celebrate a black performer who drew potency from her own southern community. Screen speaks to the director about the film's rich language and resonant themes
Ma Rainey's Black Bottom may be set in the 1920s, and based on a 1980s stage play, but it has a contemporary relevance that struck director George C Wolfe only after the film's shoot was completed.
During production, says Wolfe, "You create a bubble, so the work can spring forth from a pure place, and hopefully a truthful place. You can't be thinking of the effect of it when you're putting the film together."
It was when the director was working with his editor and pushing to complete post-production during the early months of last year's pandemic lockdown — months that also saw the Black Lives Matter uprisings against racial injustice — that the film's timeliness became clear.
"You begin to find these resonances," Wolfe explains. "Then 2020, being the year it was, seemed to activate unresolved questions in people. And the film is exploring things that are, in point of fact, unresolved."
With a title character based on real-life early blues singer Gertrude 'Ma' Rainey, the play was the second of 10 works (others include Fences and The Piano Lesson) in the late August Wilson's American Century Cycle. This series of plays explore the consequences of the early-20th-century migration of African American people from the rural US south to the urban north.
The drama unfolds during an afternoon recording session in Chicago, as the no-nonsense Ma (Viola Davis) fights a battle of wills with her white manager and producer over control of the music while her band, including restlessly ambitious trumpeter Levee (Chadwick Boseman), banters and bickers in a claustro­phobic rehearsal room.
Although Wolfe — a Tony Award-winning playwright and director, known for stage hits such as Jelly's Last Jam and Bring In 'Da Noise, Bring In 'Da Funk and films including Lackawanna Blues and The Immortal Life Of Henrietta Lacks — had never directed a Wilson work on stage, he had plenty of reasons to sign up when asked by project producer Denzel Washington to take on the film version.
"I am perpetually obsessed with the 1920s, particularly in the US," explains Wolfe. "There was racial violence and Jim Crow laws but at the same time there was this huge cultural awakening. Between blues and jazz and writers like Langston Hughes, Countee Cullen and Zora Neale Hurston, it was an extra­ordinary time of expression."
Other enticements were the figure of Rainey herself and the prospect of getting Davis, an Oscar winner for her performance (opposite Denzel Washington) in the 2016 film version of Wilson's Fences, to play the role.
"I was fascinated by Ma as a life force," says Wolfe, "that she was this out lesbian, wrote songs about it, was unapologetic about who she was. And I was really intrigued by the power dynamics between her and Levee."
Dramatic licence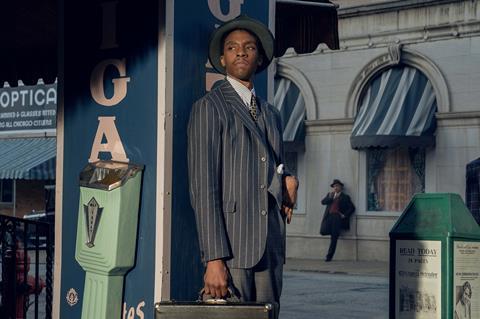 To intensify the drama and give the narrative a wider context, Wolfe and screenwriter Ruben Santiago-Hudson made some significant changes and additions to Wilson's scenario. While the play opens in the band's rehearsal room, the film version begins with a tent show in Ma Rainey's southern home territory, a sequence that shows off the contributions of costume designer Ann Roth and composer and music historian Branford Marsalis, but also emphasises the director's take on the material.
"The name of the film is Ma Rainey's Black Bottom," Wolfe points out, "so I made a decision that we needed to see her as soon as possible, so we understand it's about her force and how everybody else aligns themselves in relationship to that power."
And, he adds, "It was important for me to redefine the south. There were Jim Crow laws, there was lynching happening, but at the same time, because of segregation, black communities were able to create their own businesses, their own schools, their own structures.
"All of this was about building up the power and the potency of Ma as a woman in charge of her own career. So when she shows up in Chicago and she's in defiance of almost every rule the city has to offer, she does so unapologetically, because she's coming from a place of power."
Equally significant is the film version's coda, in which a group of white musicians is seen recording one of Levee's songs, bought for a pittance during the main action by the producer who had previously promised Levee his own shot at the number.
The scene, Wolfe suggests, turns the historical fact of black artists having their music co-opted by white performers and writers into something more visceral.
"When that song gets stolen from Levee, we feel it because it happens to a person we've come to know and love [during the film]," says Wolfe. "We have a great degree of empathy and appreciation for his talent and for his tragedy. So I wanted the violation to be not an abstract political notion but a personal one."
What very much remains in the film version are Wilson's characters and dialogue, elements that helped the project attract a cast headed by two of Hollywood's most in-demand talents, both now among the frontrunners for acting honours.
"Actors love, love, love doing his characters, because they're so rich and complicated and the language sings in such an extraordinarily thrilling way," says Wolfe, who served for 12 years as producer of Public Theater's Shakespeare in the Park festival in New York. "Actors feel a certain kind of permission to unleash things that maybe other roles won't allow them to release as freely and as fully."
Davis, whose long association with Wilson takes in her Tony-nominated Broadway debut in the author's Seven Guitars and a Tony-winning role in his King Hedley II, signed up to play Ma. As for Levee, the part became Boseman's final role before his untimely death last August.
For Wolfe, the character of Levee is "full of charm, full of intelligence, completely clueless and irrational, but smart. That mercurial equation was very important to me. I had the belief, the hope, the faith that Chadwick had all that, and it turns out he absolutely did."
Giving no indication on set that he was ill, Boseman embodied the role with what Wolfe describes as a "ferocity of commitment".
Part of the solution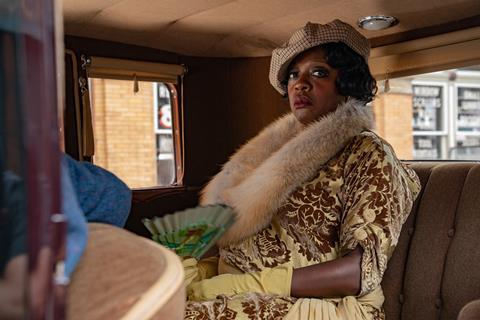 Shot in Wilson's hometown of Pittsburgh to capture the city's well-preserved period architecture, Ma Rainey was completed, with ample use of Zoom and social distancing, last July. Now, with five Film Independent Spirit Award nominations as well as Golden Globe nods for Davis and Boseman, the film has become a contender in an awards season that itself puts "unresolved questions" about diversity on the table.
Wolfe welcomes moves by US film academy Ampas, the UK's Bafta and other organisations to make the industry more inclusive. "Often people avoid talking about things not because they don't want to but because they don't know how," he says. "Any time something is proposed that produces confusion or excitement, people begin to form an opinion about how, hopefully, they contribute to solving a situation that needs to be resolved — or maybe to confront how they're not contributing."
The old movies Wolfe has watched during lockdown reveal, he says, that for much of its history Hollywood gave the impression "black people just didn't exist, whereas in society they were very vibrantly there".
The approach has changed in recent decades, Wolfe concedes. "And thank God it has. But there's a long way to go."