'King Richard' bears the name of the patriarch who helped propel Venus and Serena Williams to tennis greatness, but the film also gives space to the woman who was the power behind the throne.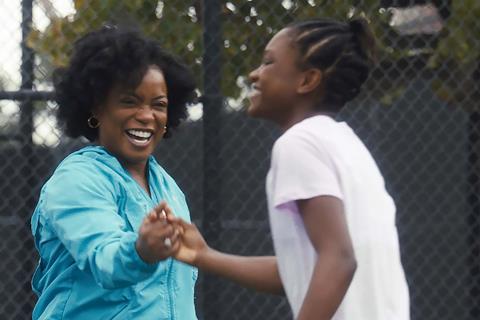 It is not easy to go toe-to-toe with Will Smith on the big screen, much less when he is delivering arguably the performance of his career. But as Oracene 'Brandy' Williams, mother to tennis prodigies Venus and Serena Williams and endlessly patient wife to their father and self-styled coach Richard Williams in Warner Bros' King Richard, Aunjanue Ellis more than holds her own.
Playing Oracene in Reinaldo Marcus Green's drama was a vastly different gig to Ellis's Primetime Emmy-nominated roles as Hippolyta Freeman, the time-travelling housewife with a penchant for adventure in Misha Green's HBO series Lovecraft Country, or Sharonne Salaam, unbowed mother in Ava DuVernay's true-life miscarriage of justice series When They See Us for Netflix.
In King Richard — which opened in cinemas and premiered on HBO Max on November 19 — the actress embodies the yin to her husband's yang. She is the calm heart of the Williams clan from Compton, South Central Los Angeles who dotes on her five girls (tragically, older sister Yetunde was murdered in 2003, when Venus and Serena had begun to win Grand Slam tournaments) and is not averse to a discreet dressing-down aimed at the patriarch.
"She was a Jehovah's Witness," says Ellis on a Zoom call from Chicago, where she is shooting AMC crime series 61st Street. "Her religion had a lot to do with how they see male and female roles in families. It's not subservience, but there is this idea of the head of the household and that is something the religion takes very seriously — it's definitely a patriarchal religion. She's like, 'You can do whatever you want in front of all these people and I'm going to allow you to do that, but I'm not going to be dishonest with you. I'm going to always tell the truth.'"
Ellis did not meet Oracene, who was divorced from Williams after the events depicted in the film, before or during the Los Angeles shoot in 2020 (the pandemic halted February production, which resumed from September to December). To size up her role, she consulted with elder Williams sister Isha Price, who was on set every day and served as executive producer alongside Venus and Serena, with whom Ellis did not have much contact during production.
She also listened to recordings of Oracene talking about her life, provided by the family. "They were my score," she says. "I listened to them over and over again, just so I could get a sense of who she was; her interior life more than anything. She was a very reserved person, so I just tried to open as many secrets as I could about her and let them live in the work that I did."
Family unit
Working with Saniyya Sidney and Demi Singleton, who portray Venus and Serena respectively, and the three other young women who play their sisters, Ellis says, fostered a family spirit on set. "Those girls adored each other," says the actress, whose many credits include Barry Jenkins' If Beale Street Could Talk, Tate Taylor's The Help, Taylor Hackford's Ray opposite Jamie Foxx, and TV hit Designated Survivor.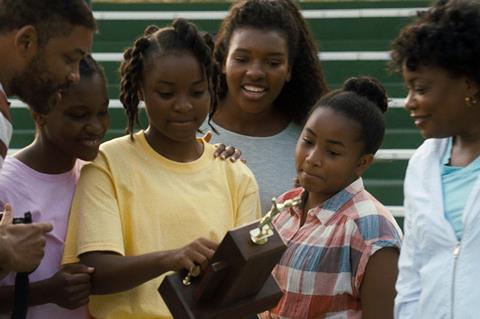 "Outside of filming at the end of the day they hung out, you know. And they adored Will, so all Reinaldo had to do was essentially let the camera be a witness to something that was happening naturally."
King Richard works hard to dispel the media myth of the hard taskmaster with dollar signs in his eyes, although it does allude to rumours of affairs and other children.
"There's a perception of Richard Williams that's been designed by people who don't want folks to know who he is," says Ellis. "He was a care­giver for these girls. Of course, he wanted them to be tennis stars but he loved them and wanted them to have a childhood. When the world said to him, 'Put them out there so they can start making money,' he said no.
"His approach to parenting is the reason you see the longevity in the careers of Venus and Serena, because they got to be girls."
Ellis smiles broadly when the conversation turns to Smith himself. "He's wonderful. You'd think it was his first job. He was so exacting with trying to get a character in the way that he wants it to be. We walked into rehearsal and he had Post-It notes all over the window. He's the biggest movie star in the world but he has such a reverence for getting it right in every way, even in terms of how he treats people on set. It's an education."
Battle lines
Ellis says she sees progress in terms of how the industry is treating women and people of colour, but there is a way to go. "MeToo or no MeToo, we still fight these battles. I know I'm not alone in that because I talk to the women I work with and we express our frustration about these battles that we have to fight against the wall of penis. It's very real. These issues are reflective of what's happening in the rest of the world, and we can't think that because we have a great year the next year is going to be great.
"We saw it with #EmmysSoWhite," she says in reference to the 2021 TV awards where no person of colour won major acting honours despite a record number of nominees. "We thought we were in a post-racial society when Barack Obama was elected, and then we realised, no we're not. All of us have to be vigilant about this job we do."
As for her own pursuit of acting happiness, Ellis says: "I love the strange. There's such a dearth of imagination when it comes to how women are seen on the screen. You don't have that in books but for some reason we're very limited in film and television — and so when something comes my way where the opposite is happening, where there's a canvas that's full of woman, particularly Black woman, I'm excited."