As the digital-focused MIPTV champions a new age of storytelling this month, Melanie Goodfellow explores how TV drama and film producers are tentatively branching out into other platforms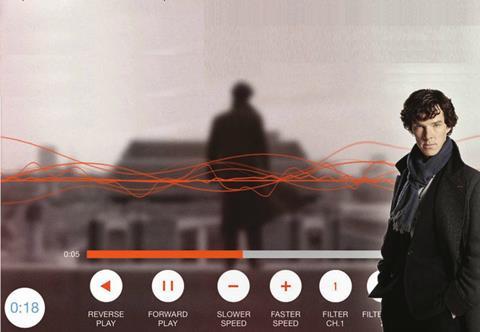 The latest series of TV crime drama Sherlock may have finished its run in most major territories, but fans across the globe are continuing to get their fix of the hit show via an official game app.
Featuring exclusive footage of Benedict Cumberbatch as the iconic sleuth opposite Martin Freeman as sidekick John Watson, Sherlock: The Network app invites players to help solve 10 fresh cases.
It has proven hugely successful, but remains an exception that many in the world of drama would love to emulate.
As TV and digital players gather at MIPTV in Cannes (April 7-10) to discuss 'A New Age of Storytelling', how to satisfy the 'on-demand' generation and attract their 'digital eyeballs', examples of TV drama or film that have been spun off into the digital space remain relatively rare.
Sherlock writers Steven Moffat and Mark Gatiss have long incorporated texting, social media and the internet into the storylines of their contemporary retelling of Arthur Conan Doyle's classic detective tales.
Extending the brand into another digital platform seemed a natural move.
"We've wanted to do something like this for a while, but we wanted to get it right," says Sherlock producer Sue Vertue at London and Cardiff-based Hartswood Films, which has other credits including Coupling and Edge Of Heaven.
"People kept talking to us about the need to do something for the second screen, but I didn't think that would work. Sherlock's such a fast-paced show… it's hard to push viewers to another screen without them missing what's going on."
She says an app made more sense. "We wanted to find something that was intelligent and would engage players - whether they were fans of the series or not."
Hartswood joined forces with London and Sydney-based digital production company The Project Factory to co-finance and produce the app. The latter has a history of creating digital content for TV and film productions, including Downton Abbey and Ken Loach's The Spirit Of '45, and last year produced a games app for the Dutch soap Good Times, Bad Times, aimed at retaining audience engagement over the summer break. It applied the resulting in-house software platform Appisodic to Sherlock.
Launched on January 20, the English-language Sherlock: The Network stormed to the top of the entertainment app charts in 34 countries within weeks of its release.
One measure of its success is that the partners are now considering putting it out in other languages, including Mandarin for China, where the show is a huge hit online.
Dramatic times
How to finance and monetise multi-plat-form content remains a key challenge for players grappling with a universe of connected devices, expanding social media and YouTube.
"The digital space is quite vibrant, but there aren't that many examples of drama series which have extended the brand," says Peter Cowley, a multi-platform expert.
Cowley, a former managing director of digital media at international TV producer Endemol, worked on engaging audiences with shows such as Big Brother before leaving four years ago to set up his own digital multi-platform content consultancy, Spirit Digital Media.
Scripted content from a TV drama or film is the hardest to monetise in a multi-platform environment, he says. "It's partly to do with the extra cost of producing content for the space - it's more expensive to do that well for a drama than, say, a reality TV, chat or game show - and the fact that digital revenues are lower," explains Cowley.
He currently works with shows such as Jamie Oliver's Food Tube and the scripted reality show, Made In Chelsea, revolving around wealthy youngsters in south-west London.
For Chelsea, Spirit has been involved in extending the brand into platforms ranging from concert series Live In Chelsea, featuring performances of songs on the soundtrack, to companion chat show Mad On Chelsea, which runs after the weekly broadcast of the show.
"Scripted reality shows like Made In Chelsea and TOWIE (The Only Way Is Essex) work particularly well across platforms because they've got so many real-life characters with big social-media followings. They are very brand-friendly shows and hence you can get sponsors," says Cowley.
Vertue and Barnes, meanwhile, will not reveal precise download figures or how much the Sherlock app cost to build, or whether they have broken even, but sources close to the companies suggest they will.
"I think what has helped the app stand apart is that Hartswood opened up the cast to us and gave us the opportunity to create fantastic exclusive content. You rarely get an app with such high production values," says The Project Factory creative director Rob Barnes.
The Project Factory hired interactive writer David Varela to write the 10 cases featured on the app. His scripts were signed off by Sherlock writers Moffat and Gatiss.
"It was a collaborative approach to ensure the storyline was unique but fitted the story-world of the Sherlock series," explains Barnes.
The footage for the app was shot in the space of a day, with Barnes directing the approved scripts, supported by one of the series' shooting units.
"We were on set from 10 in the morning until 10 at night. The cast were hugely giving. Some of Martin's scenes were recorded with an iPhone. It must have been quite strange for him to switch into this slightly different world," recalls Barnes.
Game on
Beyond the issue of how to pay for TV or film content aimed at other platforms, meshing the two worlds of film and TV with gaming is a complicated science.
American genre channel Syfy and video game developer Trion's joint venture to create the multi-platform TV series and online game Defiance, for example, met with a mixed response when it was launched last year, although it has since drawn a loyal following.
"In the case of Defiance, you had a new story and a new set of writers creating a brand-new universe. At the same time, you're trying to launch a triple-A computer game, which is not that easy to make," says Mike Dicks, multi-platform expert and self-confessed 'digital provocateur'.
"A computer game does not have the same character and narrative development as goes into a TV show," says Dicks, who operates under the Descience banner.
In spite of these pitfalls, a few pioneering independent producers are pressing on with the development of 360-degree projects with drama content at their heart.
Nuno Bernardo of Dublin-based beActive Entertainment - whose Portuguese studio produced documentary Road To Revolution and the teen hit Beat Girl - will be presenting transmedia project Collider at MIPTV.
The sci-fi project spans a feature film, a graphic novel, computer game and web series, and is one of the nominees for a Digital Emmy.
"We adopt a multi-platform storytelling strategy so we can test material, build a community and buzz, and generate some revenue," Bernardo says.
"This approach, when we are able to attract significant numbers on our online presence, allows us to get investors' confidence when we go and ask for money to produce a TV series or a film." One thing that every participant in Cannes will probably agree on is that a new age of storytelling has dawned. Where they are likely to differ is how to explore these new platforms - and whether it is possible to monetise it.
MIPTV and the art of storytelling
Over the past decade, MIPTV has become one of the key moments of the year when the TV industry calendar contemplates the implications of the digital age. This year's edition will be no exception.
With its 50th birthday out of the way, MIPTV's extensive conference and events 'A New Age of Storytelling' programme will be focused firmly on the future.
'Millennials', 'engagement', 'digital strategy', 'on-demand generation', 'unique viewers', and 'digital eyeballs' are just some of the buzz-words and terms peppering the programme.
A new event, MIP Digital Fronts, will showcase online content from across the globe in association with YouTube, Maker Studios, French video platform Dailymotion and online media companies Vice and Vuguru.
Speakers will also be drawn from the digital world, with Twitter chief media scientist Deb Roy and YouTube's head of entertainment Alex Carloss alongside TV executives such as The Borgias creator Tom Fontana and StudioCanal CEO Olivier Courson.