While thousands of new craft entrants are needed over the coming years to sustain the UK's production growth, training providers assert that a focus on business skills is equally as important to the health of the industry.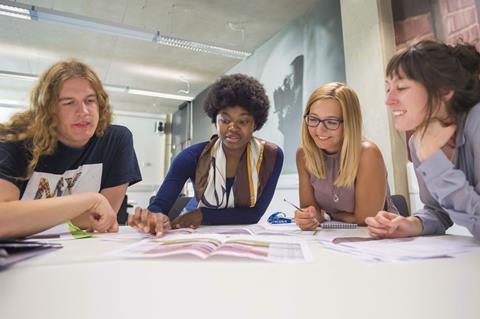 If you have aspirations to be a filmmaker, the future seems bright. With the digital revolution making both equipment and alternative distribution affordable and accessible, it's never been easier to make content. And with last year's launch of the BFI's Future Film Skills action plan, there are likely to be an ever-increasing number of craft training opportunities around the country.
There is also, however, an ongoing need to arm people with the skills required to manage that content across all sectors. While the BFI's skills strategy has put a question mark over what proportion of funding will be earmarked for non-craft initiatives, veteran training providers are asserting that business training is no less essential to the UK's long-term production health.
Geraldine Moloney, policy advisor at the Film Distributors Association (FDA), which provides training for both entry-level and established distribution executives and also runs an internship programme with its member companies, says she understands why the skills conversation is currently so focused on production and craft. "UK theatrical distribution has a relatively modest head count; it's not the thousands of job opportunities there may be on the next Star Wars film."
Yet she points out that knowledge gaps are not just a production issue: "Not enough people know about the business side of things. It's wonderful that all these films are being made, but they need to be distributed. Until they reach an audience, they don't have any commercial or engagement value. I would hate for that to be overlooked."
Formalised training is particularly important, Moloney says, in an area such as distribution, where the teaching of general skills can be beneficial across an entire sector. "We have 32 member companies and are best placed to respond to what they are identifying as skills requirements. To be able to have sector training with a diverse group of people helps feed everyone's knowledge."
FDA president David Puttnam adds: "In an increasingly fragmented and competitive environment, the UK film industry will rely more and more on the professional skills of the distribution sector, and its ability to anticipate the changing behaviours of audiences. It is critical that the core business requirements of positioning, sales, marketing, distribution and partnerships are properly understood and enhanced."
Joined-up approach
At the National Film and Television School (NFTS), providing students with strong industry knowledge has long been an essential part of the ethos. In what head of producing Chris Auty terms 'professional orientation', all students are exposed to the industry in action, whether in the classroom or in the field.
In recent years, however, the NFTS has recognised a need to offer more specialised non-craft training and has implemented two new courses, both overseen by Auty's department. Now in its second year, the marketing, distribution, sales and exhibition MA (MDSE), led by sector expert Deborah Rowland and supported by industry partners including distributor Altitude, is, says Auty, training students "not just in the creative side of marketing and distribution, but also the discipline side. Reporting structures, presentational skills, all of those things that are absolutely fundamental. If you're working at a major such as Warner Bros, for example, you're not going to get very far if you can't do a formal presentation. We train in process as well as in outcome."
Five years ago, the NFTS began offering its creative business for entrepreneurs and executives (CBEE) course. Initially a one-year diploma, it was revalidated as a two-year MA in 2015. "The course stemmed from an observation about business in a digital-driven age, in which you could no longer draw a simple boundary between film, television and games," explains Auty. "We decided to look at every commercial art form that has royalty at the heart of it: film, television, games, music, theatre and publishing, from a classical hardback novel all the way through to podcasting. We teach each of those disciplines equally, and we look in an overarching way about offerings that exist purely online."
CBEE welcomes international cohorts from across theatre, augmented and virtual reality (AR and VR), film and music. As a result, graduates are finding career opportunities that go beyond traditional creative disciplines. "There was a Dutch student on the course who very swiftly got stuck into VR," says Auty. "He created a VR specialist ad agency in Amsterdam, and trades mainly in the Far East."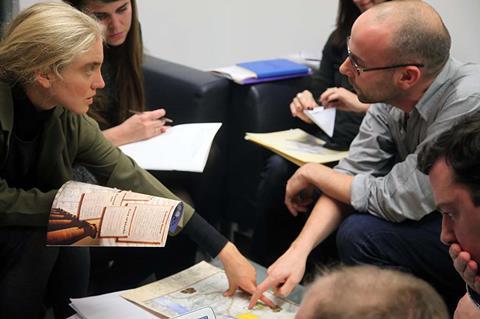 This joined-up approach to training is being adopted even in the most specialist of areas. Festival veteran Sandra Hebron, who as head of screen arts at NFTS runs the school's film studies, programming and curation MA, says that training has to be flexible due to the changing nature of the business. "There now aren't so many full-time programming roles in venues or festivals, and students recognise the need to be broad and entrepreneurial," she says. "There are a lot of connections between curatorial skills, particularly at the level of assessment and thinking about audiences, that are very appropriate for other areas."
Now in its third year, the MA has just celebrated its first graduating class, and Hebron cites the example of a student who initially wanted to progress up the festival ladder but, having been exposed to sales and acquisitions on the course, is now pursuing a career in that sector.
Climbing the ladder
While a large proportion of skills training — whether craft or business — is aimed at new entrants, training providers are united in their view that it is essential at every career stage. Beatrice Neumann, director of operations at Inside Pictures, the brainchild of producer Michael Kuhn that has been training mid-career film executives from across Europe for 15 years, says that a collaborative approach is particularly essential when helping individuals reach the highest rungs of the industry.
Each year's 20-strong cohort is made up of a mix of nationalities and experience and, while each group always includes 10 producers, the remaining 10 are executives from across the worlds of finance, legal, business affairs, sales, acquisitions and marketing. As part of the course, each producer is paired with an executive and must come up with a film business proposal, which is then pitched to an investment panel.
"We want each group to learn about the other side of the business," says Neumann. "Why do producers get passionate about something that may not look like a dead cert on paper, or why is it so hard to get the cast that will sell a project? They need to understand why things happen; what the challenges are."
Key to this approach is that around 20% of the course modules are structured around on-the-ground suggestions from cohorts. For example, last year, one of the Los Angeles-based sessions was given over to marketing because this revealed itself as an obvious knowledge gap. "Quite a few producers and executives on the course had past films that were seleceted for major festivals such as TIFF or Sundance. They hadn't hired a publicist, and all of a sudden they had a massive opportunity from which they couldn't benefit."
For long-time producer Mia Bays, who established Birds Eye View's Future Leaders in Distribution training course for women (currently on hiatus due to funding), plugging the diversity gap found at the top is equally as essential. "Future Leaders was responding to Creative Skillset findings that fewer than 20% of senior execs in distribution were female," she says. Bays is working to re-establish the distribution course and expand the offering into other sectors. "Future Leaders could have a major impact on inclusivity in the industry. The more women you get at higher levels, the more doors will open for films by women as a result."
Future-proofing
While inclusivity has become a key concern of training, so too is the need to arm cohorts with the tools they need to navigate an ever-evolving industry. The FDA, for example, now runs modules on social marketing, while Hebron says that her course addresses the concept of curated online platforms such as Mubi.
Last year, Inside Pictures added a business study in VR to its offering. "It wasn't about how to tell a story in VR," says Neumann. "It was about what it cost, the potential revenue streams and platforms." In addition, she says, all their sessions now cover a digital aspect, "and how you work with and sell to big streamers such as Amazon and Netflix."
While there is consensus that everything is changing, trainers agree that core skills nevertheless remain the same. "There was a moment around the development of digital when everyone thought that everything would collapse or be completely different," says Auty. "The fact is, business is business. It's a huge opportunity where, as long as you give people the right training, they will understand how things work."