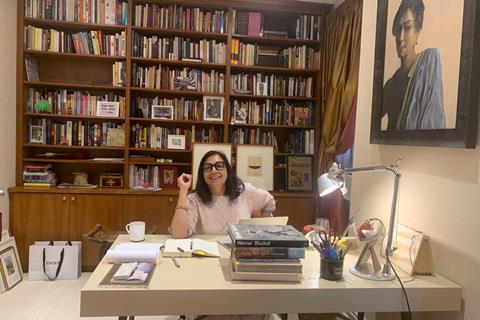 India-born director Mira Nair divides her time between three continents, writing, directing and producing films, from her debut Hello Bombay! (Salaam Bombay!), which won the Camera d'Or at Cannes in 1988 and was nominated for an Oscar for best foreign-language film, to Toronto premiere Queen Of Katwe in 2016.
She set up the Maisha Film Lab for emerging East African filmmakers in Kampala, Uganda after shooting her second feature Mississippi Masala in the country. Two episodes of Nair's six-part adaptation of Vikram Seth's novel A Suitable Boy is closing Toronto, where her career will be recognised with the festival's Jeff Skoll Award in Impact Media.
Where is your office located and what is it like?
I am privileged to have my own cocoon (office) in each of my three homes: New York, Kampala and New Delhi. All of these rooms are lined with my precious books, art that has been made by friends or painters and photographers I admire, and my love for hand-painted toys from Banaras.
How has your working life adapted to the Covid-19 era?
I work in my study, no assistant in sight, only my husband teaching on Zoom in the next room. I start editing early in the morning. Some days I'm listening to a 30-piece orchestra in Budapest recording our themes, some nights recording Indian superstars under blankets in their bathrooms dubbing their lines. My 10-hour days on machines are punctuated by rigorous yoga, a walk in the evening on Riverside Drive [in New York City], and getting inspired about what to make for dinner. It's a simple life.
How did you and the production team continue working on A Suitable Boy during the past few months?
We finished the entire post-production of a six-hour film remotely, from my New York cocoon. I work alone with three devices staring at me: my laptop, phone and iPad. The editing, music recording, additional dialogue recording, grading and everything else was done through Zoom, Evercast and Gateway. It's kind of unbelievable but true. My editing team was in Australia, London, Bombay and Los Angeles, but we managed.
What is the thing you like best about your job?
I like the elasticity of making cinema. It encompasses everything: music, art, storytelling, working with great humans. And once in a while maybe make something that has resonance.
What are you most proud of on a professional level?
I am most proud of producing A Suitable Boy before I directed it. Film-wise, I'm proud to have essentially followed my own instincts and finding audiences for my peculiar form of hybridity in storytelling. I am also proud of my son, Zohran Kwame Mamdani, who recently won the Democratic Primary [and is running for the New York State Assembly].
What's the biggest mistake you have made?
I regret giving more than a year of my life to directing Shantaram with a certain 'boys club' of Hollywood.
What is your favourite festival or film event and why?
I've had great times in Toronto, seeing films from everywhere and speaking to passionate audiences. Venice is extraordinary and has been very good to me. My favourite would be my own city's festival — New York Film Festival — where I can wallow in cinema for 22 days straight.
What excites you about the future of filmmaking?
That people across the world, in the smallest of communities, can find a way to make films about themselves, their magic, poetry, language and struggle. That cinema is not in the hands of a few, but the many.
What do you think you might be if you were not a film director?
A landscape designer or a music composer.
What was your favourite film growing up?
I didn't get to see many films, living in a small town in eastern India with only one movie theatre that was built when I was eight. So it was Doctor Zhivago that I watched every Sunday.
What book are you reading?
River Of Fire by Qurratulain Hyder.
In addition to A Suitable Boy, what's the one TV series everyone should watch this year?
Chernobyl.
What do you do to unwind?
Iyengar yoga. Cook. Smoke a joint. Dance. And sing Indian classical music, badly.
Where do you go to unwind?
I look for unique gardens to walk in. And there's nothing like swimming in the ocean to heal after a film. Let the waves take me.
Who would play you in the film of your life, and who would direct it?
Sarita Choudhury could play me and it would be directed by Zoya Akhtar.
What is next for you?
I'm working on opening my stage musical of Monsoon Wedding in London in July 2021. And making a film on the wildly visual life of Amrita Sher-Gil, India's radical modern artist.